Essential Quilting Begins Today!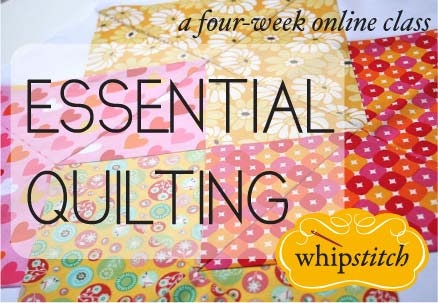 The Essential Quilting e-course started today, and I am thrilled!  We're doing so much more than just "learning to quilt."  The class covers all the foundational skills, but also targets a lot of quilting concepts that I think get overlooked and that we would all benefit from thinking about more analytically–like how to choose fabric and put them together, how to use varying scales of print to make a harmonious whole, different settings to use for your blocks that go beyond rows and columns, and which binding technique will give the finished result you're looking to achieve.  I want every student who takes this class to come away and feel as though they've not just had an online class, but really have gained the experience and confidence to tackle any quilt out there–we're learning curved seams and inset seams and matching seams and triangles and all kinds of awesome stuff.
I have just a couple spots still open–wouldn't you like to join us?  Register here and snag them today before they're gone, and I'll see you in class!  We've got folks from six countries on four continents, and it is a very, very cool group.  You'd make it even more awesome!