Next Installment of My Become A Better Craft Teacher Series is Up!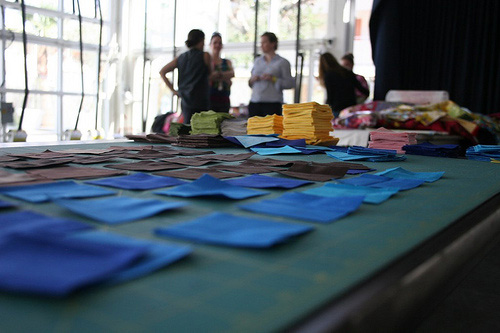 Over at Sew, Mama, Sew the next installment of my six-part series, Become a Better Craft Teacher, is up!  This week, we're taking a closer look at the lesson objectives, and working toward ensuring that every project and every part of your class is built to encourage your students to work toward greater skill and understanding.  See this installment here, and then peek at the previous segments in this series!
Note: The image above features Heather Ross, Anna Maria Horner, and Denyse Schmidt and was taken surreptitiously during the Heather Ross Sewing Retreat in 2011, since I didn't want to let on to these awesome ladies just how star-struck I was.  The teeny squares in the foreground are pieces from my Tony Danza quilt, which I secretly want to re-make, because I think I can do it better than I did.  Is that crazy?  See more pictures of both the Heather Ross retreat and my Tony Danza quilt over on Flickr (and if you were formerly a member of the Whipstitch Fabrics Flickr group as a customer at the shop, consider moving on over and joining us at the new Whipstitching group!).