Slip Covers e-Course Registration Now OPEN!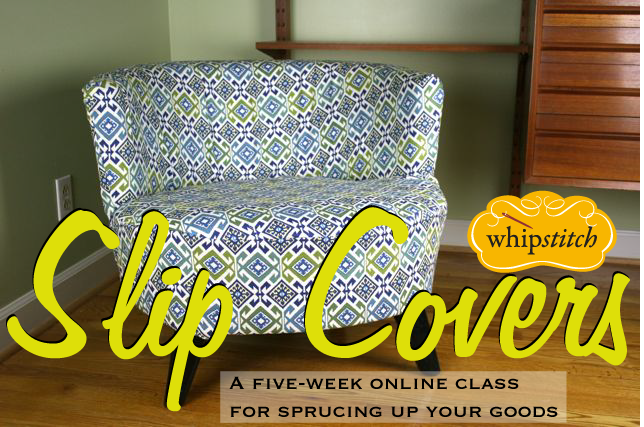 I mentioned when I shared my newly-upholstered sofa that sending that sofa out to be done by someone else freed me up to do some sewing on the DIY tip with the extra time.  My new online class explores all the skills and techniques I used in order to do that, by tackling five different slip cover projects–all using skills that can then be applied to doing your own slip covers, or to trying your hand at home upholstery.  Over the course of five weeks, we'll work on: a slip covered ottoman with different ruffle and hem options; a slip covered dining room chair with tie-backs; a fitted Velcro cover on a bar stool; a fitted slip cover with a drawstring closure on the bottom to make it look upholstered; and a fitted slip cover on a squashy arm chair that is so close to upholstered that you won't even believe it's a slip cover (including making a zippered, piped, boxed cushion cover for the seat!).
Wanna join us?  Registration is open now, and class runs Monday, Sept 16 through Friday, Oct 11.  See more details on the Slip Covers e-Course page, and come join us for five weeks of home dec awesomeness!