Stitch by Stitch
Stitch by Stitch is designed for new and "returning" stitchers, and covers all the foundational sewing skills you need to complete almost any project your heart desires. The book is designed with projects that build on one another as you work through them, allowing you to master sewing skills one step at a time while giving you the instant gratification to keep going and becoming more proficient. Every project includes step-by-step photos in gorgeous color to guide you through, and the book's patterns are included on a CD embedded in the back cover so you can print them again and again.
---
See the video trailer:
---
Praise for Stitch by Stitch:
---
additional press and reviews:
Read the advance review on MADE
Read the review at Cool Mom Picks
---
purchase a signed copy!
Signed copies of Stitch by Stitch ship direct to you via Priority Mail.  Thanks so much for taking a copy home–I really, truly hope you love every page!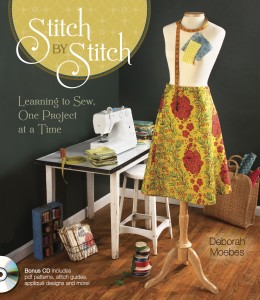 Books will be made out to the name of the PayPal account holder–if you'd like me to sign it to someone else or as a gift, be sure to leave a note in the Buyer's Comments and I'm more than happy to oblige!
Books ship ASAP once payment is made via PayPal.  Please allow 7-10 days for shipment. If you have questions or concerns, don't hesitate to contact me!