Tony Danza Needs Some Work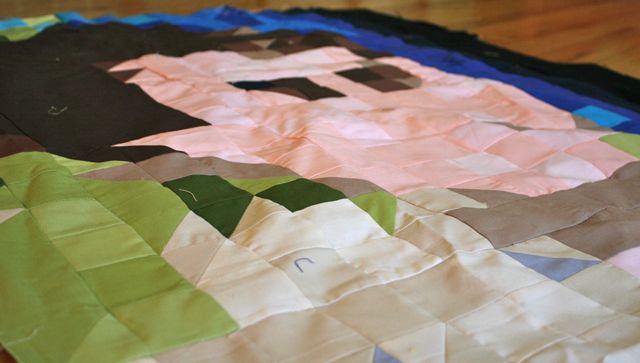 Well, Tony Danza, I have mixed feelings about you right now.  While I am delighted that the quilt top is essentially done, I am realizing now exactly how much of the brunt of the work is going to fall on the quilting stitches to make this look like YOU in the face, and that's making me nervous.  Will be spending what's left of my afternoon basting the quilt top and then sketching out the eyes and nose and mouth so that I can free-motion quilt something resembling features in.  While part of me wants to make the final product super photo-realistic, another part of me realizes that I may not quite have the skills and experience to pull that off with only one week remaining (did I mention that my sweet Twitter friend Amanda got us tickets to go see him?  And maybe even MEET him??  Eeek!), so I'm going for more of a cartoon/sketch impact with the final design.
Honestly, if people look at it and say, "Hey, that kind of looks like Tony Danza a little bit," I will be thrilled.  Wish me luck.