It's Ogden Cami month! And I've made…a bunch. Once I completed the first version, it was easy to see why this is such a tried-and-true pattern for so many folks on the internets.
I've got three of my own now: one in rayon (my all-time, hands-down favorite fabric to wear); one in an incredible woven cotton; and one in a stable scuba knit (which is technically off-script for the Ogden Cami pattern, but worked gloriously).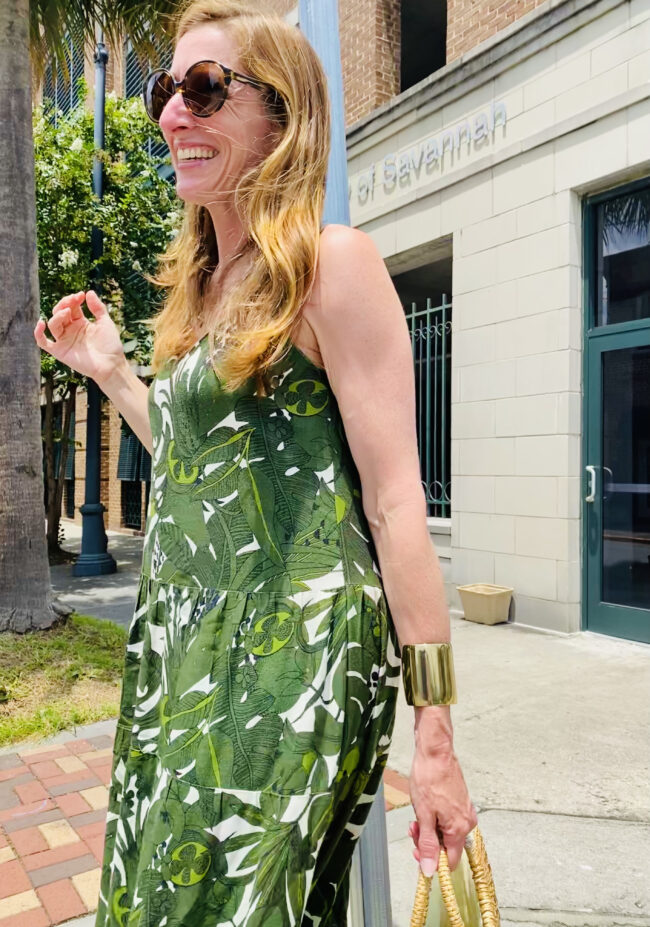 The second and third were made step-by-step on video as a sewalong for members of the League of Dressmakers, and as I was working, I had another piece of fabric laying on my cutting table, this amazing linen/rayon blend in a summery monstera leaf print–and I REALLY wanted to use the fabric, because the Murder Mystery Quilters from 2019 have a running joke about monstera leaves showing up ALL OVER ever since they figured prominently in the quilt design that year.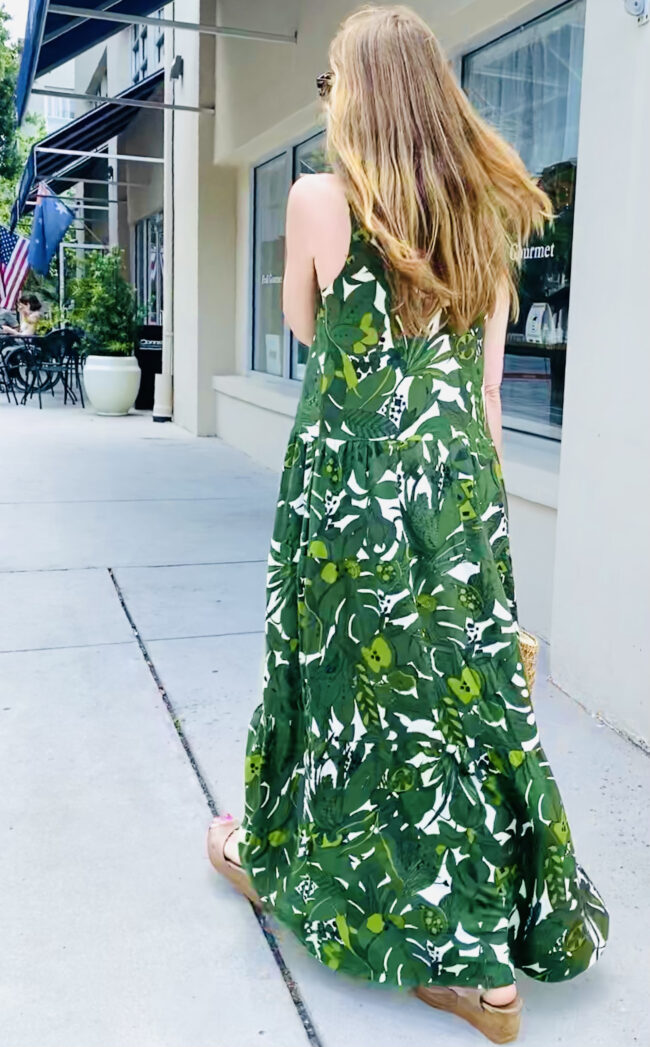 But I was already making THREE Ogden Camis, could I possibly need a fourth? Well, maybe. But I already have a green one, and I'm trying so very hard to avoid wardrobe redundancy.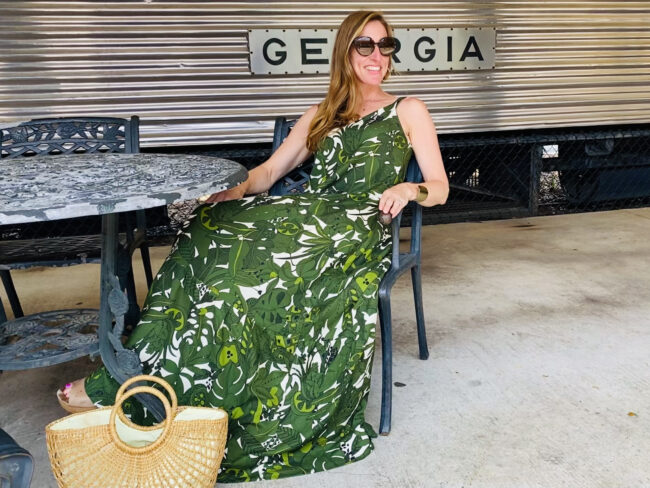 And then! It hit me! What do I love most about this fabric? It perfectly combines WEIGHT and DRAPE, between the linen and the rayon. So it has this amazing swish factor, but it still falls close to the body in a way that makes it soothing to wear. And what garment does THAT sound like?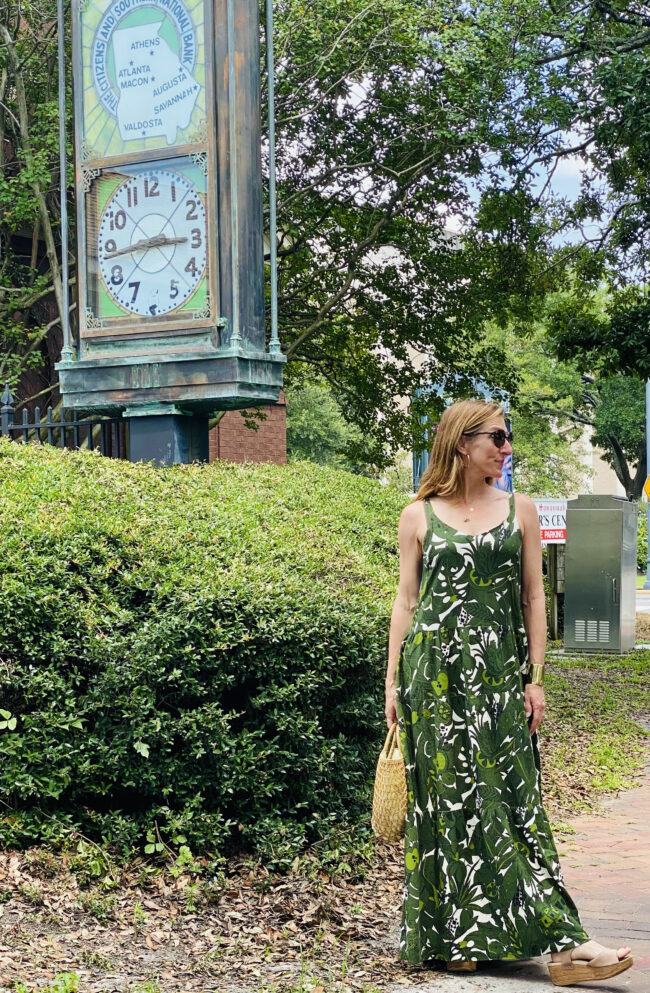 A maxi dress. Now, this is for sure the shape of the moment, and generally I steer clear of styles that are extra "trendy," but I also try to be honest with myself, and the truth is that we had to install a higher closet rod to accommodate the number of long/maxi dresses I own, because I just really love an ankle-skimmer.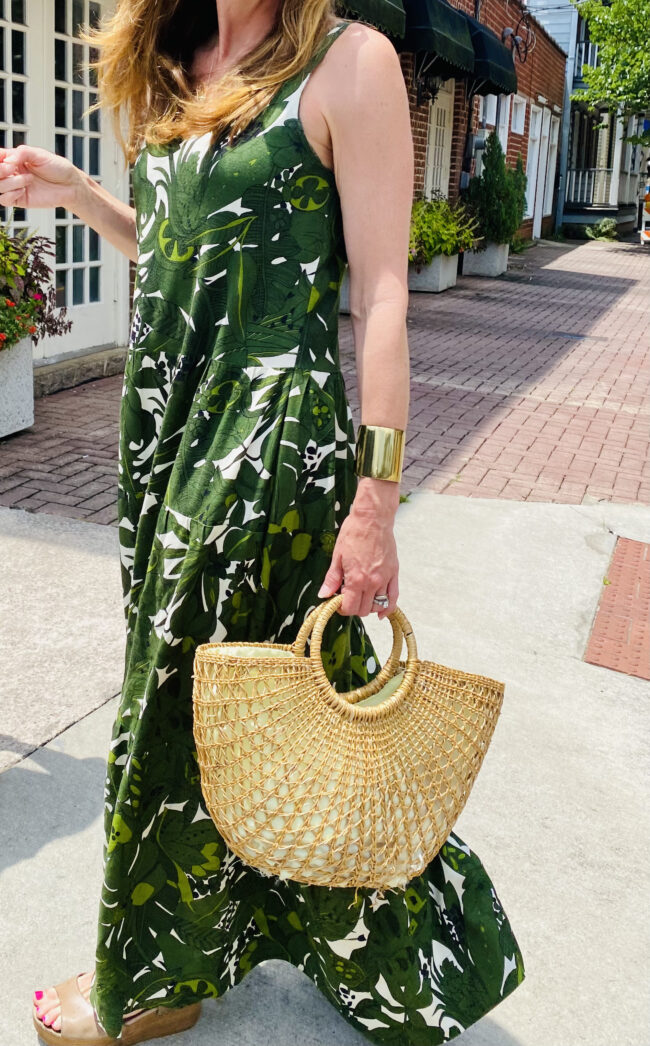 This dress was a no-brainer, and it turned out exactly as I hoped. It's soft, the fabric is cool against my skin, it's relaxed and casual but not sloppy. I wore it to dinner twice this week, and again on a car trip home from the beach, where I crossed my legs and knitted socks for 200 miles in total comfort.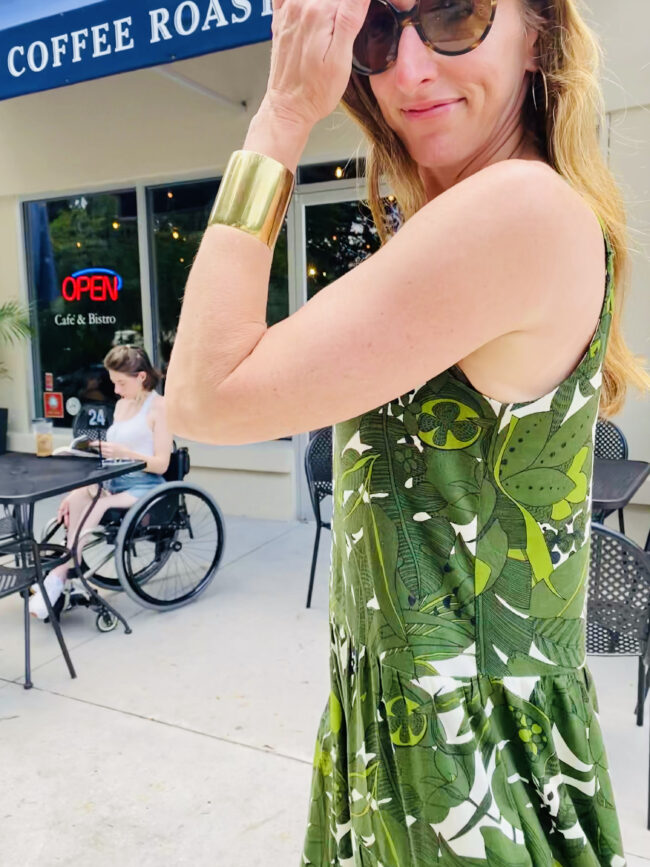 The bodice is a shortened version of the Ogden Cami, constructed with the alternate method described here. I went for a natural waist rather than a slightly raised waist, as I've seen in other tiered maxi hacks, because I have a treasured blue maxi dress and that's where the waist seam is on that one. Why experiment and re-invent the wheel, right?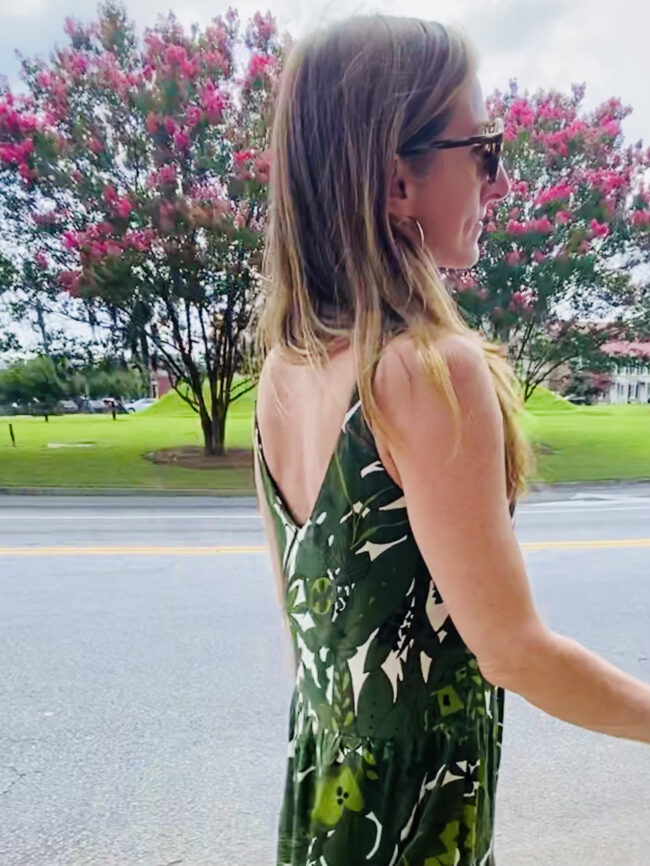 The back on the Ogden is so great. That V-shape dips just low enough to really give movement for the shoulders, but still covers a bra strap, which makes it easy to wear. Generally, I prefer a fully-lined bodice over facings any day of the week, but my yardage here was REEEAAAALLLLY limited, and I already had plans for it (see more below), so I did facings only; if I'd had even a smidge of margin in my fabric, I would have cut two fronts & two backs and treated them as one after inserting the straps.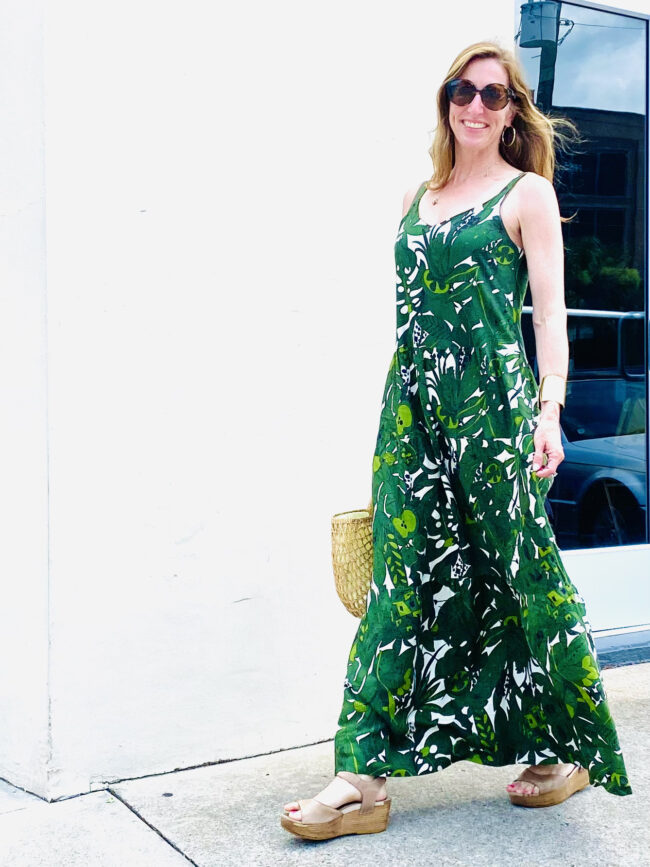 The tiers are also modeled on that favorite blue maxi, which means the relationships are a little different than a lot of tiered dresses I'm seeing: the top tier is shorter than the bottom, but I'm seeing a lot of maxis where the first tier is really long and the bottom is more of a ruffle. I prefer this arrangement because it allows for movement in the skirt that more closely mirrors a sweeping hemline, one that flows over the legs, as opposed to one that hangs straight down. Easier to walk fast that way (which I always, always do). The gathers are also not super full, which gives movement to each tier but prevents me from wearing an entire bolt of fabric at this length.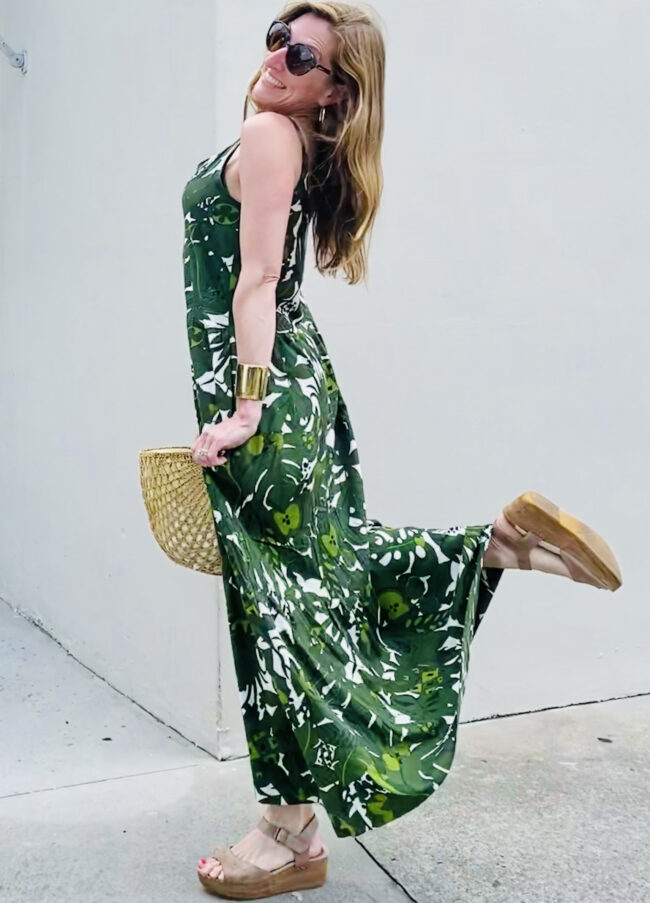 I made my hem INSANELY deep, though, which was where the very little wiggle room I had with my yardage went. This rayon/linen blend feels SO GOOD against my skin, I truly can't emphasize that enough, so I gave it a deep 4″ hem (yes) which holds it down so that when I do walk, there's this swissshhhhhh factor that cannot be beat.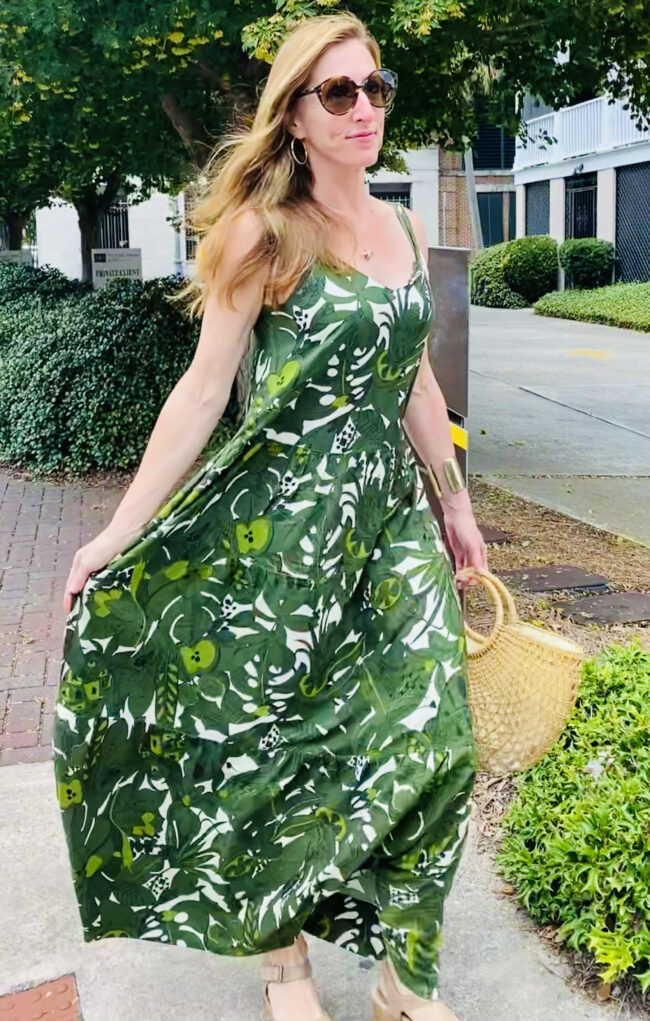 I mean. I am not overstating here. This dress feels GOOD to wear. I removed an additional 1″ or so from each side seam after trying on, and I shortened the straps 1/2″ to accommodate my short waist + full bust. Other than that, this wears just as comfortably and easily as any other Ogden Cami, with the added benefit of a ground-kissing skirt. (And excellent summer foliage camouflage.)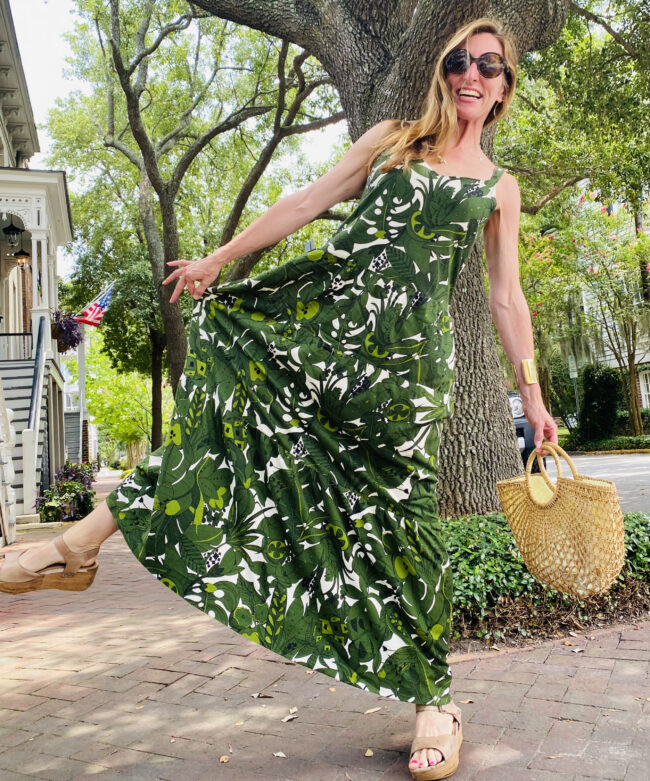 We shot these photos when driving through Savannah, Georgia recently in the sticky summer heat. Even then, this fabric + pattern combo helped me catch the breeze and feel pulled together, even when the mercury topped 90 degrees. That's the sweet spot!

For all the measurements I used, along with a step-by-step video guide to adapting the Ogden Cami pattern to a tiered ruffled maxi dress, check out the League of Dressmakers sewalong series! I filmed the entire construction and all the steps for adapting the Ogden Cami pattern into a bodice, how I measured the tiers, adding the gathers, and hemming this beast–it's all included in the League of Dressmakers Ogden Cami sewalong as an exclusive bonus video. (Members purchase their own copy of the pattern directly from True Bias, and the videos are included as part of a subscription to the League library!)