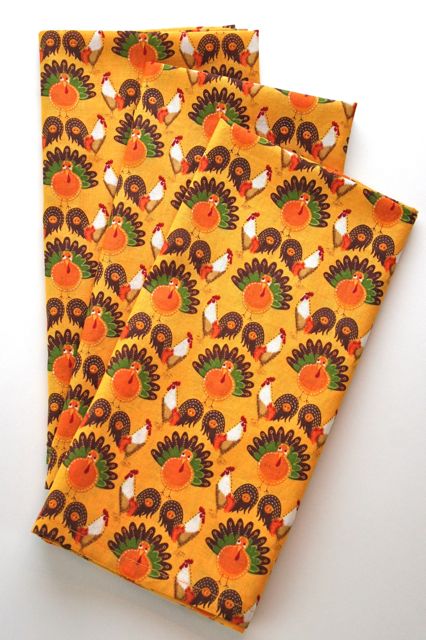 We use cloth napkins at our house–I'm pretty sure I've written about that before, but I can't find it now. Suffice to say, we have piles and piles of cloth napkins that always get neatly folded after the wash, but rarely get properly put away. I can't remember a single time in my entire adult life when I have sorted through all the different fabric options and stored them in the drawer in their complete sets. My poor oldest child, before leaving for college, was frequently the one tasked with locating a matching set of six napkins at dinner time–and sometimes neither one of us could be bothered with matching, and we just went with six kinda-matching. It's eclectic, right?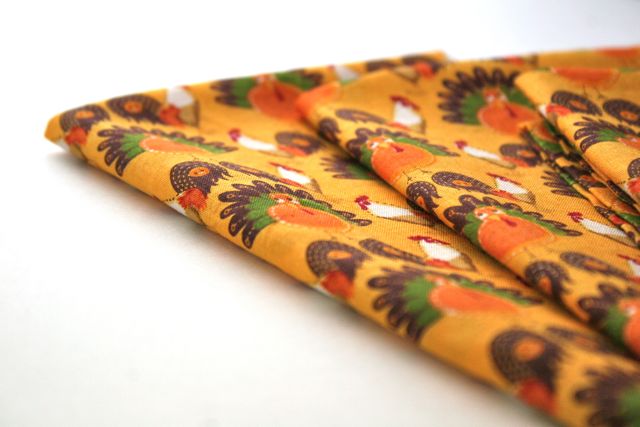 This year, we're hosting Thanksgiving at our house. We're having my folks, my in-laws, a couple of friends, all our children, and my sister over to share the meal. And a mis-matched set of 12 napkins just won't do. They're really going to need to be all the same. Since I was already putting together projects for the Hand-sewn Holidays autumn lessons anyway, I added in this bonus project: making cloth napkins with perfect mitered corners.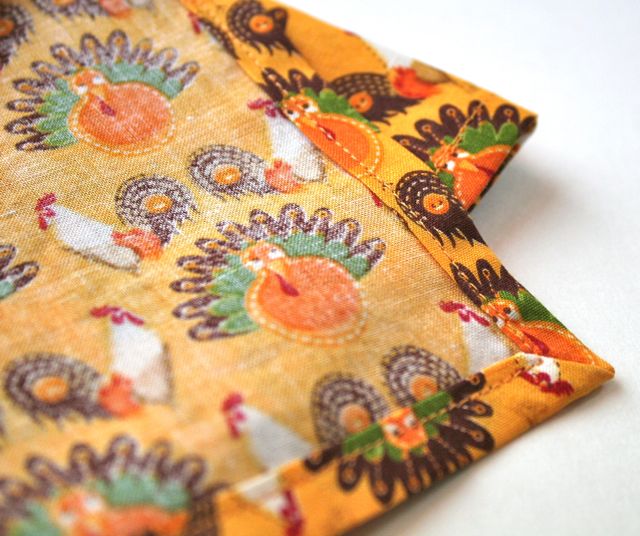 This is a sewn miter, which means the diagonal seam is stitched in before the double-fold edges are stitched down. I love how clean and professional it looks, and considering this is a goofy seasonal print from the local fabric shop that I picked up on discount, this set of napkins is crazy cheaper than it would have been to go to Crate and Barrel or Williams-Sonoma and plunk down $8-12 EACH for cloth napkins that you and I both know perfectly well only take 2/3 of a yard per PAIR to sew up.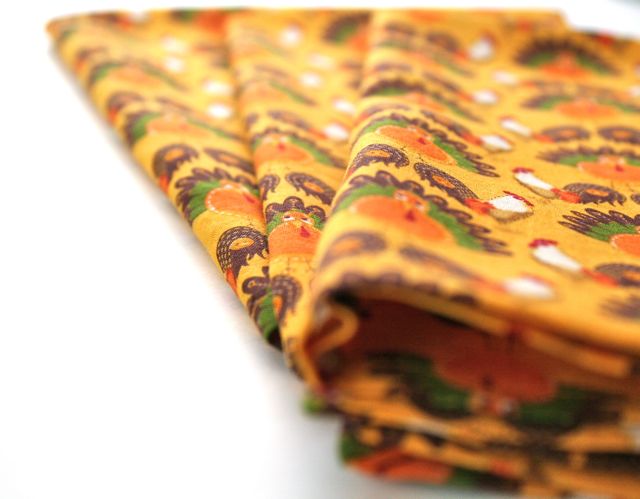 In honor of the occasion, I've even put together a shopping aid for you to printand use when you're out hitting those very-nearly-the-holiday-so-we-'d-better-clear-out-our-seasonal-fabrics sales (with additional 15% off coupon, should you remember to bring it with you and not leave it at home, as I did–cue sad trombone sound). Just run your finger down the chart to identify how many napkins you're shooting to make, and then slide it across to figure out how many yards of adorably-goofy turkeys-and-roosters (or whathaveyou) fabric you'll need to get them all sewn up! The cloth napkin yardage chart includes yardages for three sizes of napkin: dinner napkins, luncheon napkins, and cocktail napkins. You might make some of each for a smaller gathering, or a boatload of one for a bigger party. Mix it up, yo!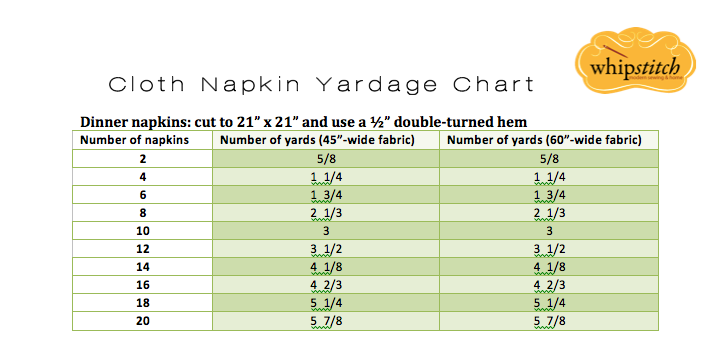 For more details on sewing the miters here, join me for the Hand-sewn Year e-course, as we add a new season's worth of projects. This bonus lesson walks you through marking and sewing the miters, all on super-up-close video, and then talks a bit about the economy of cloth napkins, which I really enjoyed doing. This is a project that transcends the seasons, and just happens to make a great hostess gift for all those holiday pot lucks and get-togethers. Happy cloth napkin making, y'all!