Come Meet Local Fabric Designer and Author Rashida Coleman-Hale!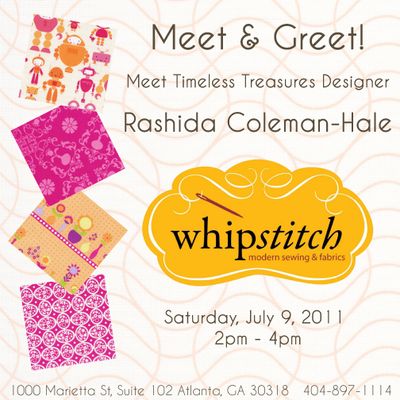 I am delighted to invite you to come on down to Whipstitch tomorrow afternoon for a chance to meet local Atlanta fabric designer and author, Rashida Coleman-Hale!  Rashida is a pure, pure delight–so lovely to talk to, so humble and kind, and so very talented.  Her blog, I (Heart) Linen, is charming and she shares amazing projects.  She is also the author of I (Heart) Patchwork, which is one of my fave linen-and-Japanese-print books to go to for project ideas.  Recently, she contributed to Block Party, full of inspiring quilting bee ideas.  Her new book, Zakka Style, comes out in January and I'm already itching to see the super cute projects she's included!
Lucky for those of us here in Atlanta, Rashida will be bringing samples from her books and from her new fabric line, I (Heart), to Whipstitch on Saturday!  Woot!  Rashida will be joining us to talk about her inspiration for the line, her design process, and getting her line picked up by a major manufacturer.  She's also bringing tons of goodies made from her new fabric, and will be signing copies of her book!  Light refreshments are provided, but feel free to BYOB, y'all.
What: Rashida Coleman-Hale meet-n-greet/book signing/fabric release
When: Saturday, July 9 from 2-4 pm
Where: Whipstitch Atlanta, 1000 Marietta St Suite 102, 30318
Questions? 404-897-1114