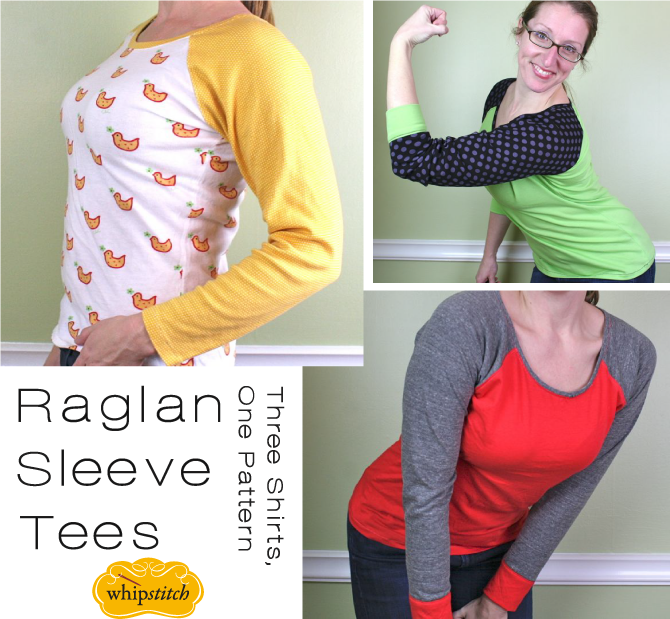 I obviously dislike being cold.  Because in the past four weeks or so, I have made nearly ten long-sleeved tee shirts.  I started with standard set-in sleeves, and now I've moved up to raglans.  I might need a twelve-step program.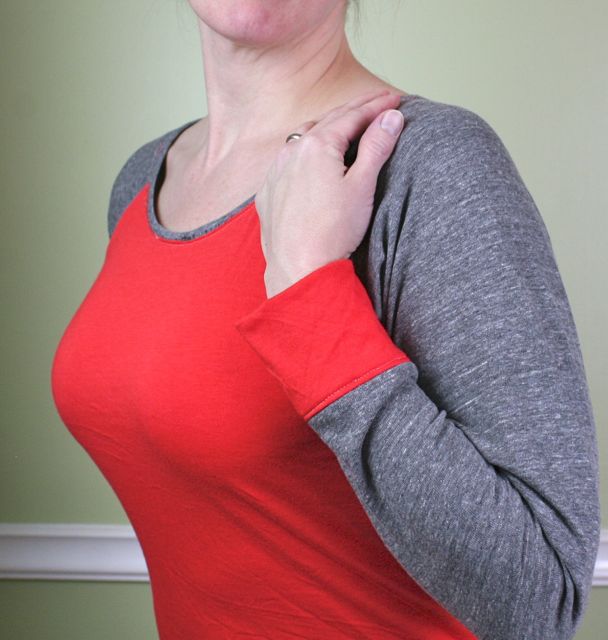 First it was the basic long-sleeved tee, and now it's these raglan tees.  They're ridiculously quick and simple to sew up–just a handful of seams–and they are easy to wear.  I love the chance to mix fabrics up together, and the fun of playing with color.  Until my next Girl Charlee order arrives, I have a pretty limited palette, and I love the challenge of mixing up my few knits into the perfect shirt combinations.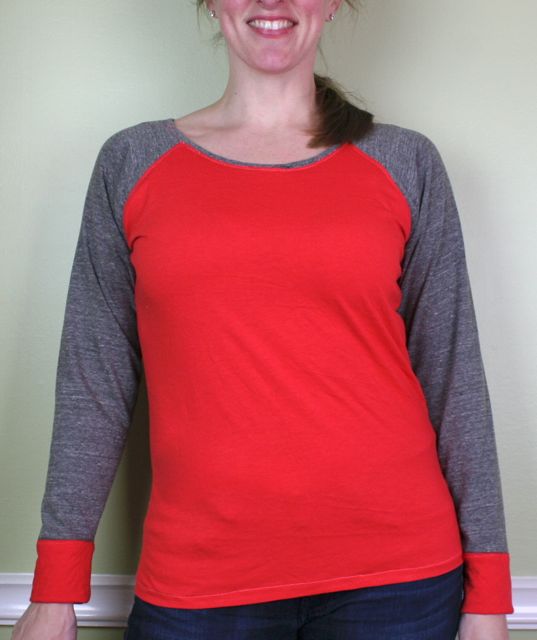 This jersey version was not the first I made, but I think it's my favorite.  This persimmony-orangey color is so vibrant (in real life and on camera) and the heathered grey (which is the same as my grey tee with the bow–I bought, like, four yards of it, or something) pairs with it in a really fantastic juicy-plus-blah way that I love.  The jersey is crazy, crazy soft, and the whole thing feels like a "real" tee shirt.  I know that's one of those goofy things that we say when we've sewn our own clothing, and probably reveals that many of us don't see the clothing we've made as being as valuable or authentic as the clothes we bought in a store, but I'm here to tell you: this shirt feels as professionally-made as any shirt I've ever bought that was manufactured in Sri Lanka.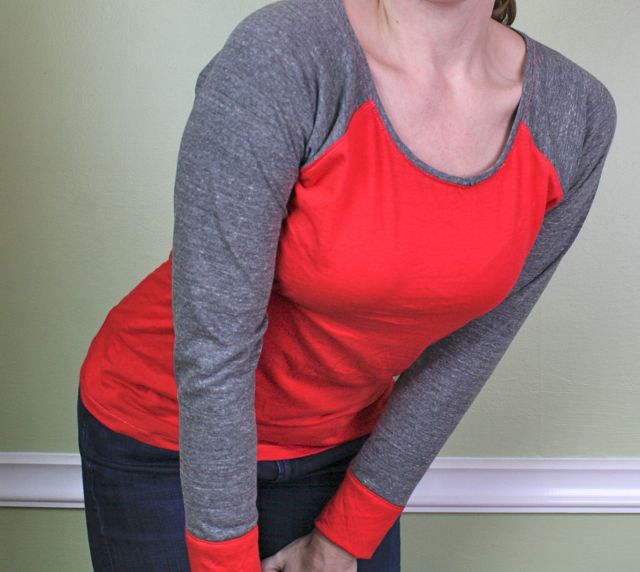 The neckline is the same on these tees as it is on all the basic tees I made–I love that it dips down a little lower and shows the collar bone, but that it still easily covers my undergarments and cleavage.  I really, really dislike a tee shirt that I can't wear when I'm cleaning the house or hanging out with my kids or doing the grocery shopping because if I bend over it shows my bosoms–that's just ridiculous, and means I can't function in my regular life, which makes the tee useless to me.  At the same time, I don't ever want to wear an "athletic" tee that has a higher neckline (outside of with my jammies) because I don't feel very pretty in that neckline.  This version has the advantage of meeting both my needs: I feel pretty, but modestly covered.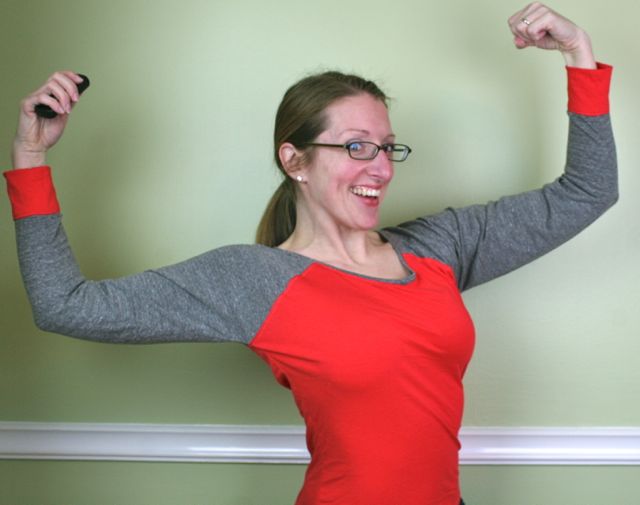 And speaking of athletic: hello!!  Something about the baseball tee fit of these raglan sleeves, with the color blocking and the contrast cuffs, makes me feel like I am in a kickball league or something.  I feel TOUGH.  But, you know, pretty and with good hair.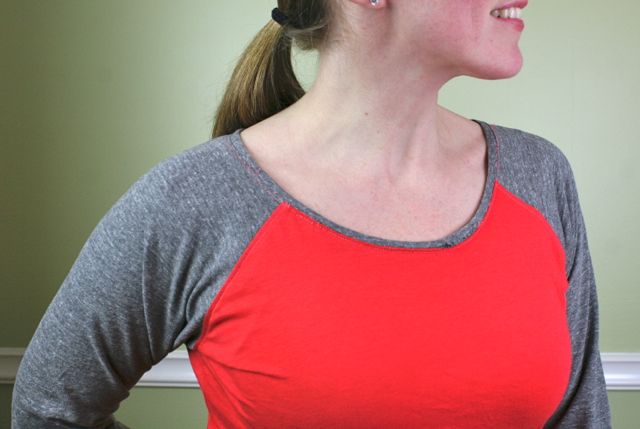 The only issue I ran into with this version was the binding at the neckline edge.  I learned, painfully, how deeply I dislike picking stitches out of jersey.  Ach, what misery.  I unpicked the entire neckline binding when it was unevenly distributed, leading to puckers in one area and too much stretching of the binding in another.  And I got all kinds of icky tears and cuts in the fabric.  I debated just cutting off the entire neckline 1/2″ down and working with new binding, but figured I could sew the original neckline back on, and if it was awful, re-bind it then–no harm, no foul.  It's finished, but it's raggedy–so I am thinking I'll leave it and call it "stone-washed."  Do we still stone wash things?  I just know that I have seen maaaaaany tees from expensive and trendy shops at the mall with much more raggedy binding than this, and they were charging $60 a shirt.  So maybe I'm not raggedy, maybe I'm ON TREND.  How ya like THEM apples?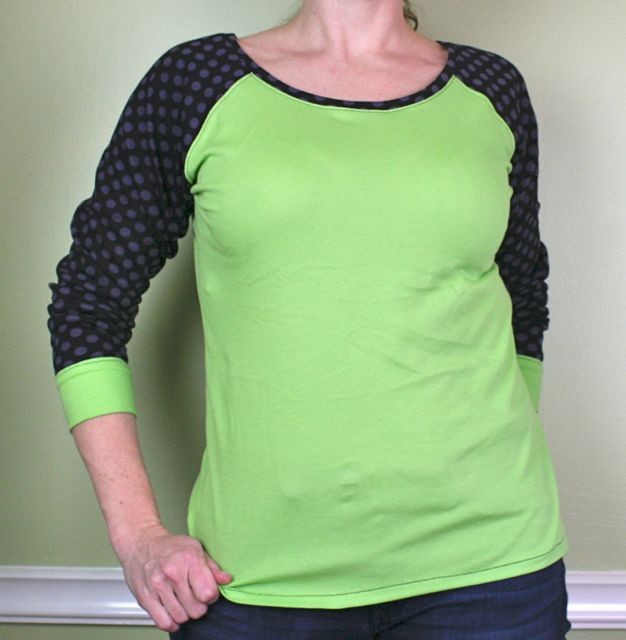 This version was fun to make because the green jersey is actually this funny bird's eye pique knit, which was unusual enough that I bought two yards when I found it online (I think I got it from Fabric.com about two years ago).  It's veeeeery lightweight, but opaque and lofty, so it's thin and warm.  The sleeves are an interlock from an older collection of Patty Young's for Michael Miller a few years ago.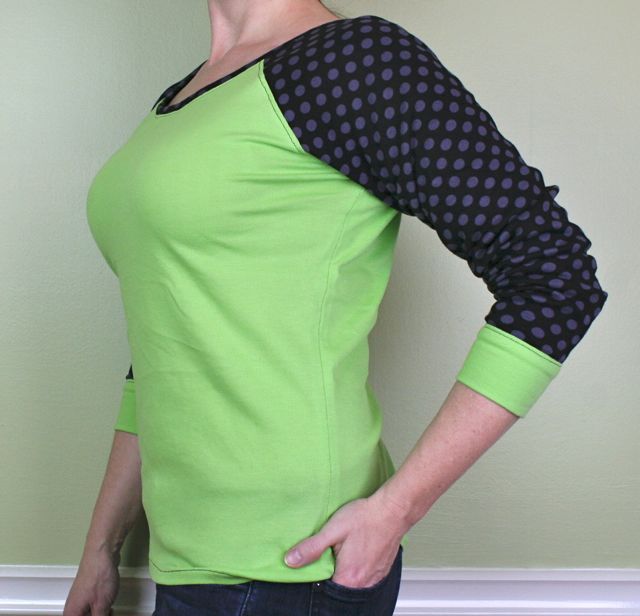 I debated over and over whether the black should be the body or the sleeves, but since the interlock is a bit heavier than the jersey, I wanted to avoid having the sleeves seem wimpy in comparison to the body of the shirt.  Plus, I have learned from sewing with these interlocks that they tend to be a bit stiffer and stand out from the body more, which isn't the most slimming look, so I opted for vanity.  I love the color combination, and think I'll wear this a ton more than I would have a shirt with green sleeves and a black body.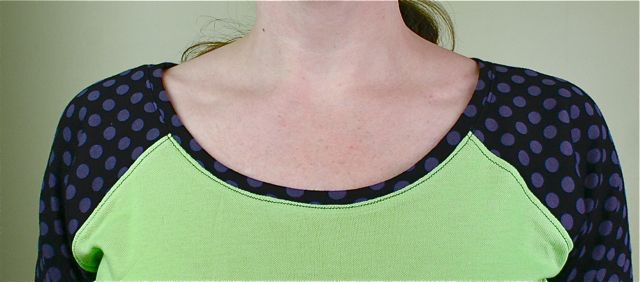 I opted for a contrast stitch on the neckline, using black thread for the entire construction.  Usually, the lightning stitch on my Bernina looks very much like a straight stitch when it's done on jersey, but for some reason here–on the bird's eye, especially–it looks a lot more like a zigzag.  I still like that it stands out a bit at the collar and cuffs, but I don't love it the way I had hoped.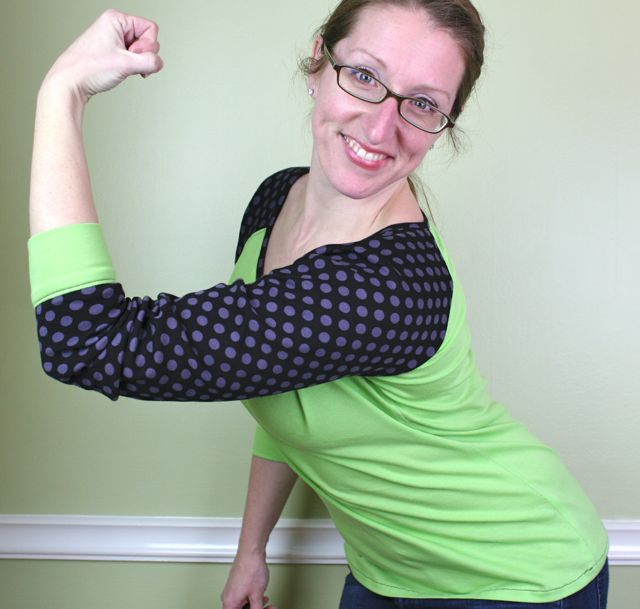 Which didn't stop me from taking you people to the Gun Show.  Whazzup!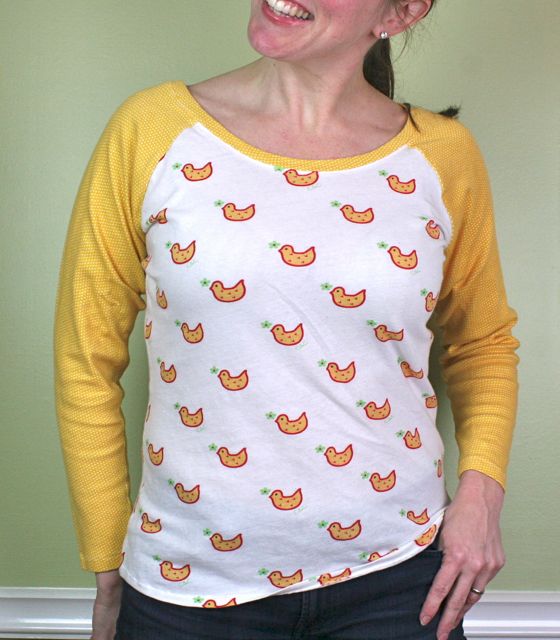 And finally there's this cutie pie, which I love to an unnatural degree, and have worn every single time it came out of the washing machine over the last couple of weeks.  Seriously, I think I've worn this eight times in two weeks, I love it that much.  It's the same dot as the blue and green basic tee, but here in Whipstitch yellow (thank you, Liesl Gibson!), and with this hysterical duckies print that makes me think of Johnny Dangerously every single time I put it on.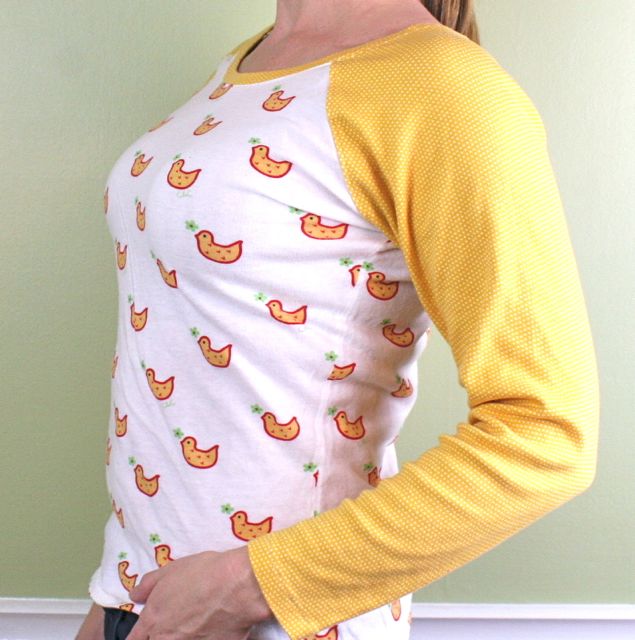 Like, for real: are these the cutest??  I think this was from the Girl Charlee clearance section?  Maybe?  It's a super soft jersey, almost sheer but not quite–the kind you have to wear a flesh-colored bra under, but that is still tasteful.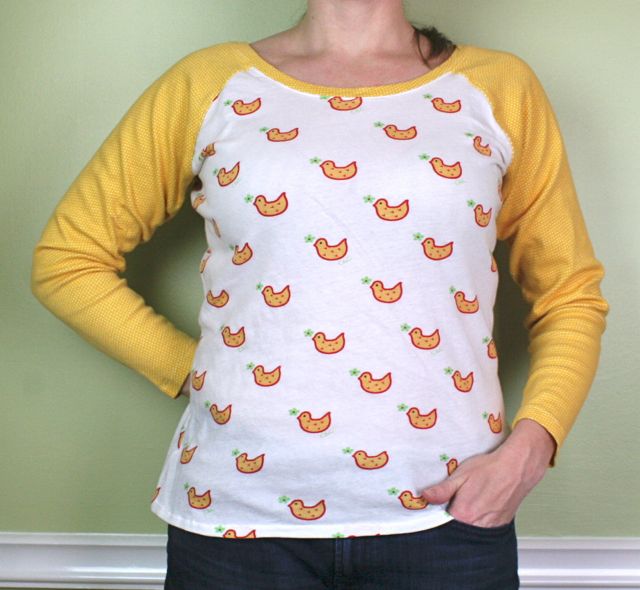 Like all the rest of these tops, the seams are done with my walking foot and lightning stitch, and the hem was done with a single needle, mostly because I didn't have a double on-hand.  I chose to do contrast cuffs on the green and persimmon versions, but this one I simply hemmed the sleeves at wrist length.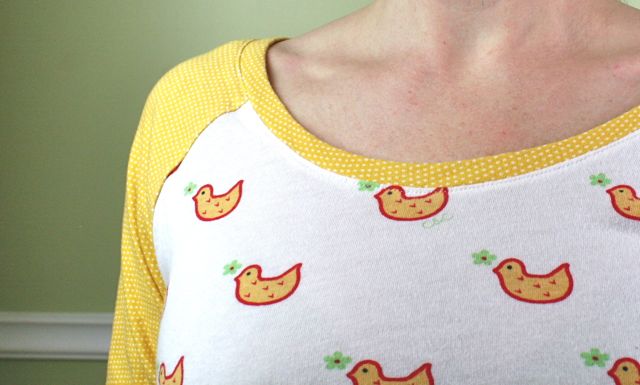 I made the neckline a smidge wider on this one, and I am crazy in love with it.  Those tiny polka dots!!  With the duckies!!  And it's all so absurdly soft.  I have been throwing this on under my around-the-house sweater (you know you have one, too–suitable with jammies or in car pool, but not nice enough for an actual outing where you will see real grown-up people, and still you favorite sweater ever) and have been snug as a bug, despite the fact that it is frigid outside and we steadfastly keep our thermostat at 65 degrees.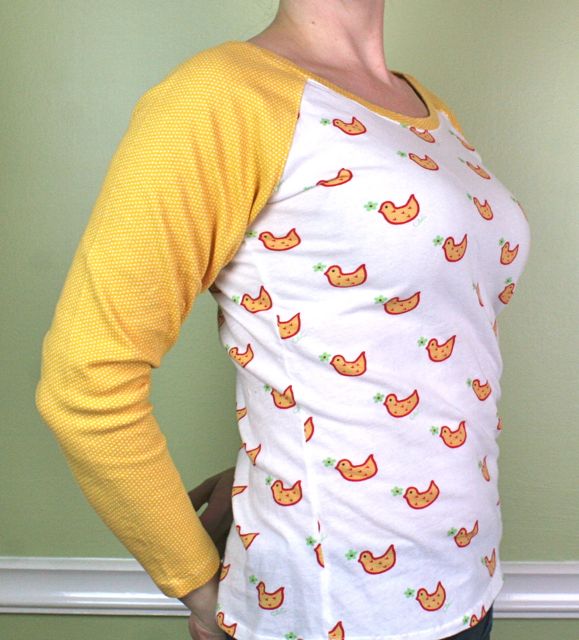 I like the longer length on all these tee shirts a lot.  Remember a few years ago, when every tee you bought hit at the high hip, and you couldn't have tucked one in, even if you'd really, really wanted to?  Man, I am so over that.  I like my shirts to have a little more length to them, and for sure was grateful when I went out to play in the snow this week: I totally tucked in my grey tee under my around-the-house sweater under my puffy jacket before heading out into the 11-degree cold, and it kept me cozy warm the whole time.  I was out longer than the children!  Hooray for long-sleeved shirts!
I think I might sew up a few of these as gifts, too, since I can only use so many in my real life.  Or maybe I'll make some for the kids?  Oooh, matching Mommy-and-Me tee shirts!!  Coming soon, mark my words.
To read more about sewing with knits and making your own tee shirts: check out Rae's KNITerviews series on her blog, which has tons of really great links to follow to drown yourself in fabulous information about sewing with knit fabrics, and check out my Sewing Knits Without the Serger online class, where we make a tee shirt and four other awesome knit projects, with just your sewing machine.  You'll be whipping up raglan tees in no time!