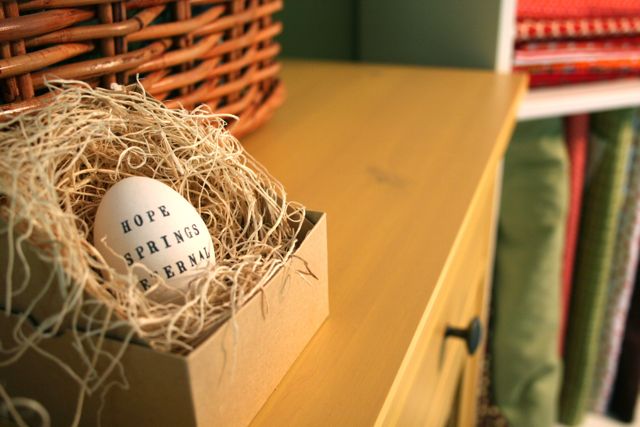 "Hope Springs Eternal" egg that sits on the shelf in my studio
Thanks for all the kind words on my last post, y'all!  Only good things happening here, and stuff that I've been wanting to do but unsure of–hearing all your kind words really meant a lot to me.  I'm always surprised (even though really, I shouldn't be) at how huge an impact it makes when someone shares your view of the world and has a thoughtful moment to hold your hand, even figuratively (although I am a long-standing fan of the real-life hand-holding).  Today, the post that I published and then pulled yesterday, which seems silly now that I look back on it.  Not sure why fear nibbles when you're on the precipice of something exciting–glad you're all here to remind me not to take myself too seriously!  Happy New Year, friends.
UPDATED: Thanks to everyone who so enthusiastically responded and is even this minute getting daily emails!  See below for a quick update–I've closed the list for now, but will for sure let you know when I open it up again.  Woot!
Welcome to 2012, everyone!  I love the smell of a new year, and the way I wake up on January 1 and feel invigorated and inspired and excited to check some projects off my list that I've been wanting to tackle.  Now, I realize that part of that is the thrill of the newness of it all, and that as the months wear on, I'm going to need a pick-me-up now and again.  There were some projects that I set for myself as goals last year that I didn't get to complete, and part of that was just plain ol' losing steam. Plus, I have such a bunch of stuff on my list this year that I really, really, really want to get sewn–I want to stay on track right from the get-go, for fear that if I sit down on the sofa early on, I won't get back up.  Like when you just start working out–taking a day off is a slippery slope of excuses.
So it occurred to me: what if I got a little note, a word of encouragement, in my email inbox every morning?  Not a sales pitch, because I get lots of those.  Not a nagging reminder of all the things I haven't done yet, because that just makes me feel bad for what I haven't done yet.  More like a note from a friend, an encouraging word, an amazing photo that makes me itch to stitch, a link to some sewn object so amazing that I feel greedy when I look at it, a suggestion or idea for how to use color or fabric or texture or space in a way I hadn't thought of before.  Just a quick little blurb, not even as long as a blog post, but enough to give me the get-up-and-go to hit the machine and create something lovely–whether small or large.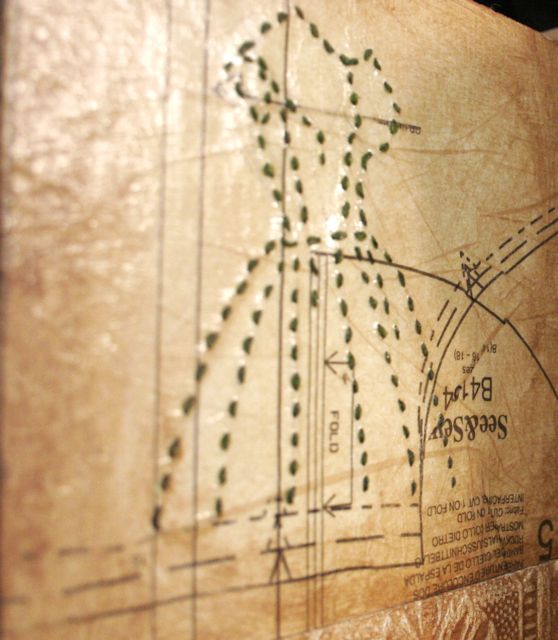 See & Sew pattern decoupaged to art frame after hand embroidering; by local artist Yvonne Miller
There doesn't seem to be anything out there like that.  I looked, and didn't find anything that fit the bill, anywhere I could go to find just the right nudge each morning to make the light bulb come on over my head.  I don't want to replace the blogs I love to read, or duplicate them, because I love connecting with each of those people each day–but at the same time, I sure would love to get a sweet little treat sent straight to me, in my inbox, each day.  Which naturally led me to think: maybe I can be the one SENDING those little words of encouragement.  I know it sounds right out of Little Women or something, but when I cheerlead for other stitchers, I think I am the one who benefits the most.  I love seeing someone come to sewing for the first time (or the first time in a long time), and I love seeing them fall in love with it, because it makes me fall in love with it all over again.  So finding little gems to share and having someone else be as excited as I am about it?  Really awesome for me.  For real–I'm not just saying that.
So, I guess what I'm asking is: would you like me to send you a sewing note every morning, straight to your inbox?  Because I know I would want something like that, and here at the start of a new year, it seems like the perfect time to begin a new daily regimen.  We're talking weekdays, here, not seven days a week, but how fun would it be to have an inspirational message waiting for you when you check your inbox each day?  Something that keeps the fires stoked?  I really dig this idea.
Now, I'll be upfront and say that this represents a certain degree of effort on my part, so if it's successful in the long run, I'm expecting it to become a subscription-type service–something along the lines of $6 a month for a daily email.  Before I get to that, though, I want to test the waters and see how it looks and feels, what you're looking for and respond to best, how to format it and what to include (and exclude).  It's hard to imagine all those things at the outset without doing some research. Which means what I'm really asking is: would you like to be an early adopter of a daily sewing email sent straight to your inbox?  Like a friendly beta-tester?
I'm opening up the mailing list today, and anyone who is interested in signing up now will begin receiving emails right away, and would remain on the list permanently–you'd never be charged and never pay a subscription fee, my way of thanking you for jumping in early and playing along.  Plus, you'd have a very special place in my heart.  Obviously.
Wow, what an awesome response!  Thanks, y'all.  To keep things a little more manageable, I've closed the list for now–I want to be sure I can really get feedback from a smaller group to start, and at nearly 100 names in under 24 hours, I think I'll err on the side of caution.  If you were hoping to join and haven't had the chance,  I'll be sure to let you know when I open it up again!  To join the mailing list for a daily dose of sewing inspiration in 2012, just leave a comment–be sure to include a valid email address, the one to which you want your daily inspirational sewing email sent each day.  A little note to you from me, unique content that doesn't appear on the blog, something to think about and chew on and occupy your daydreaming hours that will help you take your own sewing with you into the months ahead.  I'm kinda feeling empowered just writing that–like, the idea that I would have something thoughtfully sewing related to look forward to each day, something I can rely on to get my motor running?  Multiple mixed metaphors aside, that's pretty yumtastic.
It's an exciting time to be sewing, y'all.  I am having the best time sharing that with you!  I'd love to know you're on the other end when I send out these emails each day.  Here's hoping you're looking for the same thing I am–because that's one of my favorite parts of the online craft community: you people are totally My People.  Woot!
Happy New Year!