I have a dream where every garment in my drawer or closet is something I really love. One that sparks joy, if you will. Bonus joy if they're handmade. It feels like better stewardship if I focus on making sure that the things in my life are there on purpose, with intention. It feels like better fuel for my spirit, too, like the joy I get from fewer things that feed me will elevate my mood in a way that ripples out into the rest of my relationships.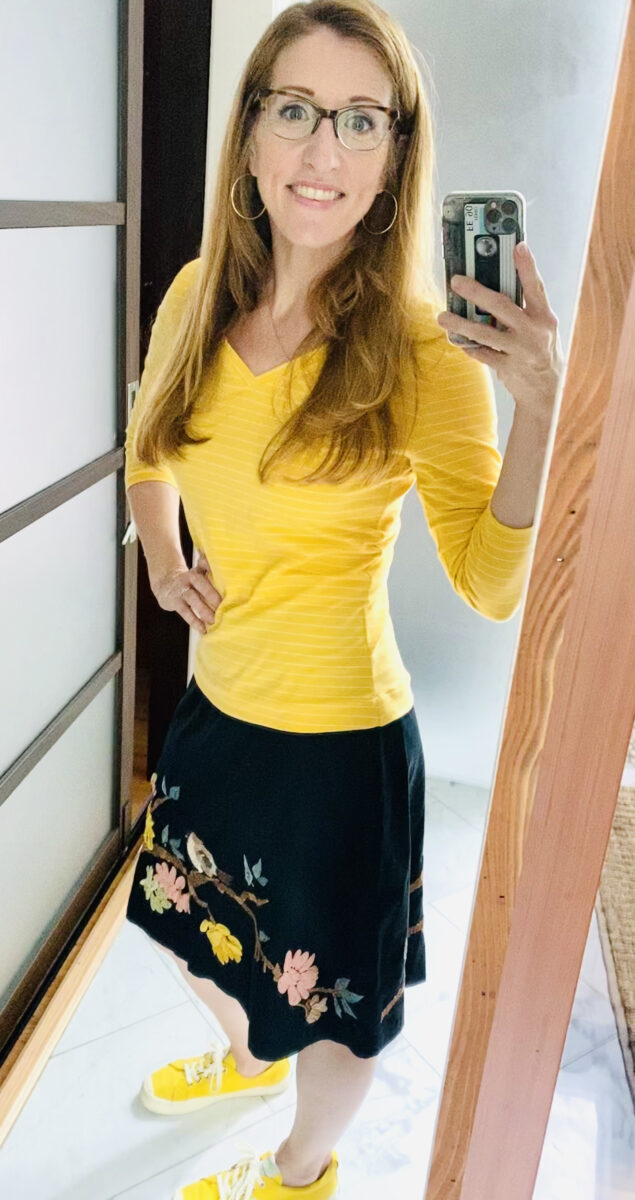 Of all the things in my closet, the items that wear out the fastest are tee shirts. Something about the quality of the fabric these days? It seems like in my memory, tee shirts used to last forever, and now they bag and sag and quit after just a few washings. Problem is, tee shirts also go with EV.RY.THING, so they get worn a lot.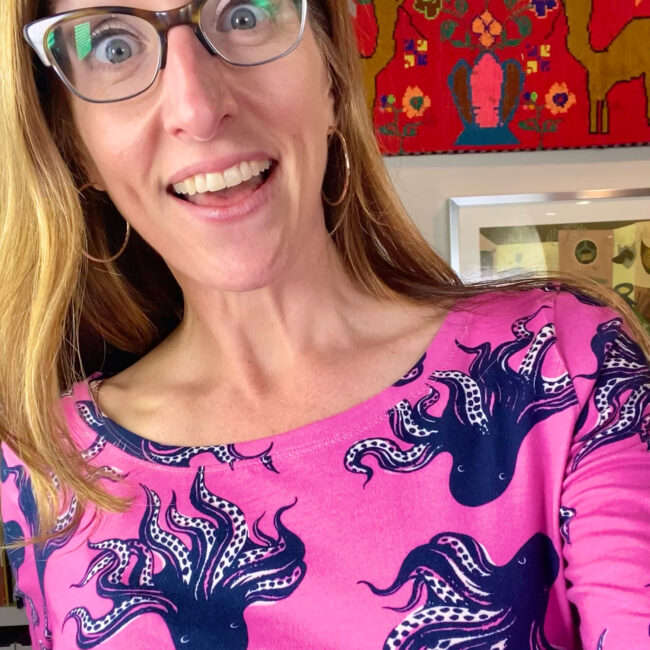 I love sewing knits, and had a giant stash of knit fabrics, and teaching people to love sewing with knits gives me a special jolt of delight, because they sew up REALLY fast once you have the basics down. Which gave me the idea to create a series of videos for the League of Dressmakers: what if we take a basic tee shirt pattern, and then make small tweaks until we have a wardrobe of tee shirts, each one made to fit perfectly??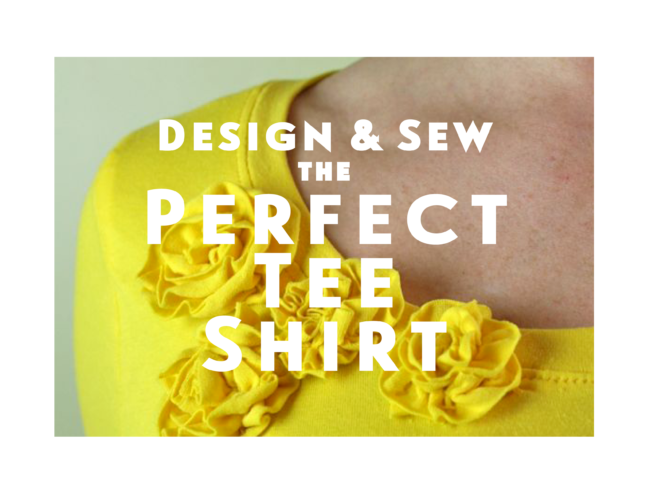 We just wrapped up that video series over at the League, and I now have this collection of tee shirts that I have been wearing ever since. They all turned out SO GREAT, like, even better than I'd hoped.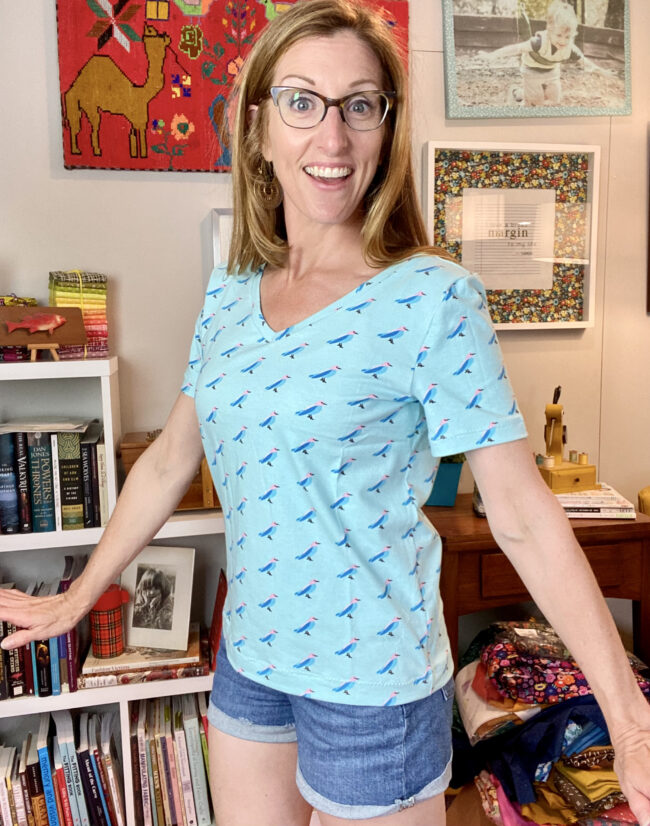 We started by drafting a basic foundation block for a tee shirt, made to our individual measurements. I walk through on video and show exactly how to do that, pattern piece by pattern piece, and then we sew the entire shirt from beginning to end, on camera. Every other tee in the series is based on that block, so I drafted mine on card stock and traced it for each variation. We started with a crew neck tee, the classic tee shirt, and I confess it's actually my LEAST favorite of the samples I made on video: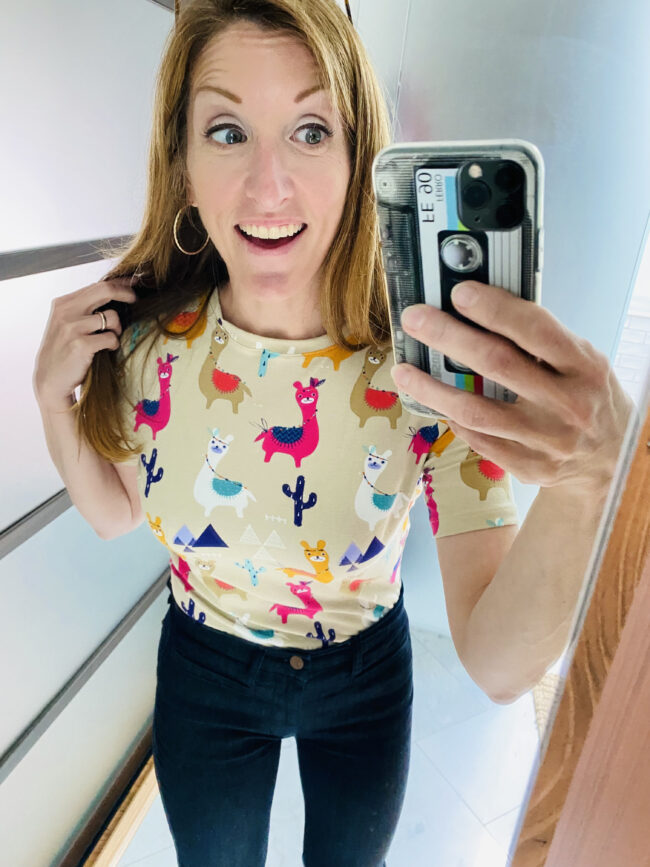 I think I like it least because (1) I don't love a high neckline like this, I prefer a scoop neck, but also (2) I forgot the cardinal rule of sewing a sample, which is make it in a fabric you love. How can I even tell if it's the fabric or the garment I don't like, it I knew going into it that I don't love the fabric?? I DO love the llamas here, but this putty/taupe color isn't for me, so I won't end up wearing this top. But I DO love the fit, and I love any garment that helps me refine my understanding of my own preferences for style and silhouette, which this tee shirt definitely did.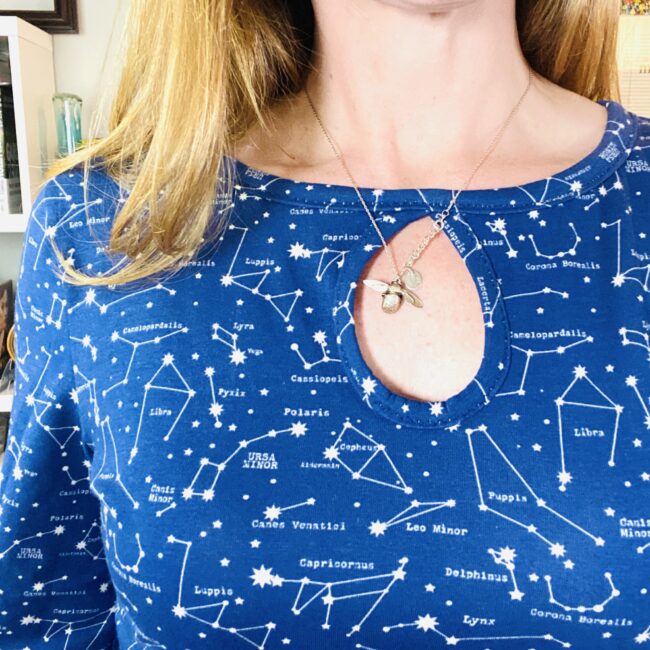 I think the funnest variation is the keyhole neckline, which can be made on either the front or the back of the tee. It's SUCH a simple change in the pattern pieces, but it makes for an elevated look–even though the sewing is nearly identical to the basic tee. We finished that out with a visible neckline binding, which opens up all kinds of possibilities for combining contrasting fabrics for more wardrobe variety. I did mine in this constellation fabric that I'd planned to use for a skater dress, and love it so much I'm wearing it RIGHT THIS SECOND.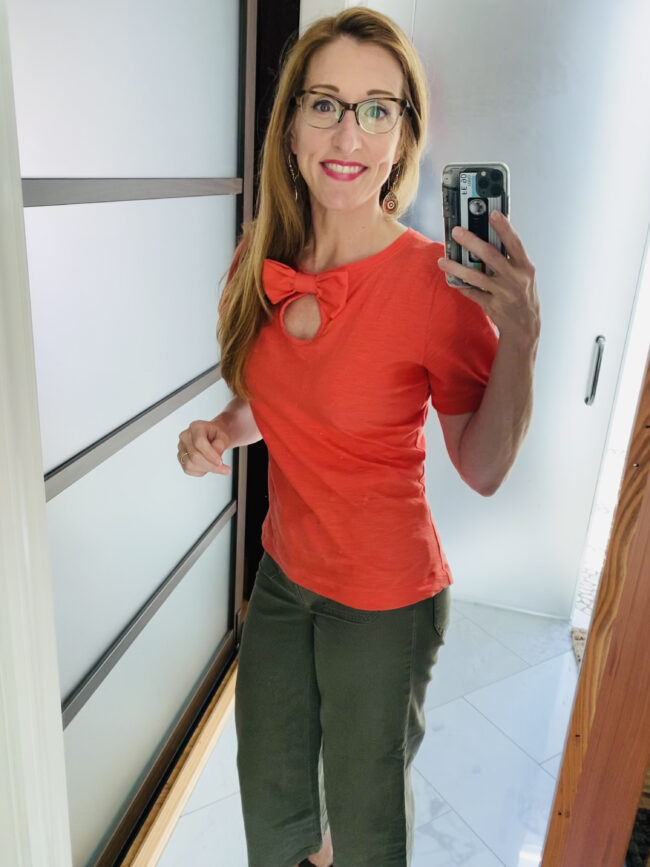 Plus it looks super sweet with a little bow! We did short puffed sleeves, as well as long sleeves gathered to a cuff, another detail that I think elevates a tee shirt and makes it more of a "top" than a tee. In the back of my head, I realized I was craving more variety in my wardrobe that was easy to wear but looked like it took more time and thought–adding details like gathers is meeting that need for me, for sure.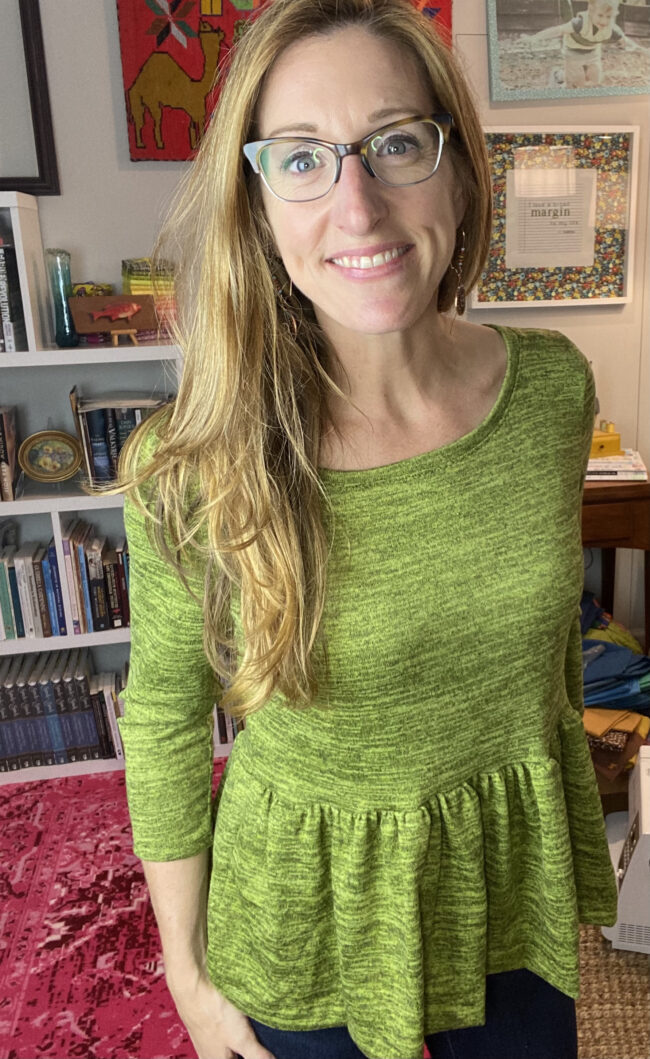 Winner of the "most comfortable" award went to this peplum tee, in a knit jersey that I stashed…oh, I don't know, six years ago? Minimum?? It's SO SOFT, but it also has this kind of loft to it. I'm pretty sure it's a bamboo/rayon blend, and the heathered knit has variation and catches the light in a way that feels much fancier than a simple tee shirt. Making this style was a matter of cropping the foundation block and adding a gathered peplum, which we did in real-time on video. In fact, every tee shirt in the Design & Sew Your Perfect Tee Shirt series is sewn start-to-finish on video, so members can watch the steps for creating the pattern, then cut and sew with guidance the whole way through.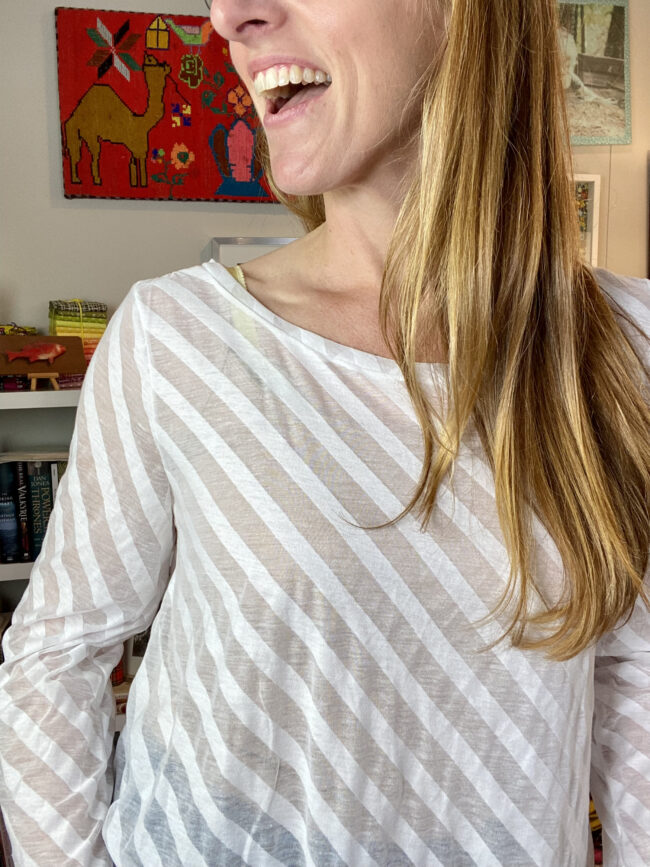 We also talked a lot about fabric selection, and how to use some fabrics that maybe we've been hoarding/stashing because we weren't quite sure where we wanted to use them and didn't want them wasted. About nine years ago, I bought this semi-sheer white jersey, thinking I'd use it for a babydoll dress, but it lends itself so well to this A-line swing tee! I threw it over a nude tank top with shorts for the beach, so I felt both covered and cool. It was a breeze to sew, too, if you'll forgive the pun.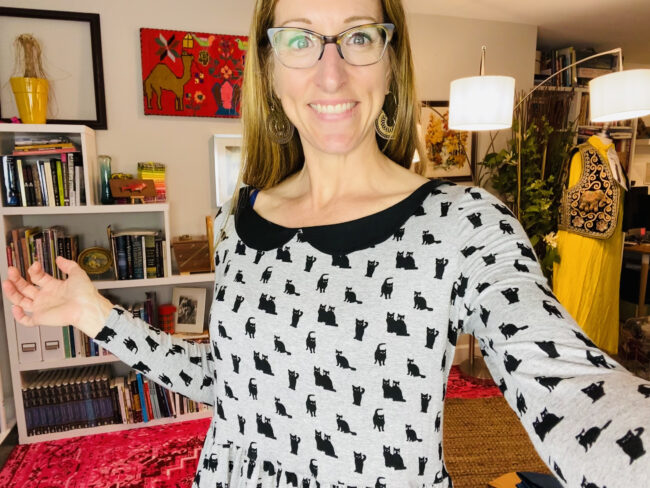 Not every sample I made for the video series stayed in my wardrobe, either–I can report that this Peter Pan collar peplum tee, made from this incredible lightweight grey jersey flocked with VELVET CATS, was snagged my my high schooler for her back-to-school wardrobe. I'm sure it will get more love there than in my closet, but also it feels good to sew something that your kids immediately claim as their own.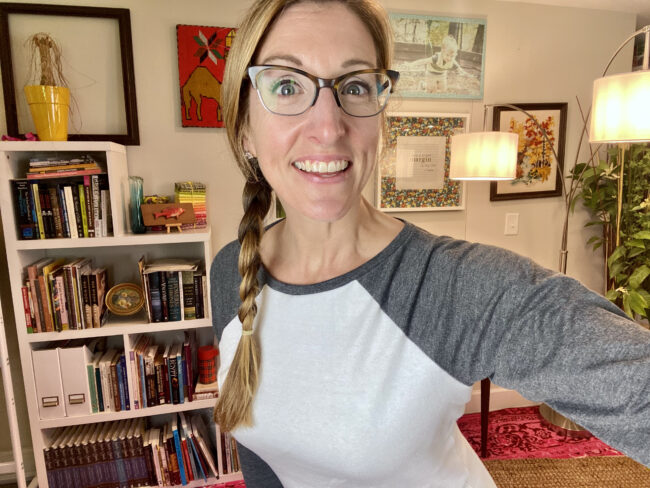 Nearly every variation we sew in the series is a classic sleeve, but we wrapped it up last week by converting a basic foundation block to a raglan block, and sewing a baseball tee. It's a pattern change that, when I learned how to do it, changed how I think about pattern pieces. Something in this particular adjustment–because we move a whole portion of the front & back to make them part of the sleeve–helped clarify how pattern parts relate to one another for me. I've had a MUCH easier time of making pattern adjustments ever since, true story.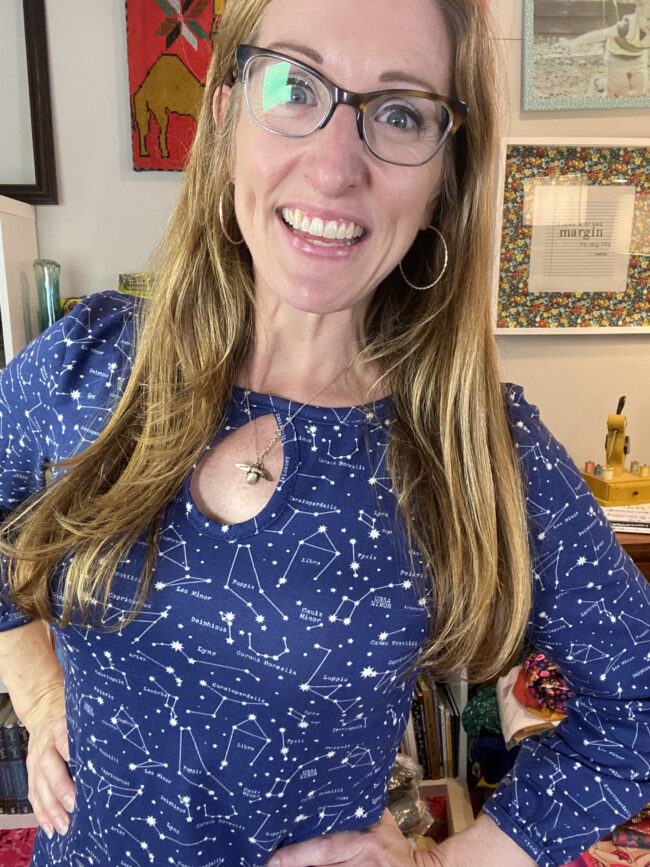 I walked away from making this series feeling SO satisfied. I love all the tee shirts I made, but more than that, I caught myself wondering why I would hunt and hunt for a pattern that was "close enough" to what I have in mind for my next sewing project when I've proved to myself that the time required to make small changes to a basic foundation block isn't much greater than tracing the pattern pieces (which I do anyway).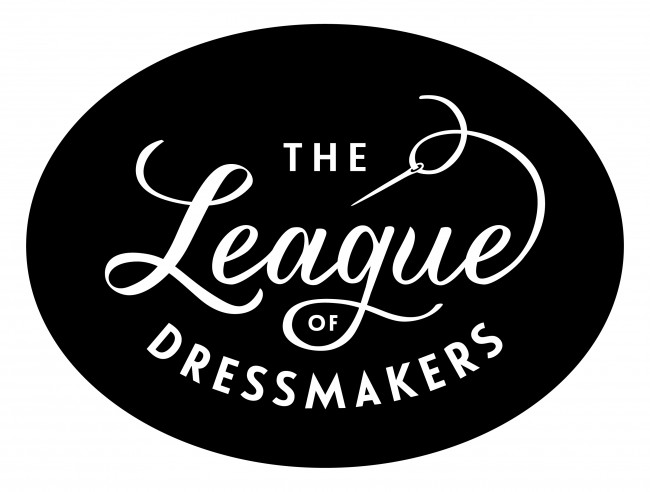 If you want to meet your people and sew your own tee shirts, the League of Dressmakers would love to have you! Find your team to cheer you on, and make clothes that feel great to wear. Join here and come sew with us!
Want to see these tees in action?? I put together some clips of the variations I love best to add to my YouTube channel! Come see the face I make when I'm trying to get myself in the frame AND figure out what to do with my hands–but also, the design elements of each variation you can learn to design & sew in our video series.