There are days where it would be so, so, so much easier to let the kids come home from school, turn on the TV, and let it roll.  We try pretty hard at our house, though, to limit TV watching–or game playing or Netflix or movies or videos–to days that aren't "school days."  Which is an ancient way of saying we don't watch TV on nights when there is school the next day.
How many studies have been done to date indicating that children AVERAGE something like 35 hours of TV watching per week?  That's, like, four hours A DAY in front of the tube, IN ADDITION to laptops and tablets and iPhones and video games.  IN ADDITION???  For real??
I could go on and on about how "back in my day" we didn't do that kind of thing, but you've heard it before.  If you have kids born after 2005, you've DONE it before.  You lived it, right along with me.  Back when there were no smart phones and no iPads and no cable, for crying out loud.  I don't think it's reasonable to pretend that we're going to go back to that kind of lifestyle, because it's never going to happen.
I know some parents have been very successful with the "tickets" method of controlling screen time: their kids earn a particular number of minutes of the privilege for each task or chore they accomplish.  On the surface, it seems like this really great idea, right?  They have to earn it, and when it's used up, that's that.  They're being taught personal responsibility and limited resources and budgeting, all those things.
Here's what I think: as much as that system appeals to me on the surface, it's still presenting television and computers and the internet as a reward.  And I don't want my kids to see it that way–I want my kids to think of technology as a tool, not a treat.  And allowing them to "earn" the privilege to engage with media in that way seems to perpetuate the idea that they ought to have that treat, want to have that treat, need to have that treat, that things are better with the treat.  It's the same idea as when my college professor criticized the Pizza Hut plan to reward kids' reading with free pizza: he claimed all you'd end up with was fat kids who hated to read.  And he was right.
Instead, we're trying a new tactic at our house.  It's HARD, let's just say that outright.  It's HARD ON ME.  But it's simple and it doesn't require any oversight, which puts it over a ticketing method that would put the onus on me to keep track of who had done what task for what "minutes" value and when their minutes were used up, and then policing their redemption of those minutes.  Gak.  Like I need one more administrative task in my day.
Here's our new approach: I say no.  And then, like Isak Dinesen, just when I think I can't go ONE MINUTE MORE, I take a breath, and I know that I can bear anything.
The children come home, and the house is a mess, and I have a deadline to meet, and dinner to cook, and everyone wants a snack and to watch a video or Netflix or play on the computer.  And we have a big TV that streams the internet and an iPad just for the kids and a laptop in the kitchen and my smart phone that they know all-too-well how to operate.  And it would be so EASY to just plug them in and go in the other room and take a breath and a break and let it slide.
So I don't.
I say no.
And it's HARD.  Did I mention how hard it is?  Like, SUPER hard.  They whine and they complain and they want explanations.  And while they're used to the idea that we "don't watch TV on school nights," there have been exceptions.  There are always exceptions.  And so they're hoping for another exception.
I don't like to disappoint them.  And let's be honest: a lot of days, there are three of them and one of me and it's only 2:30 in the afternoon and I'm TIRED and I just don't know if I want to fight it out.  I want to give in.  But every time I don't give in, every time I say "no" and stick to it, I am overwhelmed with how grateful I am that I did.
Like yesterday: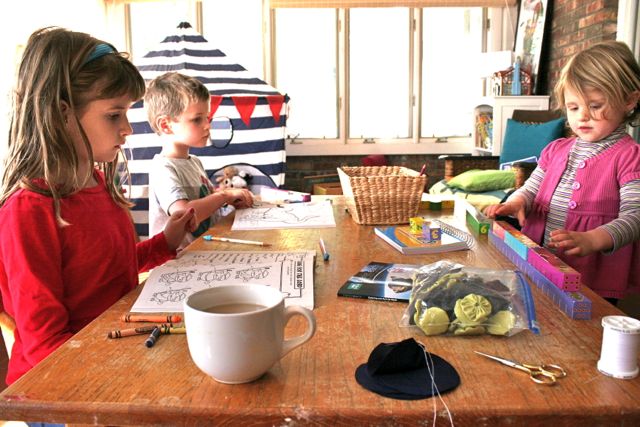 They did the spiel.  They whined and complained and two of them had to be sent to their rooms for pushing.  Even playing outside they couldn't seem to get along, and there was constant bickering.  Nothing SO bad, not really miscreant behavior, just tired kids who are still recovering from those four days at Gramma's, who need more sleep and some peaceful time at home.
I wanted to turn on the TV.  It would have been easy to turn on the TV.  And instead, I got out some coloring books.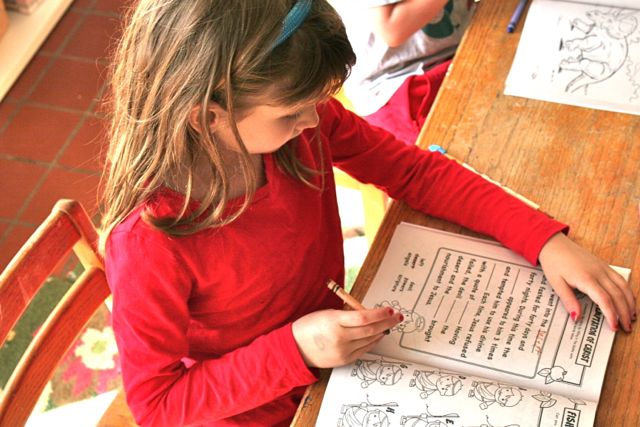 Yep.  Coloring books.  From the dollar store.  The DOLLAR STORE.  I bought them on a whim when I was picking up paper goods for the spring parties in their classes.  One for each of them, chosen for their interests.  I placed them on the table–like a treat, like a reward.  And they gasped with excitement.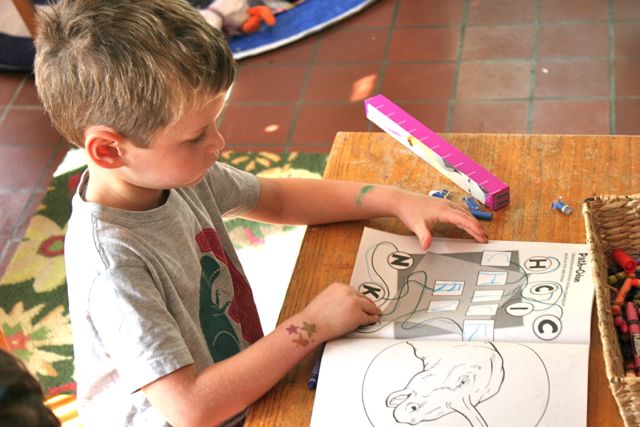 Y'all, they GASPED.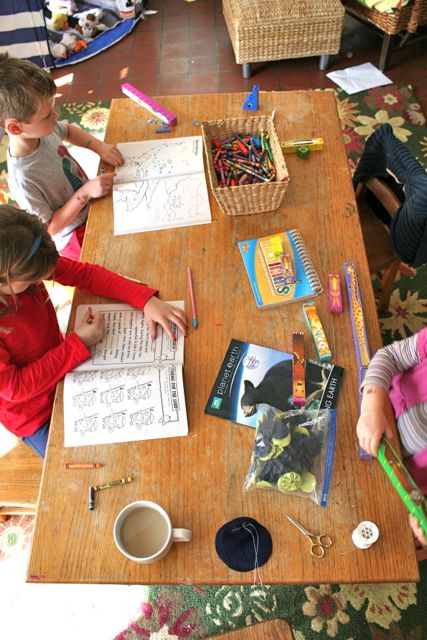 And for the next NINETY MINUTES, they worked and shared and read and colored and played with one another.  Heck, they were so great that I brought in my hand-sewing and sat next to them, answering questions and exclaiming over how great their work was.  The little one wasn't feeling the coloring, but the mood in the room was so peaceful and cooperative and loving that she brought out her Inchimals and started playing with those, all on her own, doing MATH PROBLEMS.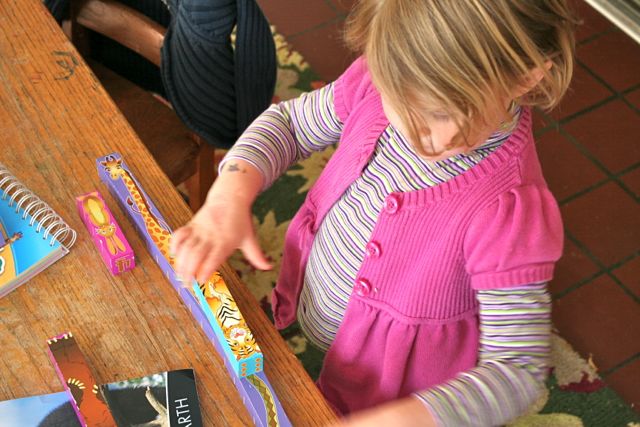 I know.  It sounds like a fairy tale.
My point is this: I want our parenting choices to reflect not what we're FEELING but what we're HOPING.  My husband and I aim to make decisions based on the kind of people we hope our children will grow to be–how they will view the world and the degree to which they can interact with it open-heartedly in the far-off future when they are grown adults and we are just a bi-weekly phone call.  And they won't grow into loving, caring, patient, kind, generous, joyful, faithful people with self-control and the ability to delay gratification if WE can't do that, will they?  No, they won't.
And so we say no.  BECAUSE it's hard.  Because by saying no to them–about something small, like television, or something large, like television–we are asking them to do and be MORE.  More than what's easy, more than what someone else has chosen to show to them through a screen, more than an unfiltered look through the glass.  They are being asked to be small a little longer, and to dream big a little longer, and to use that box to make a spaceship a little longer.  They are falling in love with connect-the-dots and with spot-the-differences and with using all the colors in the box, just a little longer.  And maybe, if we're right about our beliefs in our own influence, when they are grown and no longer under our roof, they will not look at the internet or the television as a treat and a reward, but instead see it as a tool–a tool that can lead them to explore bigger worlds and love in small doses, the kind of love that keeps each of us going day to day, when it feels like we just can't bear any more.