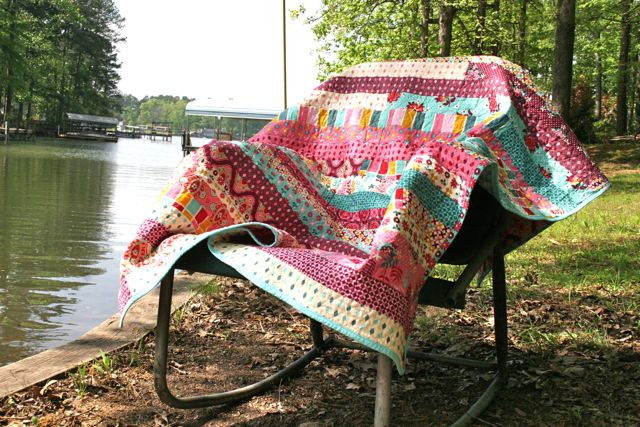 My Domestic Bliss quilt top is finished!  And it has already been on vacation!  We headed up to the lake this weekend, following my appearance at the Festival of Alabama Fiber Arts in Montgomery, and spent the first few days of the kids' Spring Break enjoying this shockingly unseasonable weather at the waterfront.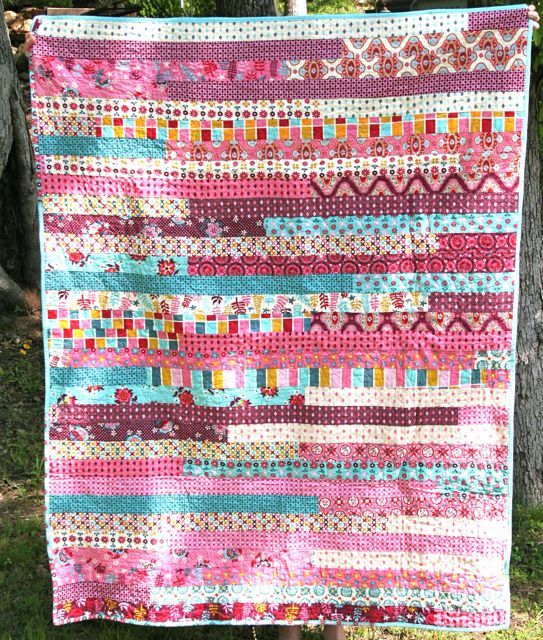 This is the 1600 quilt, which is almost obnoxiously easy to stitch up.  We did it for the Whipstitch Winter Sewing Retreat this year, and sincerely: my retreat quilt top took about an hour and a quarter to stitch the entire quilt top (which makes me think it's a great option to make a teacher gift for that teacher who's wonderful but you don't have weeks and weeks to make a more complex quilt to gift–just a thought as we zoom toward the close of the school year).  I did not angle the ends of my jelly roll strips (you can still get yardage of this collection!), just stitched them straight-on, but I did cut off the 18″ on the end of the first strip, to stagger the joins across the body of the quilt.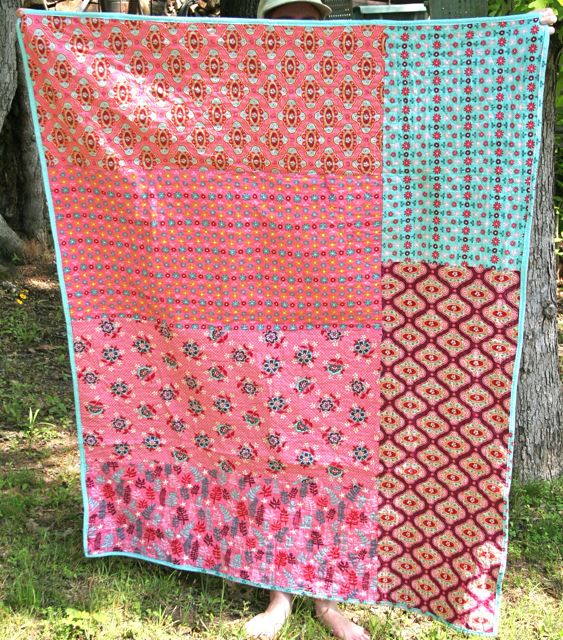 The back was just a handful of Domestic Bliss half-yards that I had on hand when I completed the quilt top and was too ready to keep going to head to the shop and buy yardage of a single print.  I love a pieced back, anyway, and think this one turned out especially well.  I pin basted the whole thing together while re-watching Season 2 of Downton Abbey on Netflix.  Oh, yeah.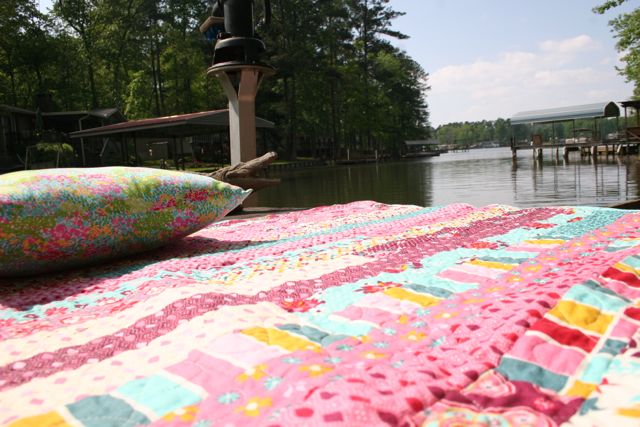 See how perfect it was on the lake this weekend?  The weather was obscene–85 degrees every day–and the sky was a picture-perfect blue.  The ducks kept swimming past the dock, and the children even SWAM.  IN APRIL.  Craziness.  Our eldest wanted to lay out and get some sun (with lots of sunscreen, naturally), so I dug out a pillow I made for Stitch by Stitch whose colors work with the quilt and voila: instant beach.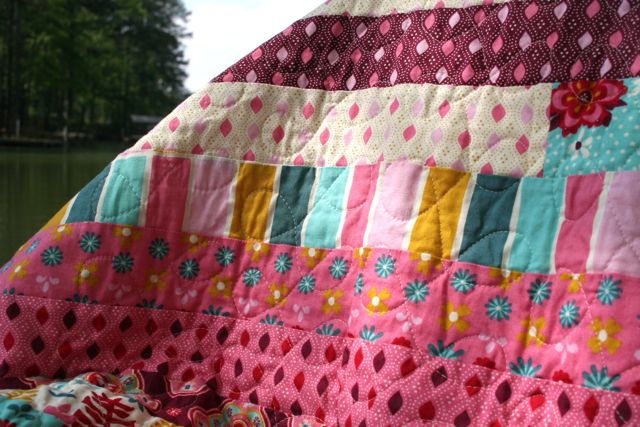 I wanted to try a new quilting design on this one, and had one in my head that I was trying to work out.  Then my dear friend Kim sent me a link to Denyse Schmidt's new book, and whaddya know?  That was the exact design I'd been searching for!  (I think I must have tucked it away in the back of my brain after seeing some images from the book at the Heather Ross retreat in January, but now that I have the book, I find the pattern completely captivating.)  I learned this weekend from a lovely quilter named Agnes that this is called a wishbone pattern, and it was seriously fun and simple to quilt with free-motion.  Lots of practice, though, to get all those swooshes evenly sized, which is one reason I was grateful the 1600 quilt is such a quick one to piece: I didn't mind doing some experimenting on a quilt that hadn't required a huge time investment to piece, and the visual busyness of the jelly roll strips and these prints was sure to hide any errors.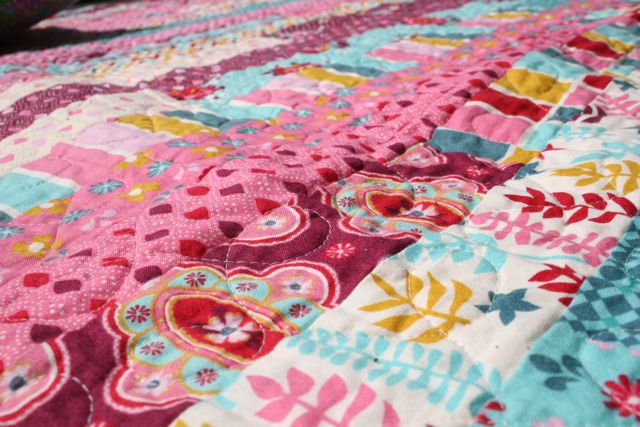 At first, I thought I could free-hand the whole design, and just swoosh it out without needing any marking or guidelines.  But that first row sure does slant to the right a good bit, and I wanted them to be more even than that.  So after row 1, I took the whole quilt and marked 4″ increments down the length of it.  From there on, I swooshed between the lines, making a much more even result.  There was a little 2″+ section leftover, so on the edge of the quilt, I free-motioned in our little girls' names in cursive along the edge, since this will be their "backup" quilt in their room.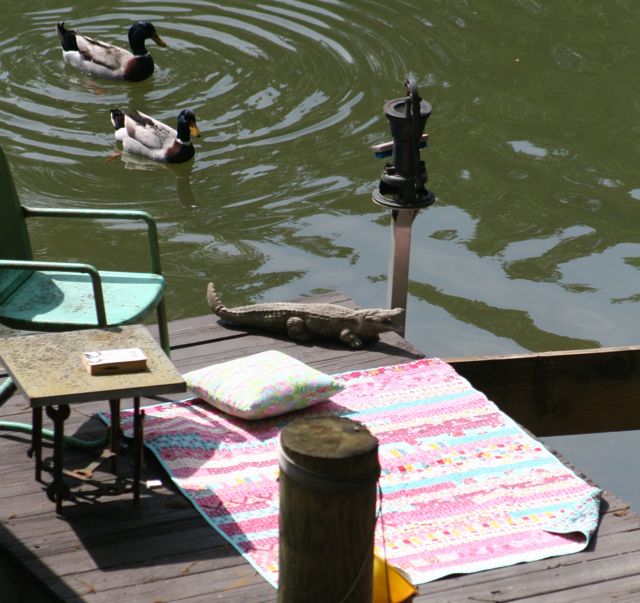 Fabulous weekend, and if I do say so myself, fantastic quilt.  It's small–about 48″ x 55″ or so–but it's just right for sitting under to read or lying on to read or tucking around your legs as you read…  Clearly, I am in Vacation Mode, where all I want to do is READ.  (Checked off on this lake visit: a re-read of all three of the Hunger Games novels.  Woot!  Thanks, honey, for letting me lollygag!)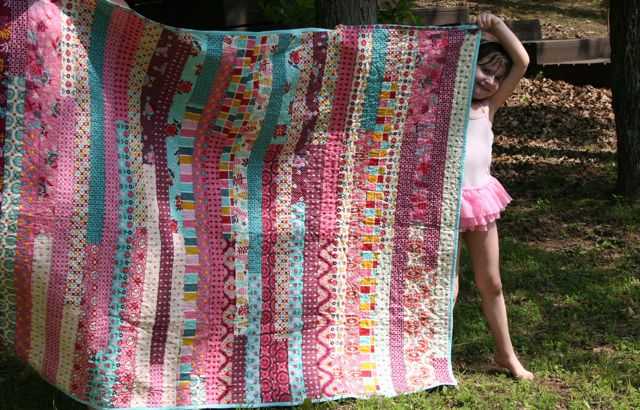 And what could be better thanks than seeing your child giggle with delight at her new quilt??  All those years I thought I'd never be a quilter because it was "for old ladies" and I couldn't imagine where it would fit in my life–I laugh when I look back.  Because now, I laugh when I look forward and see what a big part of my sewing and my family quilts and quilting have become.