So, I asked the question about Google Reader killing blog comments, and not intending to do an experiment, also posted a quick screen shot of the blog post title on Instagram: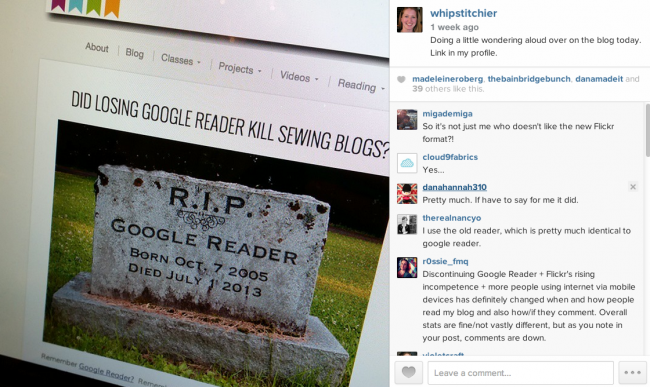 Really I was posting on IG because I wanted to alert people that I had blogged–I suspect because, deep down, I figured no one would know otherwise?  Like, I assumed that people didn't read their feeds now that Reader is gone, and they only found out about posts from social media?  Which is more or less what the comments on IG told me, but that was only part of the story.
Over on Instagram, I got a boatload of comments fairly quickly: a total of 33 over the course of about two hours.  In the same space of time, how many comments do you think I got here on the blog?  THREE.  Seriously.  So, there it was, I thought: the conversation has left blogs and moved to social media, and thinking that blogging still has a place in the universe of the online sewing community is just naive.  Boo, sniff.  Right?
Well, yes and no.  Over the following week–where, again, I wasn't intentionally doing an experiment, just so busy with other projects (actually sewing!!) that I neglected to do a follow-up post–I watched the comments on the blog increase.  And increase.  And increase.  Even today, as I'm writing this post, I have seen two more come in.  Total of 39 comments to date, and the vast majority of them are extensive and thoughtful and considered and substantive.
Comments on IG were also occasionally extensive–impressively so, for a bunch of folks typing with their thumbs–but many were quick nods acknowledging my title/thesis without much more detail.  Many were left based on the title ALONE, without having read my post.  Which made me think that there really are two totally SEPARATE audiences: there's a blog audience, and there's an Instagram/social media audience.  (Again, since I had zero intention of doing a legit experiment, all my data are accidental, so I can't compare any of this with, say, Facebook, but I suspect the results would be largely similar if not identical.)  From the comments I received just on this one off-the-cuff post, folks who respond via social media do so there almost exclusively, and some of them indicate that they really have stopped reading blogs altogether, in favor of the quick interactions of Instagram.
Part of me gets that.  I really, really do.  I love me some Instagram–LOOOOOOVE me some Instagram.  I am there, like, a LOT.  I don't like the Facebook interface, and have reduced my FB "friends" to a list almost exclusively of blood relatives or friends so close that we consider them family, so I rarely do more than skim through FB to "like" their posts or leave a quippy pop-culture reference.  I do not have Facebook on my phone.  I DO have IG on my phone, and I get push notifications when folks like or comment a photo I post, so I spend a ton of time (probably too much, let's be honest) updating my feed.  I leave lots of hearts for my friends–usually because I like their image or am impressed with their project or because it's a pretty picture, but sometimes because I like THEM, and want to acknowledge that.  When I host Virtual Sewcials on IG, I ensure that as the host, I personally visit every photo that makes it to the pool, and leave a comment.  These hearts and quick notes between IGers might not always be a deep interaction, but that doesn't make it meaningless–I think it's akin to a wave and a smile in the middle school hallway, as you pass in opposite directions between classes.  It isn't a long conversation, but it gives a nice glow until you get to fourth period.
My blog, on the other hand, I consider an intimate space.  And I think the reason I feel hurt and confused and disappointed about the reduced number of comments I receive these days–and as embarrassing as it seems to admit it, yes, I do feel all those things when I go to the trouble of working on a post and make it live and hear crickets in the comments–is because this is where I've formed real relationships with people.  Some of the bloggy folks I've known longest are people I met right here from writing–I wouldn't know Dana or Rae if it hadn't been for us commenting on one another's blogs, and I feel super grateful for having met both of them in real life and growing a friendship apart from a digital interaction.  There are folks who have commented on this blog for YEARS, whose names and handles and avatars I recognize when they come through, and whom I am excited to hear from when they comment again.  THOSE folks are the reason, a few years ago, I started working to really reply to as many comments as I reasonably could (more so that even my email, to be honest), because I wanted them to know how much I looked forward to their voice and thoughts as I post on my blog, and how much I value that interaction.
So, if we take out of the equation those folks who really don't love the blog interaction–for whom, in the sewing realm, the high five in the hallway carries the satisfaction they're looking for, rather than something longer or more involved, like a blog post–then there's still a reduction in blog comments.  (To be clear: I have no issue whatsoever with folks preferring one medium over another; I love my IG interactions deeply and value those greatly, and have friends I've met THERE with whom I feel a deep kinship and whom I care about a great deal.  I'm pointing out, rather, that many folks on IG are NOT the folks who have stopped commenting on blogs, because they weren't anyway, since they have found an avenue of interaction elsewhere.)  Which left me with the question: if there are still substantively fewer comments on sewing blogs now, and we know that Reader was part of it but not all of it, what's the deal, yo?  WHERE MY COMMENTERS AT, Y'ALL?
Reading through what all of you had to say–and THANK YOU to the many of you who took the time to share detail and thought processes and insight into how you read and why you read and what you read and what drives you to leave comments–it looks like part of the issue is YOUR PHONE.  More specifically, it's that you're reading blogs in a mobile format that makes it more challenging and time-consuming to comment.  I guess, back in the good ol' days of 2008, we were all reading on our laptops?  So when you had a thought, you could hit that keyboard and make it sing.  Now, with phones and iPads and Kindle Fire, it's just not as easy.  I'm still a laptop-based reader, so that was complete news to me, totally not what I was expecting to hear.  I guess the comments interface is way down at the bottom of the post?  And the keyboard isn't as accessible?  And it's hard to type with your thumbs?  So there are fewer comments.
But then, why do IG readers all comment so much and so frequently?  I mean, are they all using talk-to-text to write these paragraphs?  I'm not.  I'm just super fast with my thumbs, dog.  And if we're all so good with our thumbs, then why is it so hard to comment on blogs these days?
I think there is still a viable, thriving, fertile place for sewing blogs.  I think there is some content that really must be shared in a blog format (remember the tragic rise and fall of the short-lived IG tutorial?).  I am seeing new and exciting ways of sharing content–like Colette's new magazine, Seamwork, which I think will be amazing, or Dana's webseries, MADE Everyday–but they don't have the built-in ability to create community and introduce folks to one another and means of hearing multiple sides of an issue.  I love that blogs carry that, and miss the level of intimate–in the sense of getting-to-know-you-more-deeply-ness–connection it carried with it.
I agree STRONGLY with the folks who lament the paid content/self-promotion/list of to-do posts that we're seeing so frequently these days.  I think, if we've all been paying attention, that we saw that coming: be honest, you've known that there was a critical mass of sewing blogs the past few years, when it seemed EVERYONE had a blog and ALL of them were doing tutorials, and that ultimately there would be a large proportion that would fall prey to the Law of Diminishing Returns.  At some point, there have to be too many spread too thin doing too much the same thing.  And that's natural selection at its finest: when the cream rises to the top.  I can't even tell you how much it meant to me to read several of you comment that you have stopped reading a lot of blogs, but continue to read mine–I mean, for reals, like tears and stuff over here, more than one tissue, seriously.  Years ago, a dear commenter whose words always hit home left a note that said she suspected that I would be remembered more for my writing than for anything else, and it struck a chord with me.  The comments last week that echoed her thought reminded me of that, and reminded me that there's still a place for writing about sewing in a blog format, still a place for folks who'd like to get a little ping, a little email, that tells them a friend has written them a note and had the kid in the back row pass it up during Geometry.  So you don't have to wait until the bell rings to get a little high five.
And that leads me to my final question on this topic:  What would it TAKE?  For you to comment more regularly, for you to comment specifically from your mobile device.  What would it take?  Is it a formatting issue?  Is it an accessibility issue?  Is it just a giant lack of good content?  Is it that you don't feel responded to, don't feel heard on the other end, and so are discouraged from taking the time?  What would it take for you to comment more and more regularly?  I miss the two-way street, y'all.  I'd love to know if we can make it a vibrant downtown again, with busy sidewalks, rather than a vacant dead mall at the edge of the suburbs.