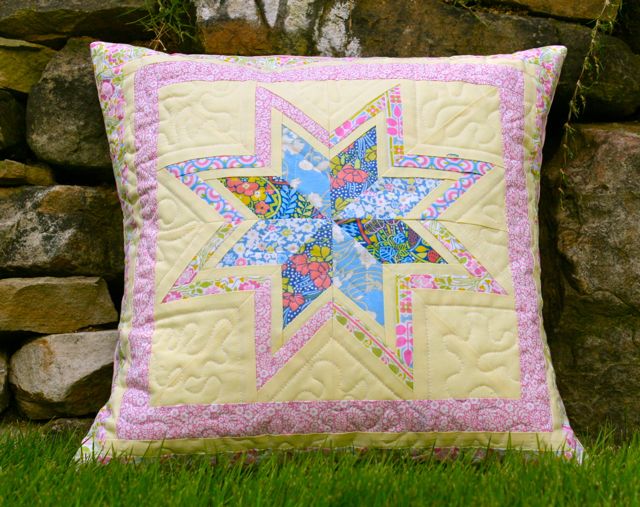 The ladies at Sew, Mama, Sew contacted a group of bloggers and invited us to be part of a Liberty Stile Pillow Challenge.  Liberty–the Liberty–would send each of us an assortment of their quilting cottons, and we'd sew up a pillow in any style to showcase the prints.  I mean, seriously: who would say no to that?  So I waved my hand in the air and volunteered myself, and then waited for my magical package to arrive.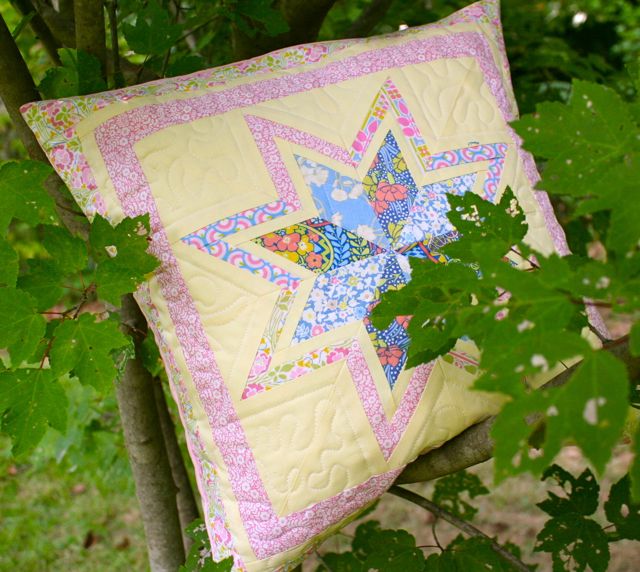 This is the result!  When I first heard about the challenge, I figured this was the perfect–I mean, the perfect–time to make a pillow for the master bedroom, where we have a lot of solid colors going on.  When they arrived, the selection had a lot more pink than I suspect my dear husband would be comfortable putting on the bed.  I mean, he's a very tolerant man, totally willing to let me cover the sofas in any fabric my little heart desires, but every man has his limits.  And frequently, those limits are met when you want to put a pink floral pillow on their side of the marital bed.  Even if it's a Liberty floral.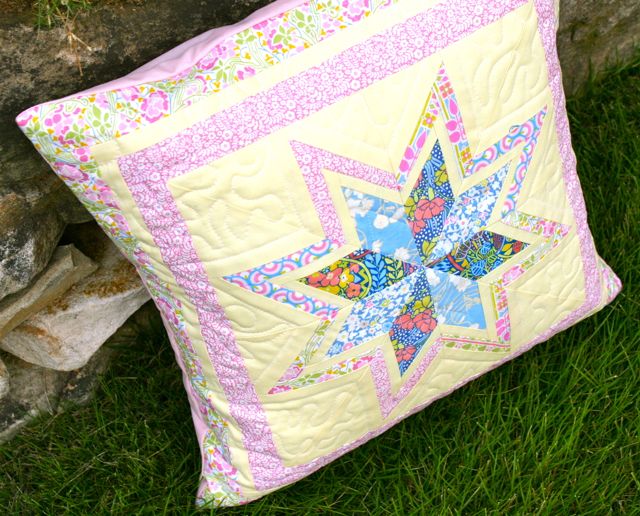 The central design here is the Bordered Star pattern from Six White Horses, in the 12″ version.  It's foundation pieced, and was really simple and fun to put together.  There are two templates, each sewn out four times, so eight sections.  They went together in a night and a day, about 2.5 hours of sewing time or so–which may or may not include a snack break.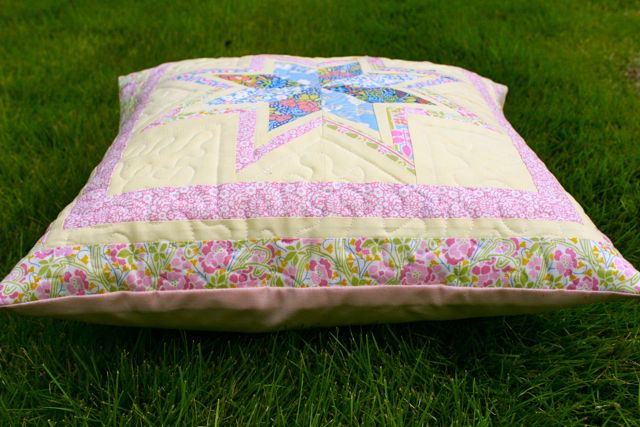 Once the star section was done, I knew I wanted to add on a border to make the pillow a full 16″ x 16″ when complete.  Initially I planned for that to be more background fabric, but as the sections of the star were going together, I realized I'd made the outer star border all pink and the inner "spokes" all blue, so I wanted to highlight the pink a little more.  Making my two favorite of these pink prints the borders gave it some real pop.  The first border is 1″ and the skinny background-color border is a scant 1/2″ with the final, outermost border 2″ wide.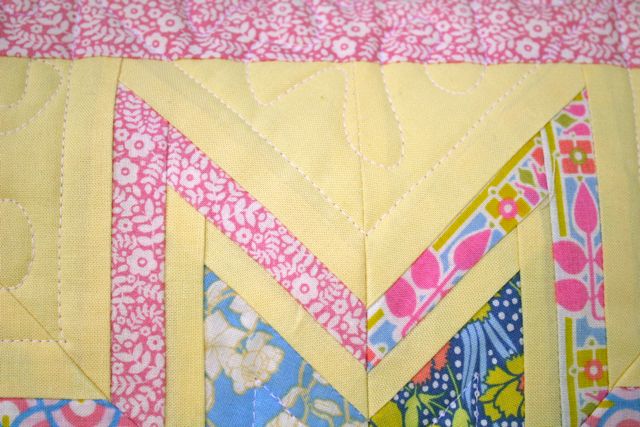 Like the colors of the fabric, my ideas about the quilting changed over time, too, just from watching the pillow front develop.  I backed the pillow front with some mid-weight muslin and used a cotton batting, and then basted.  At that point, I thought I'd quilt the whole thing with outline stitches mirroring the star shape.  But once I did the first two quilting lines–one inside the inner star and one outside the outer star border–I decided to do free-motion meandering stitches in the remainder of the background outside the star.  The quilting inside and around the star really made the shape stand out, and I figured the FMQ would draw up the rest of the pillow front and make the star…well, the star.  Ahem.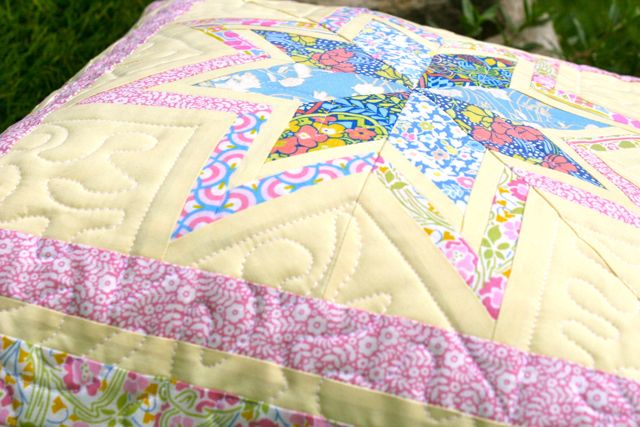 I trimmed down at the end to make the pillow front 17″ x 17″ total.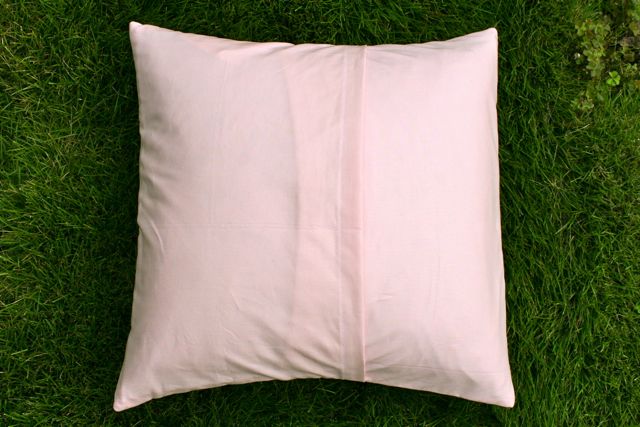 The back is two sections of Kona sewn with an envelope closure.  Each piece measures 17″ x 12″ and the inner edges are double-turned and hemmed.  Easy peasy.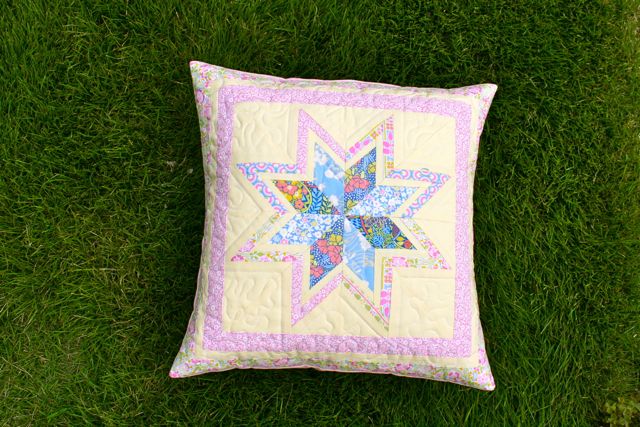 The pillow as a whole turned out a lot more pastel and traditional than I think most of my sewing does–I hardly ever work in colors this pale, almost always choosing fabrics that are a lot more saturated.  I love it, though, and it was really refreshing to see how light and soft and sweet it came out.  It's strange, though, isn't it?  To work outside your usual comfort zone and not be quite certain if what you're making is "good" or not, because it doesn't look like all the other things you usually make?  I think that's what's fun about a challenge like this: it forced me to abandon my original plan, work with what I had, and push through to the end even if where I was in the middle wasn't super comfortable for me.  Sigh–like life.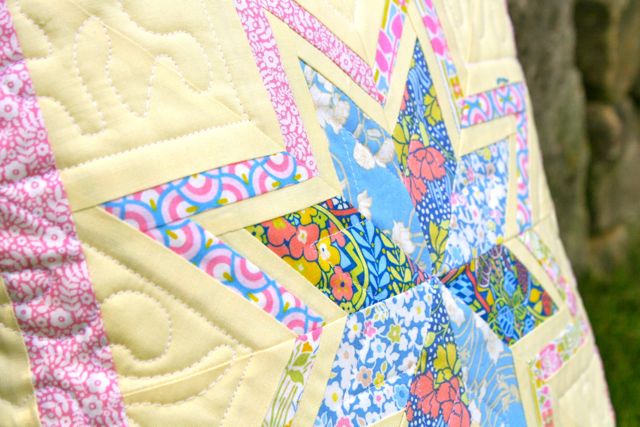 Thanks to Sew, Mama, Sew and Liberty for a lovely pillow!  And now: the surprise part.  I'm GIVING THIS PILLOW AWAY.  
Yep, that's right!  I really do love it, but since these aren't colors I generally use, I don't know where I'd put it in my house.  And rather than having it go in a drawer and languish, I want it to go to a good home!  Leave a comment below and I'll choose a winner at random on Monday, Sept 16 at noon Eastern time.  Here's hoping one of you knows exactly the right place to put this beauty!  This giveaway is now closed.
*Note: giveaway is for the pillow cover only–for efficiency in shipping, pillow insert will not be included.  I know y'all are cool with that.