Smaller spaces are more likely for most of us, and even beyond that, SHARED spaces are most common.  Combining functions within one room makes it possible to use space more effectively, but to still keep your sewing machine and tools out where you're most likely to use them.  The tedium of taking out and putting away your sewing machine every time you want to sew is enough to deter many of us from getting a project started at all!  Check out these clever solutions to that problem, and ways that some amazingly talented crafters have made it possible to get their sew on in the tiniest of places: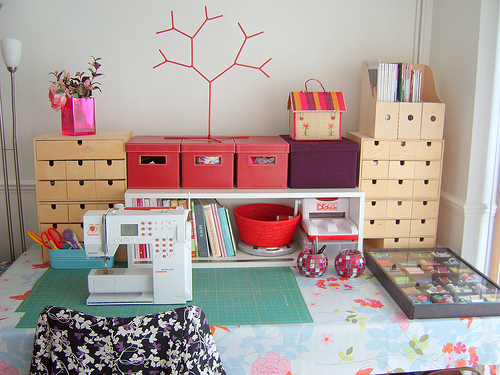 Joyful Lova set up a table in a seldom-used corner of a room near a window with plenty of bright sunlight, and captured that space as an inspiring place to create.  I especially love the colors and the clean lines of her storage solutions–lots of drawers for all the tiny things.  I love the display frame full of thread? fabric scraps? to one side of the machine, and I love that all this space is doing double duty: the machine lives on top of the cutting mat, the chair is covered by fabric with pockets for storage, and the tablecloth looks like it might be vinyl-coated for resisting paint or dye.  So clever!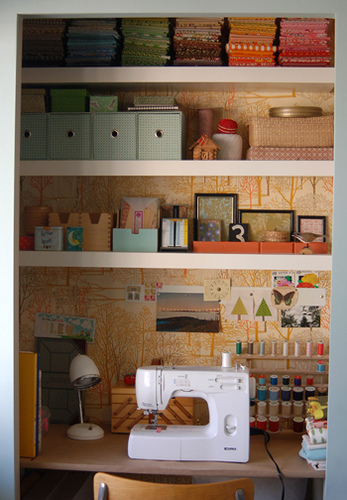 In a similar vein, Sharilyn over at Lovely Design has created her sewing space in a teeny nook.  She's tucked most of her active workspace into a closet, with a bench shelf for her machine and storage along the back wall.  I love how inspiring that is and how simple it would be to carve out a space like this in a guest room or laundry room, or in an office.  Almost any place can be a sewing space if you are willing to pour in a little sweat equity!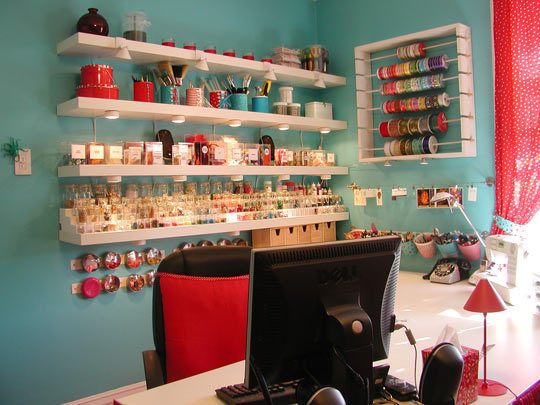 Megan over at Crafty Intentions has her sewing space in a teeny room that some might consider too small for a bedroom or guest room–we have one of those in our floor plan, and out teen chose to have a loft bed to make the 9 x 10 room make more sense for her.  For others, a little bitty room like that would be a lovely sewing retreat, and just right with the perfect wall color and lots of natural light, like here.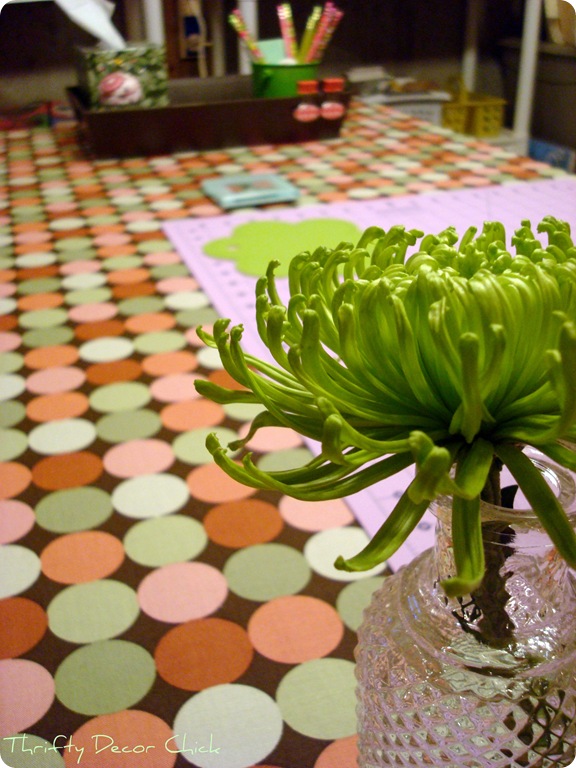 Thrifty Decor Chick has created a honey of a sewing space in an unfinished basement.  Rather than assuming that she'd need to drywall and finish out the whole area before it was ready to craft, she glammed it up and added lighting to make a budget-friendly re-do that's full of sweetness and inspiration–without the expense or time necessary for finishing the whole space.  Added bonus: if you rent, this would be a quick fix for a home where you don't want or aren't permitted to invest in construction!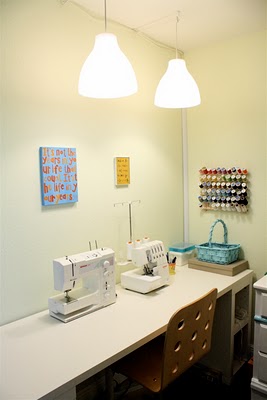 I think we all know how fabulous I think Dana is over at MADE.  Her shared sewing space–part of the office in their new home–is a great example of bringing sewing into the heart of our families, and making it possible to craft while spending time with those we love!  One of my favorite parts about having my own studio space in our finished basement/family room/playroom is that we can all be in one place together, each pursuing a different agenda, but all interacting and enjoying one another.  I love not just Dana's attention to detail, but the way her sewing space reflects a commitment to family time.
So, what about you?  Who's been resisting getting out that machine and giving it a home of its own because you weren't inspired to carve out a spot or clean out the spare room or sweep up the basement?  Next post, we'll do one last installment looking at some really edgy and clever sewing spaces that you might not have thought of, solutions that will make us all think a little more outside the box.  Sewing Goal Task 1: Carve out your own space to create!