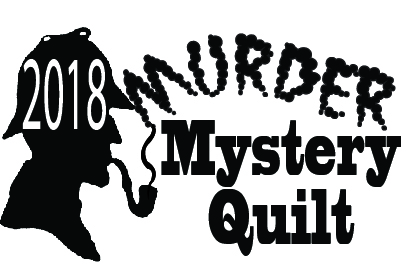 It's back!  The Murder Mystery Quilt is now open for registration for next year.  I am so, so excited–will you come play with us?
For the past two years, I have had the honor and the pleasure of sewing alongside over 1500 quilters who love to read, and who have made new friends while sewing a mystery quilt.  These are smart, funny folks who enjoy a good story and a good puzzle, and who are having a ball putting the two together in a sewing project that lasts all year!  Registration is open NOW for an all-new quilt and an all-new story.  Come play with us next year and sew the quilt to solve the crime!

The Murder Mystery Quilt is a monthly subscription club that reads along together and stitches up a quilt to find clues and solve the murder mystery contained in the story.  
Members receive a chapter from a mystery story each month, and a pattern for a quilt block.  The quilt block relates directly to the chapter you've read, and contains an additional clue (or clues!) to help unravel the plot.  There are 12 blocks, one for each month of the year, and every quilter gets one guess as to who the killer is.  All the correct guesses are put in a bucket, and a winner is drawn for a giant prize basket of quilting goodies and fabric!  There's also a second prize for those who complete the quilt top, regardless of whether they made a correct guess, so that everyone has a chance to win–even if you feel more like a Watson than a Holmes.  (After all, Holmes was a little bit of an egomaniac who didn't like to share credit, but it was always Watson who supplied the necessary connections to get to the solution, right?)
A year-long quilting project can seem like one more thing to keep up with.  I think the story alone keeps you motivated–like the original Sherlock Holmes mysteries, this one is a serial and so you're compelled by the characters and the plot to read anew each month.  I've also added a layer of extra motivation: every month, when you complete your block and share your finish to our private Facebook group or on Instagram, you get an ADDITIONAL clue via email to help you find the solution!  That's a total of 12 extra clues that will give you a glimpse of whodunit, on top of the clues in the text and the clues in the quilt.
Along the way, you'll receive monthly emails with encouragement and discussion, and access to our password-protected dedicated website where you can download chapters, patterns, instructions and little extras (coloring pages! connect-the-dots!) as we go along.  Our private Facebook group gives you a chance to chat with other quilters about this or any other project, and really get connected to community in 2018.
Any level quilter is welcome, and the patterns are written with lots of clear step-by-step instructions in full color.  You'll find our community is super helpful, and that seeing their blocks posted is inspiring not just for this project, but for all your sewing!  Members come from all over the world to play with us, and in the past we've included quilters from the United States, Australia, the United Kingdom, Canada, France, Portugal, and more.
Are you intrigued?  I hope you'll sew along with me!  This project is a dream come true for me, and I have loved, loved, loved every single second I have spent putting it together.  I can't wait to get started.  Come hunt clues in 2018!
Join us!  We need your brainpower and we want to play with you.  Read more about the Murder Mystery Quilt here.  Registration is open now!  Sign up early, as spots are limited.  Last day to register is January 31, 2018.