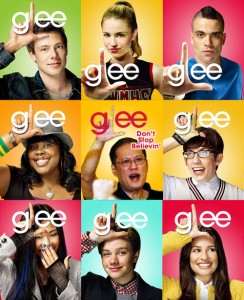 On Wednesday, I took our teen to see the premiere of the new season of Glee at a charity event to benefit Grammy in the Schools.  It was shown at an old theatre in town, with live performances and free treats ahead of time.  Seemed like a great chance to go out, get to know one another, and enjoy her spring break.
We had a super fun time, but I think listening to her talk to others about what she does and what I do was the best part for me.  This year, her break has been a staycation, so we've spent more of it together than we might ordinarily have done: a day at the dentist (funner than it sounds), working in the shop with me, the Glee premiere, shooting a film project for a family friend, having her hair done at a local salon.  She has conversations everywhere we've been, and gets asked if she sews.  "A little," she replies.  She goes with me to events like the Glee screening, and gets asked, "Did you make your outfit?"  She says, "No, my mom did–she sews a lot."  I feel a mix of pride and worry when I hear that from her, wishing that she could proudly say that SHE sews a lot, or that she had made her own outfit.
One of the biggest sewing goals most of us set for ourselves for 2010 was to sew more for our families, ourselves.  To make more clothing.  I'm tallying up what all I've made for me this pregnancy, and I come up with one top–that's it.  I look at my child's summer wardrobe now that the warm weather is coming, and she has not a single pair of shorts that fit her–just a pair of jean cut-offs, which quite honestly, don't make the grade.
So let's hear it:  what garments should we be sewing for ourselves and our loved ones?  Do we need more tops (which we could be entering into Rae's Spring Top Week)?  Do we need sassy spring skirts that go with everything?  Do we need to finally tackle a fabulous shorts pattern (like the adorable sailor shorts I saw on someone's blog last summer and cannot find for the life of me today)?
Come out of hiding, leave a comment, and let's get a list going–it's time to start sharing some pattern numbers and encouraging one another to get sewing!  I'd love to discover the perfect pattern to inspire my high schooler to get the dust off the machine she received for her last birthday, and make some projects for herself this summer…