I went to Salt Lake City this past weekend to attend Spring Quilt Market, a professional show for retailers and designers in the independent fabric industry.  It's a little like prom and homecoming and finals week, all rolled into one.  Huge booths are erected, full of the newest products so that retailers and shop owners can find them to carry in their stores.  New fabric lines and new designers arrive to show off the work they've been slaving over for months.  Authors (like me! woot!) come to discuss their latest book and entice teachers and retailers alike to purchase and recommend it.  And lots of old friends get to see each other, just these two times a year (there's also a Fall Quilt Market, in Houston), and catch up in person on what we've been reading on one another's blogs for six months.  It's a ton of fun and a little overwhelming.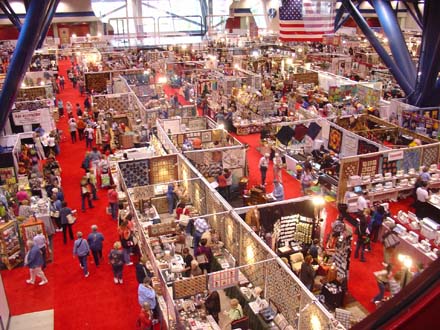 Quilt Market Houston 2010, via C&T Publishing
In Houston last October, Stitch by Stitch had just been released, and I was super excited and nervous and really hopeful that folks would love it and shop owners would want to carry it and tell all their customers about it.  I was a big ball of vibrating energy, and felt like I hardly got to talk to anyone or slow down the whole time I was there, because I was so focused on the book.  This time, while I still came to Market to promote Stitch by Stitch, I determined that I would take it easy outside of that–after my Schoolhouse session and my book signing, I wanted to visit with my fabric friends and catch up and talk about fun stuff and hear what they've been up to, and not worry so much about seeing every single little thing.  Turns out that was a very good decision.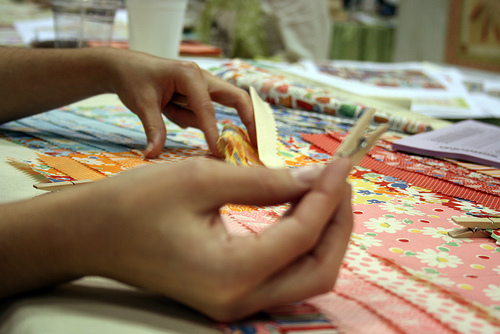 Ordering fabric at Market.  Image via TrueUp.
Usually, when I head to Quilt Market, I have an Agenda, things to do and fabric to buy and busy, busy, busy.  This time, I wanted to go narrow but deep, to see folks who I love online and spend some time with them in person.  So instead of poring over the Market brochure and plotting out a route so that I could see and do every single thing in the single day I had available (I arrived Wed night laaaaaaate, gave a talk during my Schoolhouse session on Thursday before Market opened, spent Friday at Market, and flew home Saturday so I could have Sunday with my family–meaning I really only had one day on the floor this time around), I determined to walk the show, stop when I ran into someone I love, take the time to catch up and laugh together, no rush, and just enjoy being at Market.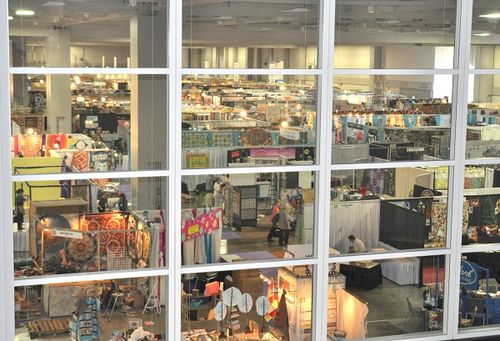 Quilt Market Salt Lake City, 2011.  Image via Behind the Seams
I started out Friday morning dropping by the F+W booth to see if my book had arrived from Singapore.  Crazy, right?  Stitch by Stitch has been reprinted (woot!), which is amazing and I'm told is sort of a big deal, but also means that no one had any copies.  NO ONE.  Not even my publisher.  (It's now back in stock here and here.)  Which makes it hard to sign books during the book signing, when there are no books to sign.  The folks at F+W who take such splendid care of me had copies shipped direct from the plant, FedEx, to the convention center, bless them.  The books arrived in the absolute knick of time, and there were plenty on hand for an 11 am signing.  Hooray!!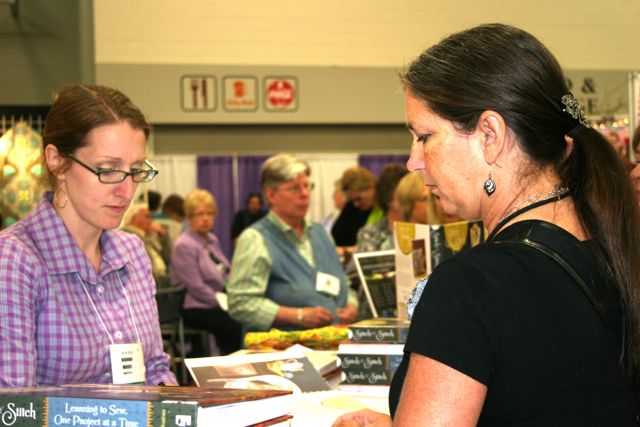 I know we don't look all that enthusiastic here, but every other shot had me with my mouth open. Just like ninth grade.
I have so much fun doing these, getting to meet people and talk about the book and learn more about how sewing is taught in other places.  I met the loveliest ladies and learned more about them and what they're looking for in a sewing book.  It was seriously cool.
After that, I allowed my feet to lead.  Right around the corner from the F+W booth was Amy Butler. Now, I met her for the first time two years ago, at which point she told me I was pretty and we became bestest friends.  She didn't know that at the time, but it's totally true.  So this time, when I saw Amy (I can totally call her Amy, because we're BFFs), the love was really there.  See?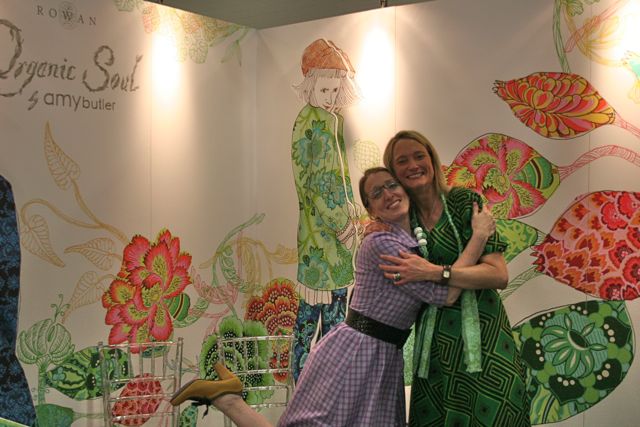 Does it look like I'm dragging her down, or she's holding me up? Difficult to say. We were laughing pretty hard at the time.  Also: Look, Belinda!  Shoes and dress!
Perhaps not the most flattering (or professional) shot of either one of us, but I think you can see the connection, the bond between us.  Yes?  This is what I love about the sewing community–that it's friendly and supportive and funny and lighthearted, that it doesn't take itself too seriously, but that we still have meaningful relationships with one another, at all levels.  Not many industries can say that, dude.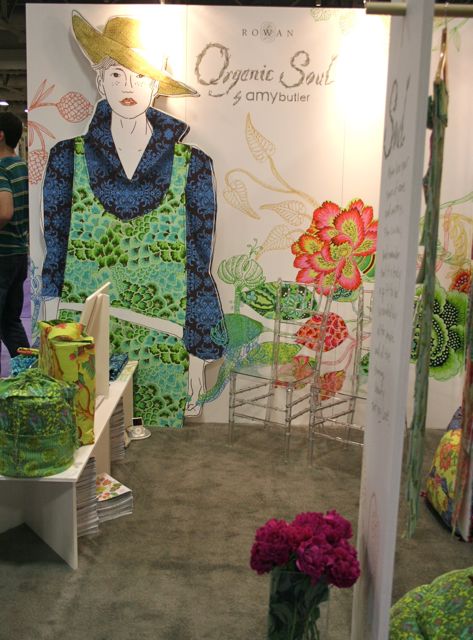 Amy (you know, Butler, my BFF) has a new collection coming out this spring, too: Organic Soul.  It's her Soul Blossoms prints on organic cotton and fashion fabrics.  Like, RAYON, yo.  Just you wait.  It's AMAZING and you will love, love it.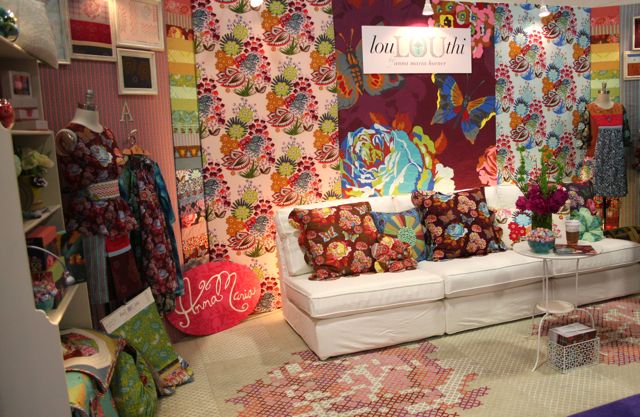 Right next door to Amy (ahem) was Anna Maria Horner, with her new collection, Loulouthi.  She was mobbed with admirers, and since I didn't have the good sense to wear my stalker tunic Innocent Crush top, I decided I'd shoot photos of her booth and not try to monopolize her time.  This new collection, though, had me pretty speechless, anyway.  I love it a LOT a lot, like, the way I loved Good Folks, a lot.  It's amazing.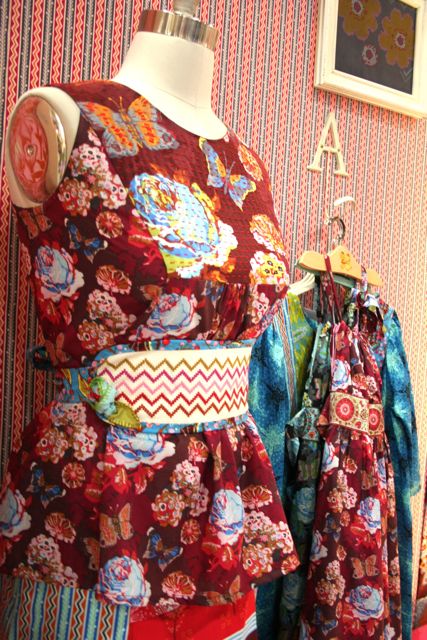 Lots of hand-embroidered details, to go with AMH's new hand embroidery floss and perle cotton colors coming out this spring. Woot!
Seriously?  Cross-stitch fabric?  The woman is a genius.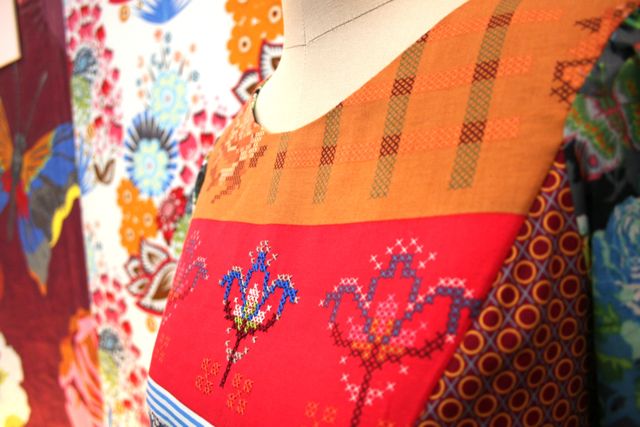 Soooooo pretty.  Am very, very anxious to get my hands on this!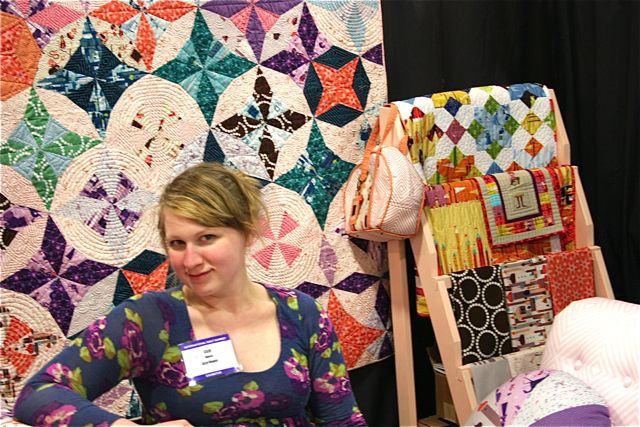 One of my other most favorite people in the whole wide world, Lizzy House, not only has a new fabric line coming out, she had a booth of her own for the first time at Market.  She's a walking, breathing delight, is Lizzy, and I love her more every time I have the good fortune to see her.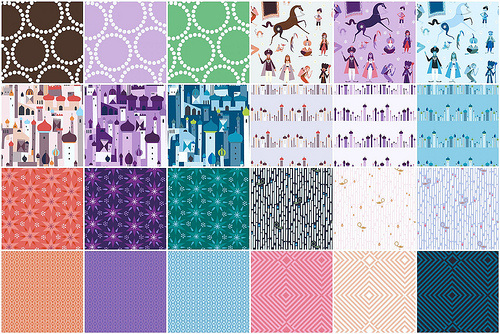 Yes, Virginia, that IS the Pearl Bracelet print, back to life!  Lizzy says it was so popular it will appear in EVERY collection from now on, in an ever-widening range of colors.  Gasping with happy.
Look at this 1001 Peeps fabric–could you die??  Based on the Scheherazade tales, this spin on Lizzy's Castle Peeps also (magical!) coordinates with that collection–where Castle Peeps was all primary colors, 1001 Peeps is all secondary colors. I am so excited to get my hands on this–shipping super soon!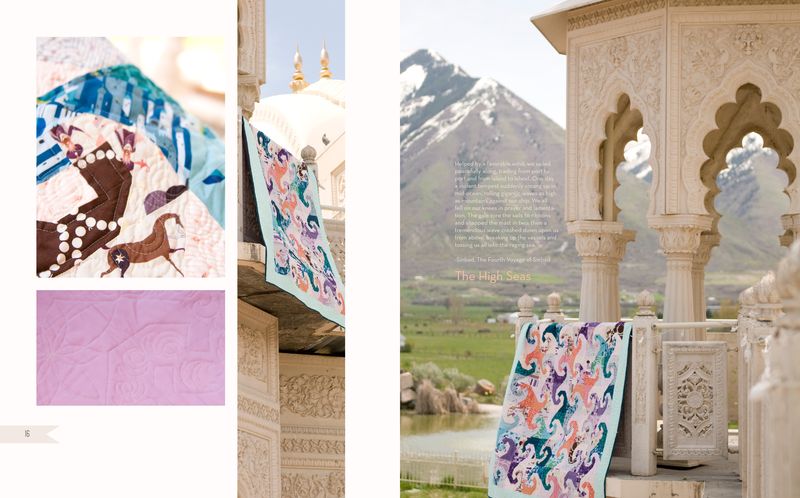 Image via Lizzy House
And as if she weren't already a wunderkind enough, Lizzy also has a new book out containing five patterns.  She had pages up on her iPad in her booth, and I was really impressed by how clearly written and diagrammed it is.  Truly, anyone would be blisteringly successful making a quilt from this book.  AN.EE.ONE.  Go get it, right now.
OK, wow.  Do you see how I've gone on and on?  And that's just an hour in one day!!  Saving the rest for tomorrow.  Patty Young, Liesl Gibson, Kay Whitt, Sarah Jane–all tomorrow, and then some.  I'm exhausted all over again!