This week, the wintry winds have had their way with the Jewel of the South, our fair city of Atlanta: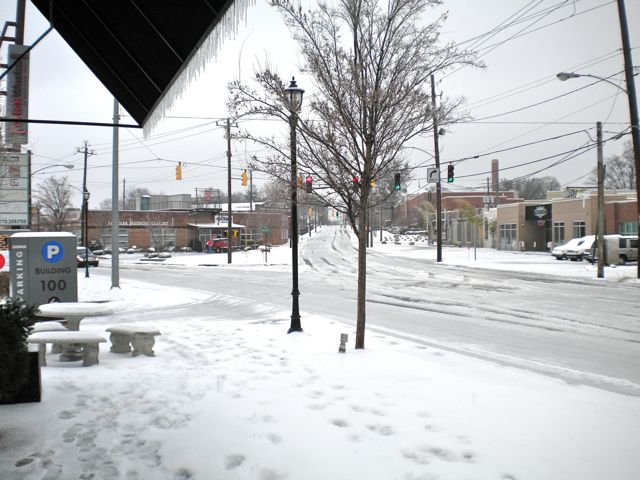 The view from under the Whipstitch awning on Monday morning (thanks to Twitter friend @missalfreddrive !)
If you're from another part of the country–or, say, if you're one of our lovely Canadian customers, I have no doubt you are struggling to see anything untoward with this image.  If, however, you're a Southerner, you saw this and screeched "Eeek!" and ran to the grocery store for gallons and gallons of milk and bottled water.  Because you would know, as a Southerner, that we have zero infrastructure to deal with a #SNOWmageddon of these proportions, and that the entire city is likely to be completely. shut. down. for days and days.
My children have not gone to school.  My neighbors have not gone to work.  The folks a street over organized a mini-Olympics of snow sports in the center of the road, because they knew quite well that no one was going to be using it for any other purpose.  Airlines canceled flights.  Banks and city and state agencies left the voice mail on.  It's been a quiet chaos, y'all.  Even your intrepid Whipstitchers couldn't make it in to the shop.
Cheer up, fabric lover!  We're BACK and in the shop, shipping orders and wrapping up new lovelies for you to take home.  EVEN BETTER:  we've got the fabulous Amy Barickman of Indygo Junction coming in TONIGHT to talk about her new book, Vintage Notions.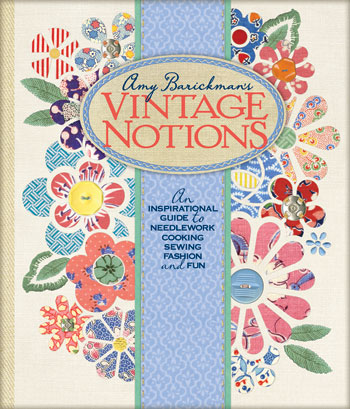 Amy is a powerhouse and so full of creative ideas and new projects.  I'm really excited about this new book: it combines stories and recipes and ideas and images that will inspire any creative mind.  If you have a love for vintage, though, this book is certainly your cup of tea.  Amy will be signing copies and meeting folks this evening, and I'm so pleased to have her join us!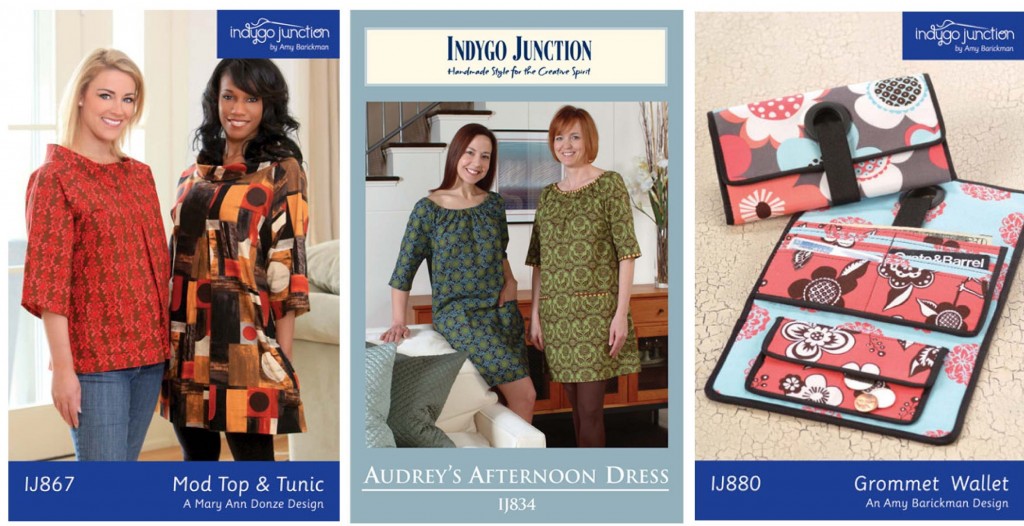 We also have dozens of Amy's patterns on hand, including the Grommet Wallet (our March bag of the month!), the Mod Top & Tunic, Audrey's Afternoon Dress, and a whole mess more.  I have no doubt Amy would be happy to autograph those for you, as well, and answer any questions you might have for her!  Patterns and copies of Amy's books Vintage Notions and Hankie Style will be available for purchase throughout the evening, and the entire shop will be OPEN for you to browse and be inspired.  It's time to shake the snow off your boots, get out of the house and rid yourself of that cabin fever, Whipstitch-style.  It's just what you need!
Amy Barickman Vintage Notions book signing
Friday, January 14, 2011
7 pm-8:30 pm
Whipstitch Atlanta