When I first began designing children's clothing years ago, I came at sewing as someone who has always made clothes.  Which seems a little obvious now that I write it out, but at the time it felt like a revelation.  It felt as though I had entered this whole new world, this foreign country that didn't make any sense, where everyone was speaking a language that was unintelligible to me.  It was Quilting World.
And it wasn't strange because quilting and sewing are such different things–they're really the same thing (but that's a touchy topic for another time).  It was the fabric that made it all so confusing. Suddenly, rather than looking at texture and individual prints and weights and color, I was confronted with fabric "collections," a concept I truly did not understand and that was freakishly unfamiliar to me.
Fabric collections have been fairly common these past few years, but if you're new to fabric or to sewing you might not be aware that the concept of having a complete set of coordinating fabrics is pretty new, too.  The quilting industry has revolutionized the way many of us look at fabrics, and has made it much easier to select coordinating prints and complementary colors by building those into fabric groups.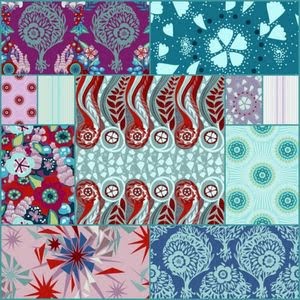 Anna Maria Horner's Innocent Crush//image courtesy 1crown3tiaras
Simply put, a fabric collection is a group of designs that are created as a whole to intentionally work together harmoniously.  They are comprised of various types of design (stripes, dots, large-scale and small-scale prints) and color palettes so that it is easier to select fabrics that will work well with one another.  Most fabric collections have a cohesive theme that runs through them, and offer the same print in multiple colorways in order to make it possible to take their design (on fabric) to flesh out your designs (in stitches.)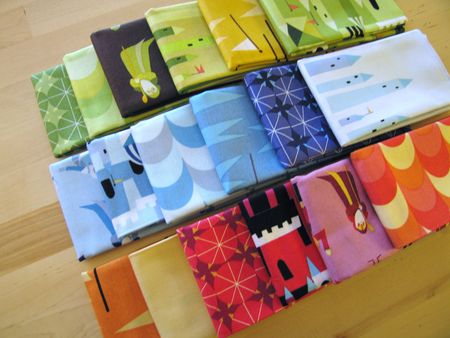 Lizzy House's Castle Peeps//image courtesy Oh, Fransson!
When I was younger, I assumed that all quilting was done the way my great-grandmother had done it: with scraps and bits and pieces left over from sewing clothing and housewares.  (My own grandmother, Miriam, is not a quilter, but has raised the art of the French knot to epic heights.)  When confronted with quilting collections, I first had to wrap my brain around the idea of purchasing fabric new to make a quilt, something that was hugely unfamiliar to me.  I didn't see quilts as an art form all their own, as a means of expression, but much as I viewed sewing as simply a utilitarian pursuit, I saw quilting as a way to use up leftovers in true Depression-era fashion.  I was wrong.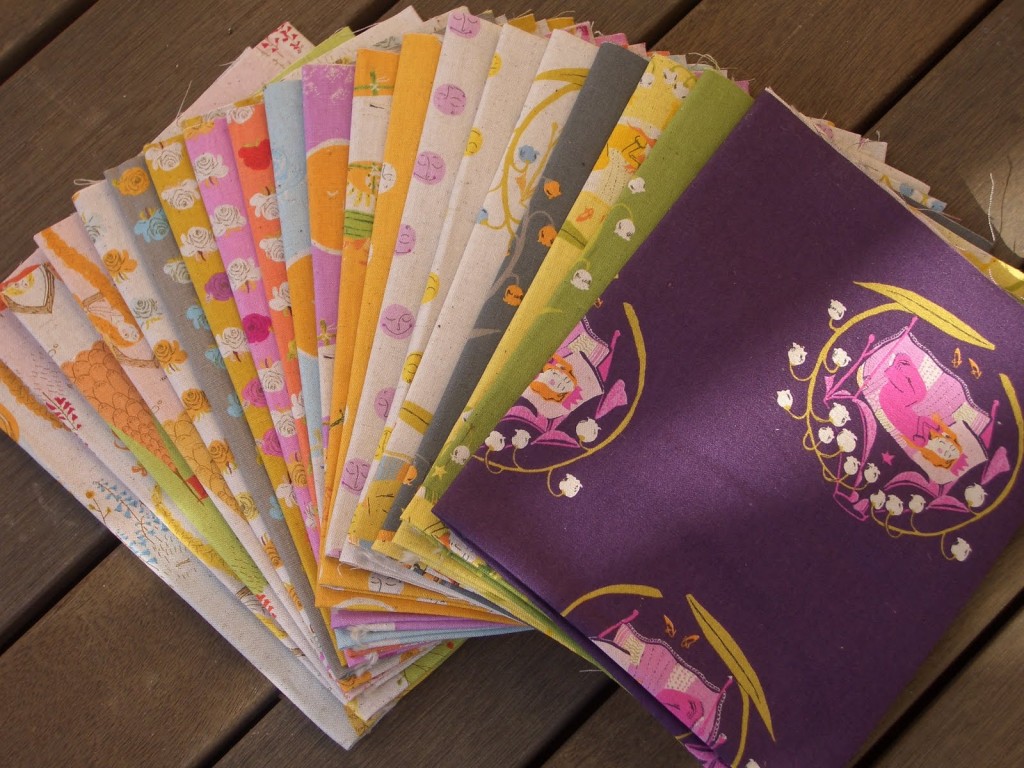 Heather Ross' Far Far Away 2//image courtesy Chasing Cottons
Quilting can be an invigorating foray into color and shape and composition and design, in ways that I am still discovering.  And as such an exercise, finding precisely the right match for a particular blue (or, heaven forbid, red–yowser) can be a battle of Brobdignagian proportions.  A collection of fabrics already designed to coordinate, using the same or coordinating color palettes, and with similar weights and fiber contents, takes the onus off the quilter to seek out all these pieces and allows the focus of the work to be on the sewing itself–such a relief.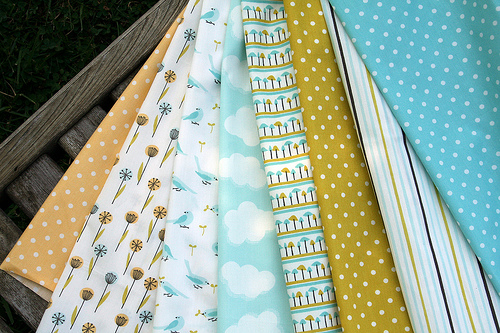 Cloud9 organic cottons//image courtesy SouleMama
I think that's what really explains the success of fabric collections.  It also hints at what I see as their greatest downfall: an overly heavy reliance on strict coordinates when sewing with more than one fabric.  Because so many fabrics come these days as part of a greater grouping–a collection–it is super easy to choose ONLY from that collection when creating something with needle and thread.  And I think in many cases this temptation prevents us from really exploring the colors and subtleties of design that are out there.  Especially today, when there are so many amazing, modern, jaw-dropping fabrics on the market, it's a shame for us to rely simply on one individual collection as the muse for our sewing–it is certainly more of a challenge to look outside the collection for variety, but the results can be stunning.  While I love the tight palette of a quilt top made entirely of one colorway from one collection, I love the variety of some of the bright, vibrant, robust quilts that come from infinite choice.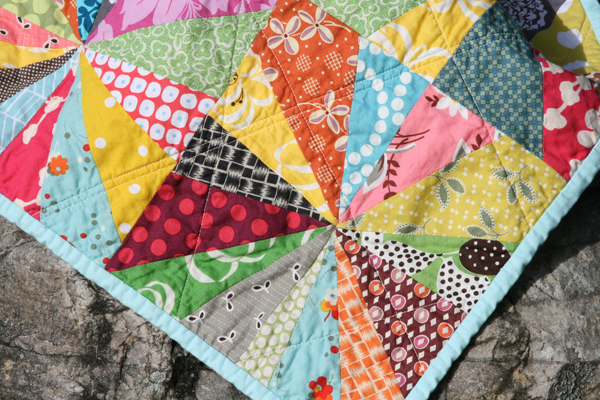 Starburst quilt from Ashley of Film in the Fridge
For details on the work that goes on behind the scenes in designing a fabric collection, check out Lizzy House's e-book. To design fabric of your own, visit Spoonflower and read back issues of their blog.  For some really great insight into choosing fabrics to use alone or with a single coordinate, read these posts by Liesl Gibson of Oliver + S.