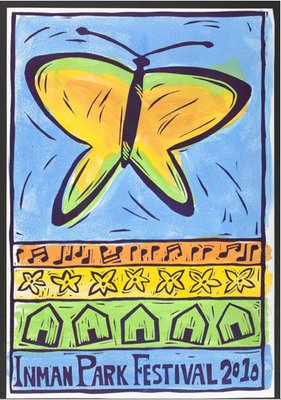 If you're not from Atlanta, you'll likely not have heard of the Inman Park Festival, but around these parts, it's one of the most anticipated street markets of our spring calendar.  When I first moved to Atlanta in 1997, Inman Park was a few blocks of residential street that were blocked off for music, crafts and food the last weekend in April each year.  Nowadays, it's HUGE, covering nearly 12 square blocks and with an attendance of 30,000 annually.  Like, it's BIG.
Whipstitch is delighted to be part of the festival again this year, and we'll be pitching our tent along with the other crafters and artists along Euclid Ave in the Inman Park neighborhood.  We're bringing full yards of our most recent fabrics, fat quarter and half yard bundles, notions, samples of clothing made from the fabrics we carry, and plenty of info about our classes and upcoming events.  If you're around, we'd love to have you drop by and give us a shout!  Once we know our actual location and cross-street, I'll Twitter the booth so we'll have a chance to see familiar faces and meet some new ones.
Speaking of high traffic, by the way, when we opened our doors last month we planned out our shop schedule based on the assumption that on Friday afternoons, most folks would be headed out of the city to beat traffic on their way home; Friday has been an early day for us, and the shop has been closing at 1 pm.  We learned super fast, though, that some of you are cutting out of work early to come see us (so you can head home and cut out some sewing projects…).  And we couldn't be more thrilled!  Beginning this Friday, April 23, our NEW STORE HOURS on Friday will be from 10 am to 7 pm.  We'd love to have you drop by and stock up on supplies for weekend crafting!
Take care, all, and happy stitching!