There is an awesomely thought-provoking post over at Stitched in Color today.  Rachel always astounds me with how a simple idea can be so elegant when approached thoughtfully, and she has proved it once again by asking the question, "What is it that you don't say out loud?"
This weekend has been an especially introspective one for us.  Our house, which has been on the market for the better part of four years, finally got its very first offer.  It's a low offer, but it sure is nice to be asked to dance, y'know?  We're counter-offering, but since the asking price was already for less than what we paid, my husband and I had to do a great deal of logical reasoning and soul searching in order to determine the best course of action.  It's hard to ever really know, even when you think you know.  Y'know?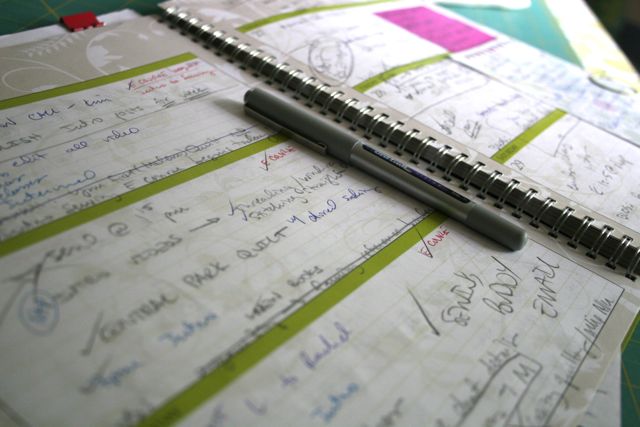 At the same time, I've been doing a lot of rewinding, most of it brought on by preparing my taxes.  That's right: my taxes.  More specifically, compiling a chart of my mileage.  I have a famously meticulous paper calendar that I keep.  Scoff if you like–I know lots of folks like their calendars on their phones or computers, and I can see the appeal, but I can't get my brain to work in any way other than on paper, seeing the Big Picture laid out (or at least, as much of the Big Picture as I'm allowed to see).  Going through my calendar and seeing where I was driving, and when, and how often for ALL of 2010 was a big wake-up call.  Some days–many days–I was driving back-and-forth to the shop twice a day.  Lots of weekends.  Lots of meetings.  Lots of driving.  It made me flash back over all that I've done and all I have hoped for the past year.
And I turned to my husband and I said, "Really, honey, can we ever truly plan?  A year ago, we didn't think we'd be doing what we're doing now.  Neither of us did.  So can we ever really know what's up the road for us?  I think we just have to make the best decisions we can and pray it will all work out."
So coming across Rachel's post was so timely for me.  Not because of all the honesty that's there–and it's there, for real; if you've never read all the way through all the comments on someone's blog before, this post is an excellent place to start.  I think it was timely for me to read all those comments because it's such a reminder of how many voices are out there, and that most of us are interested in one thing above all others: connecting with one another and being heard.  We don't have to be the best or the fastest or the most celebrated, we just want to find one another and be known.  That's harder than it sounds.
So the comments on Rachel's post that struck me the hardest and made me hurt the most were the folks who felt intimidated or belittled by sewing blogs and the online community because they are new to sewing.  As in: "When I see a post on a sewing blog, it makes me think I'll never measure up."  And if I take nothing else away from reading all those comments, I take my utter certainty that NO ONE should feel that way.
When I first started teaching sewing, it was because no one else wanted to do it–that's the honest truth.  It was 2007, the economy was still strong, and I was part of a design co-op.  The other designers didn't want to take time out of building their companies to teach, but since I'd taught school for nearly ten years, I figured it would be easy–I'd mail it in, make some pocket money, no worries!  I had no idea that I would love it so much, or that seeing adults learn to love sewing would be so wordlessly rewarding for me.  The friendships I have made through teaching are some of the deepest in my life, and the ways it has transformed who I am and what I think about the world cannot be counted.  So to hear that anyone, any single person, fears sewing or feels driven away from learning to sew because they encounter a gated-community feeling in the world of sewing blogs makes me teary-eyed.
YOU CAN SEW.  Anyone can sew, but especially you.  Don't let anyone tell you any different.  Lots of sewing bloggers, including me, fall very easily into the trap of showing off our most recent project and failing to explain how we got there–warts and all.  Others get sucked into creating one tutorial after another and burn out from generating constant free content with no reward for their hard work (see a really interesting discussion of this over at CraftyPod).  Still others do near-constant giveaways that attract all of us to read their blogs, but fail to really provide much meat.  And looking through the eyes of those who commented on Rachel's post, I can easily see how all that can add up to a perception that the world is full of amazing sewing, that everyone who has a craft blog is supersupersuper talented and skilled, and you'll neverevereverever measure up, no matter how hard you try, so really why even bother trying, huh?
Grrrrrr.
YOU CAN SEW.  It's easy.  And there are some really spectacular blogs and books and writers and teachers out there who will help you do it.  I'd love to be one of them, but more importantly, I want you to feel secure enough to put needle to fabric and see what happens.  I think there is a place in our lives for perfection–but I think it is always the goal and so rarely the destination.  In my own sewing, I want to do the best work I am able within reason.  But the question for me is always, "Does it bother me enough?"  Do I care enough about this crooked seam or that odd little cut or this off-center bit to rip it out and change it?  Sometimes the answer is no, and sometimes it's yes.  But that thought process doesn't get revealed very often when we show off the final product (and I don't always think it should be–we're all so very, very hard on ourselves, and it's important to learn to accept compliments and praise without always apologizing for miniature flaws).
There is, I am quite sure, a balance between the two, between striving for perfection and graciously accepting praise for our final, imperfect results.  And if the tension between those two is where we STOP and feel intimidated, then I want to ease that tension and get you in the sewing saddle, so to speak.  I don't really know what that looks like yet, but I'd love to hear from you:
When do sewing blogs make you feel empowered to sew, instead of intimidated?
I phrased it as I have here very specifically–I'm not really asking, I don't think, what bloggers can do or create or produce to make you want to sew.  I think there are a lot of tutorials and patterns and ideas out there that inspire and make us WANT to sew, and in all honesty, I'm not sure how useful it is to make a list of more tutorials to create.  What I do think is hugely useful–and sorely lacking–is understanding what attracts you to sewing blogs in the first place, what helps you make the leap from watching to doing, from lurking to sewing, from dreaming to creating.  I don't think that gets asked enough, and I imagine it's such a fruitful topic to pin down and identify.
I think Rachel is asking a similar question, and I'm glad of that–I think the more voices we hear, the more each of us is part of an actual conversation, talking with one another.  I wrote to Rachel and thanked her for her post, and told her, "I don't want to be that kid who runs with the popular kids trying to be popular, only to learn 20 years later that the popular kids didn't know what they were doing, either."  Teaching and writing, genuinely, are why I think I was put on this planet–they are a deep and abiding love, and they give me the chance to open my heart more than I am willing to do in so many other areas of my life.  Sewing gives me a safe place to ask myself hard questions, and to learn that I'm not the only one who asks them.  Learning from you how to make that feeling bigger and more inclusive helps me to feel that connectedness that I think so many of us are seeking, and connecting with others in a way that helps me to remain true to what I believe and create the meaning that I hope my work will have is so slippery–I don't want it to get away from me.
Thanks in advance for adding your thoughts–I really am holding my breath to see what you have to say.
Feed readers: comment here.