Registration now OPEN for the Summer Dresses e-course!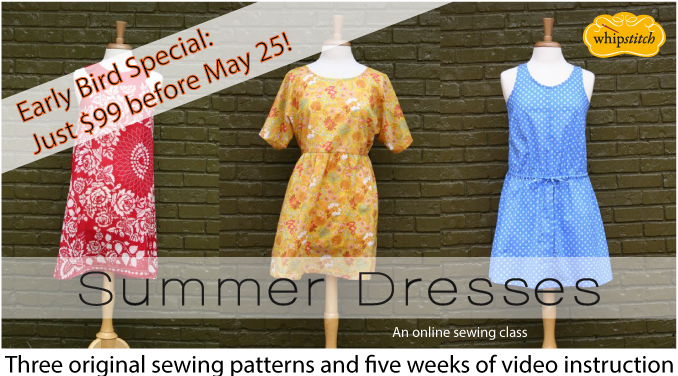 Hooray!!  Registration is finally OPEN for the Summer Dresses online class.  I am beside myself, I am so digging on these dresses and everything I have planned.  These are three original patterns that I have been working on for months now–and I can't wait to sew them with you!  Three very different shapes: a babydoll dress with a slightly raised waist and a V-neck in the back, all over a gathered skirt; an A-line with a yoked collar that buttons on the side; and a racerback shift with a drawstring that looks great in any fabric.  I love them ALL and will be showcasing more details of each one over the coming weeks–lots of variations and fun ideas of things to do with these patterns!
In the meantime, get yourself over to the Summer Dresses e-course page and get registered.  I am thrilled and flattered to say that lots of folks have already told me they're really excited to join the class, and I'd love to see you there before it fills up!  Need some added incentive?  I'm bringing back the Early Bird Discount: just $99 before May 25.  See you soon!