At last!  This quilt for our boy is finally finished: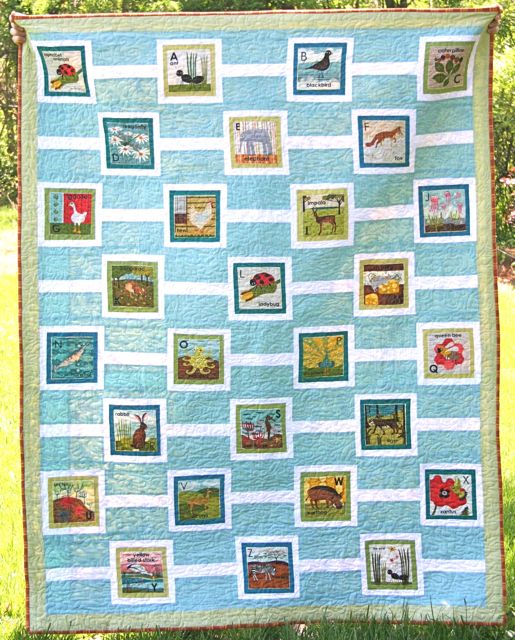 I stayed up laaaate one night when my husband was out of town and finished the quilting on this project, the first I've made for my little boy.  This is the Chain Reaction pattern from Cluck, Cluck, Sew–my official recommendation for Best First Quilt Pattern. Basically a variation on a log cabin design, there isn't a single seam anywhere in this entire quilt that has to be perfectly lined up, making it a very forgiving layout and a great way to ease yourself into using quilt patterns (if you're looking for one).  Plus, because it works with virtually any fabric, you can use it to showcase prints you've been holding on to that you super really love.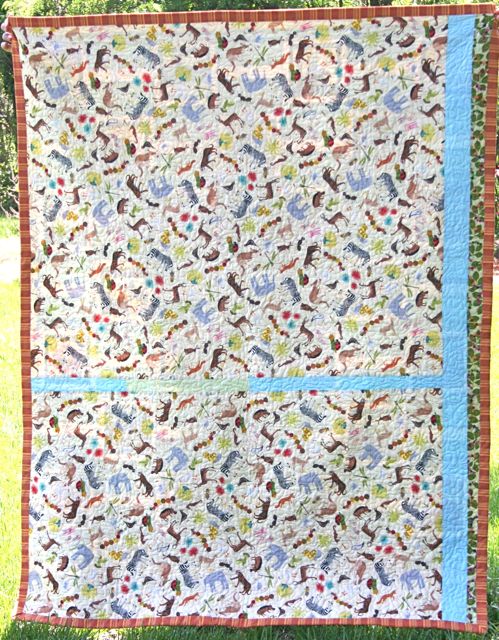 I also pieced the back, to make enough yardage for the finished quilt, which measures 58″ x 72″.  Originally, I didn't love the print for the backing–because this quilt came as a kit, and this was the recommended backing print, I went ahead and got the yardage, but when it came I didn't love it.  As I pieced it with leftover bits from the front, though, I began to really like it a bunch–and now, I think it's totally perfect.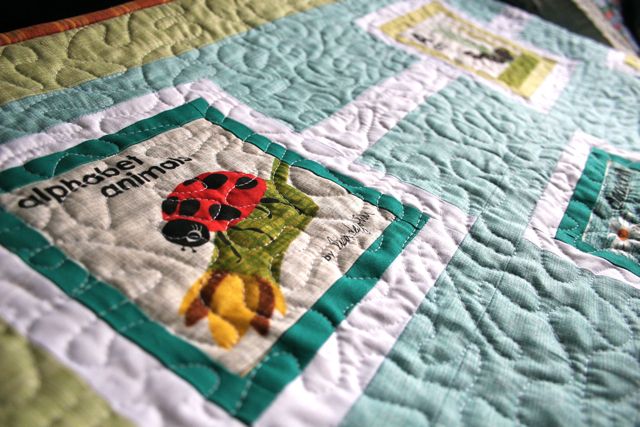 My first instinct was to do straight-line quilting and outline the boxes, thinking that would emphasize their shape and make them really POP.  But then, as I was piecing the quilt top, I had (ahem) a number of sketchy seams.  And by "sketchy," I mean "there may have been less than an eighth of an inch of seam allowance."  Some of those pieces just got away from me, you know?  Even with the trimming.  It happens.  I was a little worried that if I used straight line quilting, I'd end up with raggedy seams after washing, like when I bought a factory-made quilt in college.  Sad little quilt, all shaggy and unraveling.  I really, really wanted to avoid that here, so I elected to free-motion quilt this in a meandering pattern, stippling those seams into submission.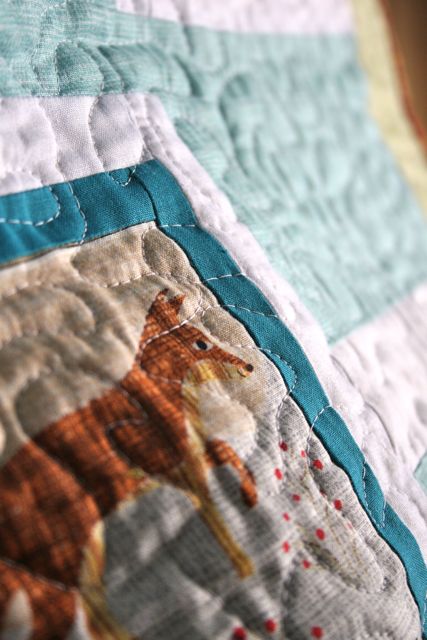 I think the danger with stippling and free-motion quilting is that it can be used anywhere, and the reason some folks are getting a little burned out on it, is that it's super tempting to only ever stipple all your quilts.  I certainly want to challenge myself to try using a wide variety of quilting lines in my projects, to not fall into a habit of finishing each project the same way.  Having said that, in this case, it totally saved my behind, and it looks pretty great.  There is never any one right way to do anything, and using FMQ here not only made my project more secure, it went super quickly and was soothingly satisfying.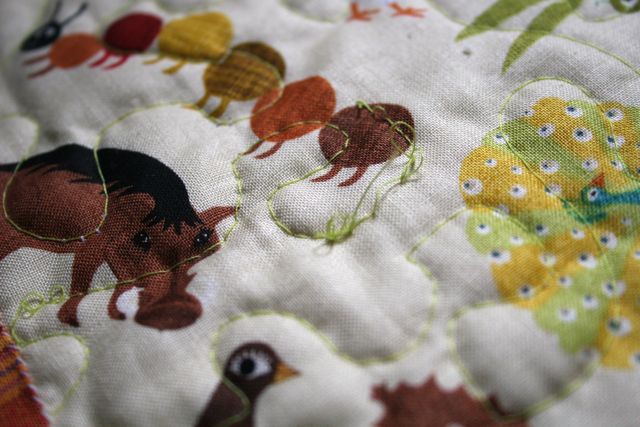 I've read some comments recently from folks who super dislike free-motion quilting, and at least part of that seems to be because they are having a hard time getting the hang of it on their machines.  When I first got this puppy under the needle, I had some tension issues, and was frustrated.  I re-threaded, re-threaded again, and it all cleared up.  Now, in theory, at that point I could have (and maybe should have?) removed all those knotty stitches and re-stitched them.  But it was 10 pm and I was just getting started, and A Few Good Men was in the background, and my husband was out of town, and man, I just didn't feel like unpicking all those quilting stitches.  In fact, I think if I had, that would have been all I did that night, after which I would have gone to bed and the quilt sandwich would still be sitting here, unquilted and unbound today.  So, viva la blob!  I snipped off the really offensive parts, knotted the ends of the remaining threads, and figure if those come out, I'll go back and repair any egregious issues later on.  Done and done.
The binding is a yarn-dyed stripe that the lovely Lindsey at Whipstitch helped me pick out–she went to design school, so she totally knows her stuff.  I love that the warm shades of the rust and yellow and orangey tones really bring out the color in the backing as well as the animal prints on the front.  I also really like that the stripes, cut crosswise, frame the quilt so nicely.  I deliberately cut the double-fold binding super wide, so that it would be skinny on the front and wide on the back, making a picture frame for the backing.  Love.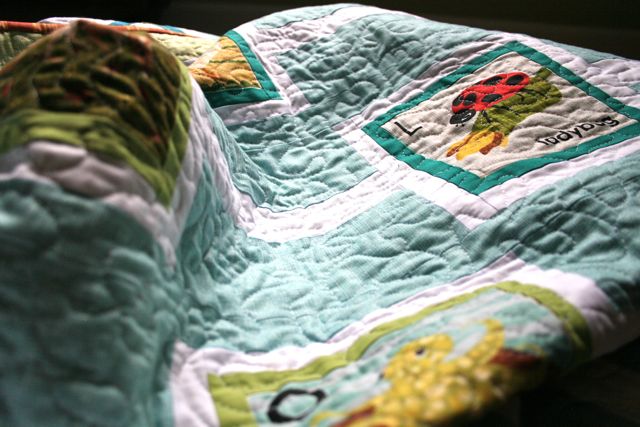 When I showed it to our boy, who's still only two-and-a-half, I said, "Look what Mommy made for you!" and he gasped.  He actually gasped.  His little mouth hung open and I asked, "Do you like it?"  Mute nodding and happy smile.  Now THAT is a good day, y'all.  Warts and all.