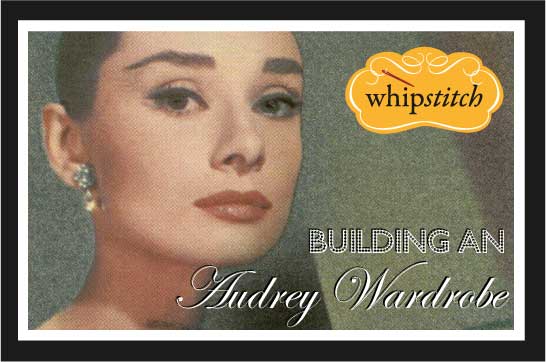 Very few individuals in recent memory can compare with the class and beauty of Audrey Hepburn.  Her grace, her loveliness, her charm and her kind nature permeate every image, every foot of film we have of her.  Something about Audrey–like Jackie Kennedy Onassis and Grace Kelly–has the power to capture our attention and hold it.  And is there any one of us who doesn't admire Audrey, and want to emulate her, at least a little?  I've been doing my own Audrey binge lately, and cannot get enough.  Again.
The stories of how Audrey handled her wardrobe are legend.  She was well-known for being incredibly specific about what looked best on her frame and what shapes and fabrics and colors she would wear to give her the look she sought.  She had the most flawless taste in clothing, choosing looks that were both timeless and edgy, and that you could wear any day of the week and any year throughout history (well, since Audrey's day, anyway) and look absolutely perfect.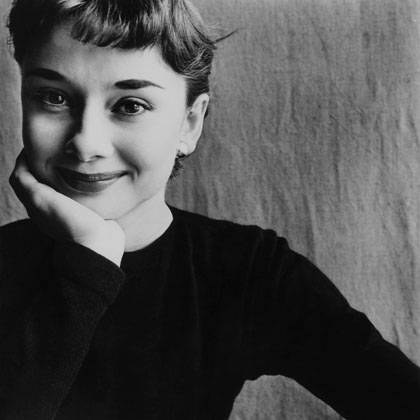 I haven't had that skill for most of my life.  I mean, I do think I do a good job of choosing my clothing, for the most part, and I've had a life of training in Shopping as an Art Form (thanks, Mom!), but I don't think any of us is born with the gift of always putting together a WARDROBE, in the sense of choosing individual pieces and creating a collection of our own from which we can build looks and create an overall style of our own.
When I think of going through my closet and analyzing what I have and what I need, I generally get as far as deleting things I no longer wear, but I'm not very good at adding things that I WILL wear.  I understand the idea of filling in gaps in my wardrobe, but I don't always do that in a timely fashion–I'm not very good at dumping the stuff that hasn't been worn in ages and adding in new things RIGHT AWAY so that I can have a complete range of things to choose each day when I dress.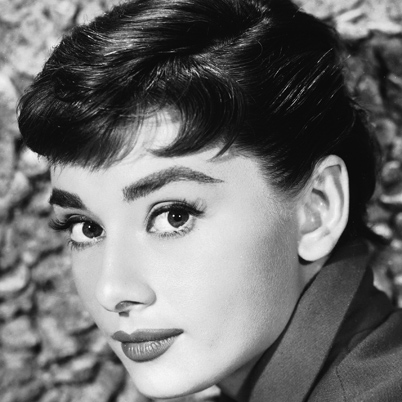 Sarai over at Colette Patterns put together a really excellent post about evaluating your wardrobe and thinning out the categories that are over-full while plumping up the categories that need additional items.  I love that idea–and I super love her template that she created to help you do it (and not just because she and I share what amounts to an unnatural love for the cardigan).  It's pretty close to spring cleaning time around here–which I tend to do every year, not in a deliberate way, but just because it's when the kids outgrow all their winter clothes and it's time to supply all of us with new things for the warmer weather.  I'm ready to work my way through this list, through my closet, and build myself what I've always pictured in my head: an Audrey Wardrobe.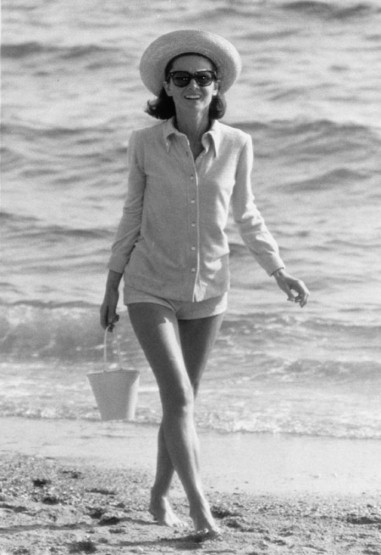 No matter what she wore, Audrey always looked (1) classic, (2) lovely, and (3) appropriate.  I remember being just out of college, blissfully past those Grunge Days (by the narrowest of margins), and saying to my mother that what I most wanted from my wardrobe was to never have to be embarrassed if I ran into someone unexpectedly.  She told me that was probably the chief goal we should all have–but in the decades (eek!) since then, something has happened in fashion, day-to-day fashion in the sense of how individuals as real people out on the street get dressed to present themselves to the public.  It's as if folks just plain don't care any more: pajamas on airplanes, boxer shorts to the grocery store, yoga pants to every occasion other than yoga, and flip flops to meet the President.  Audrey would have had NONE of that, y'all.
I love what Sarai said in her post, too, about using her inventory of her existing closet to plan out sewing (and knitting) projects for herself: that by evaluating what she does have and what she wants to have, she can make better use of her time and create garments that are most likely to get worn often and loved much.  I want to do that same thing, while layering in my love for the sense of clean, uncomplicated lines and modern, sophisticated fashion that Audrey represents.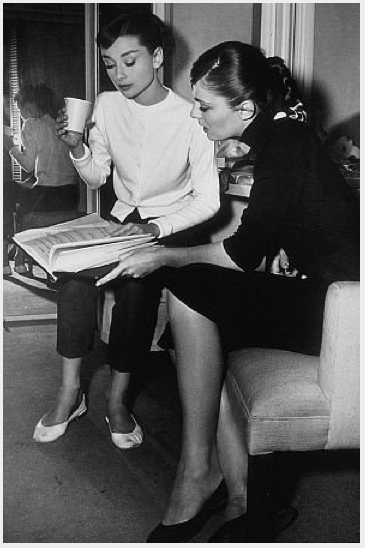 image via IMDb
So here we go, over the next week: a dive into the available sewing patterns on the market and which ones I think will best serve my needs in building an Audrey wardrobe.  I'm not planning a giant sew-along, or to drag you all through narrowing down my list of things-I-have and things-I-need.  I'm not planning on sewing up every look I discover.  But I do think the exercise of pin-pointing what looks I'd like to add to my wardrobe is a motivating one, and will become even more so as I locate patterns on the market and available to me today–not the super hard to find vintage patterns available only on eBay if you cash in your kid's college tuition, but patterns I can order and have shipped this week–will make it even more of a project that can realistically be completed by an actual human with a life over the coming few months.
Anyone else up for it?  Want to spend the next few days digging through pattern catalogs and books about Audrey to compile a list of designs and sources for fabric that will sew up into a luscious Audrey Wardrobe for this spring and summer?  I've already got a list going and some really great ideas in mind–and the pictures!  You'll lose your marbles, really.