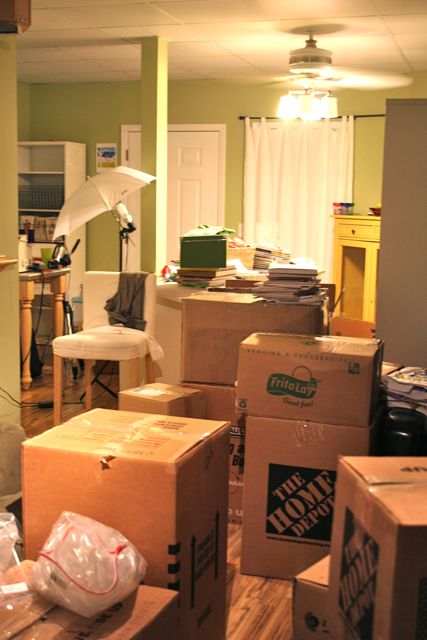 We're back from our vacation (I promise to bore you with wayyyyy too many photos later this week), and settling into our new (rental) house.  The studio space is smaller than my last place (seen here, boxed up just before the move), but I think in a lot of ways it will work better for me.  Well, except that I haven't quite figured out yet where the ironing board is going to go, and it really derails me to have to drag it out every time I need it instead of leaving it up all the time.
Actually, at this point, a LOT is derailing me.  It's hard to have half your belongings still in boxes and not know where everything is and still be motivated to get Real Work done.  Except that I have at least two major deadlines coming up, along with two or three smaller ones, plus my regular actual life to live, and I could use some motivation.  Which made me automatically think of the Sewing Buddies.*
The folks I have met online who sew and craft are endlessly inspiring to me, and have become people whose opinons and feedback and influence I value much more highly than I would have thought.  If you had told me five years ago that some of my closest friends would be people who I have never met in person, or that I could get to know someone as well through their blog and emails as I knew my best friend in the ninth grade, I would never have believed you.  But there it is, these women (mostly) who have so substantially altered the way I see the world and what I consider to be possible, who constantly encourage me to push beyond what I think I can create to cast a vision for something bigger.  It's amazing, and I wouldn't trade it for the world.
That's what I hope having a Sewing Buddy has done for some folks.  I hear back occasionally about Buddies meeting up in person, mailing one another packages, participating in online bees together, arranging charity sewing with one another.  It constantly amazes me.  I know that not all the Buddy pairings worked perfectly–and that's OK.  We're not all meant to be besties with every person we meet.  But the proportion of Buddies who have really hit it off and who have found excitement and support and inspiration through one another is pretty astounding.
If you and your Sewing Buddy are looking for some things you can do to enhance your Buddy relationship, check out these ideas from last summer.  If you and your Buddy have already been having adventures, leave a comment and let me know! I feel a little out-of-touch with you all, and am anxious to be inspired by you to get off my rump and get back to my machine.
*Every once in a while, I have a typo and write "Sewing Biddies," which totally makes me laugh.