Amy Barickman of Indygo Junction, one of the kindest and most lovely human beings around, is launching a new book AND a new line of denims.  What?!?  That's right: NEW DENIMS.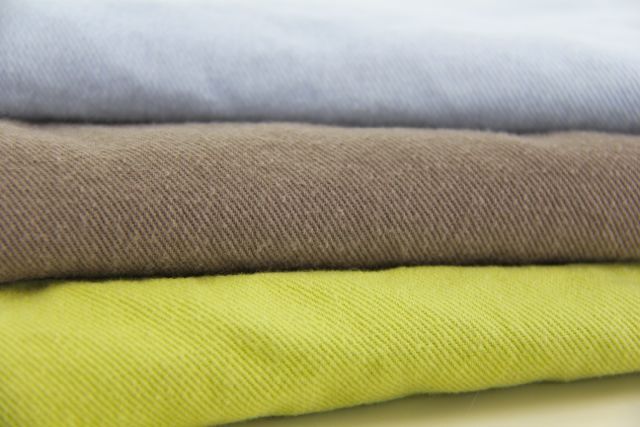 Back when I very first started selling fabric retail, I had the worst, worst, worst time finding denim on the bolt to sell to customers.  There was exactly one manufacturer who made any denim at all, in two weights: very light and slightly less light.  Nothing heavy, nothing close to what we've become accustomed to buying off-the-rack in the form of jeans and jean jackets and denim skirts.  I was looking for something comparable to what I've worn most of my life, but outside of buying designer mill-ends (as some retailers do), I couldn't find it anywhere.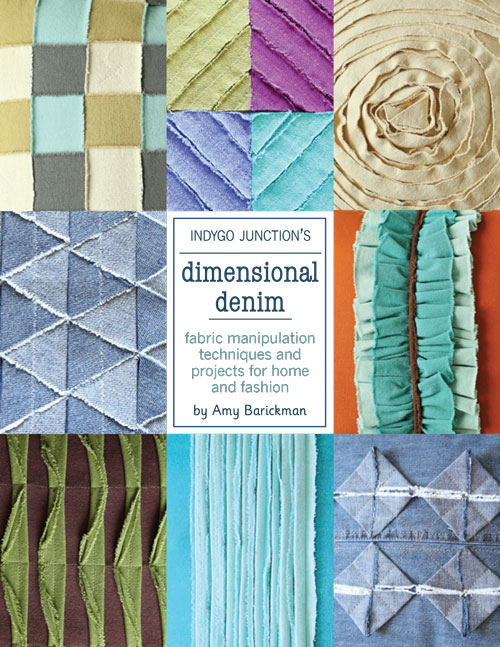 So I was all kinds of delighted to learn that Amy has developed a new denim line, Crossroads Denim, that is specifically woven so that it will rip easily and fray well.   AND!  She's got a new book out, Dimensional Denim, that walks through a whole series of projects to showcase the properties of this fabric in really fun ways.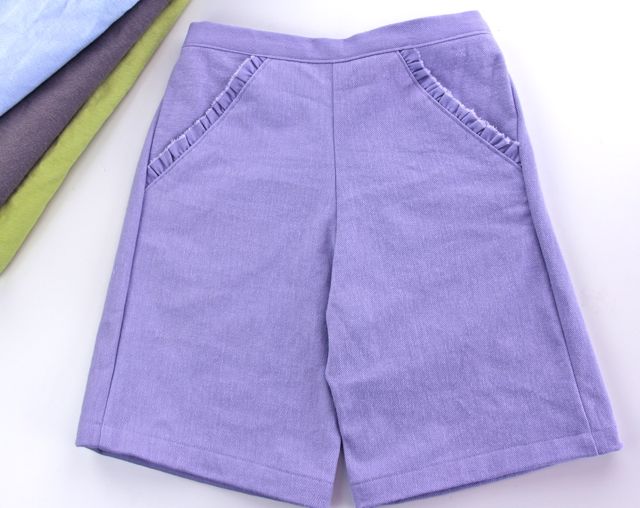 Amy and her Indygo Junction ladies were sweet enough to send me four one-yard cuts of the new Crossroads Denim to play with.  I pre-washed and played with it a bit–and did pretty much only that for about a week.  Seriously, the weight and texture of this stuff is really good.  It's a bit stiff, but in a good way–like, it's not a quitter the way some fabric-store denims can be.  It has some real heft to it, like it will wear well for kids' pants knees and for summer shorts bottoms.  And it's so soft!  Great twill texture that's really nice to touch without being droopy.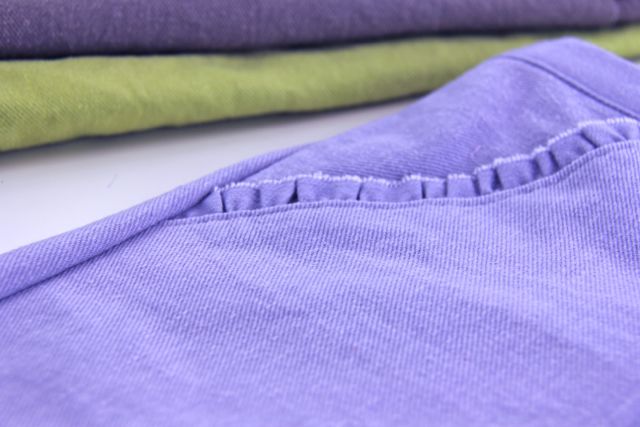 I planned to make some shorts for myself, but since I'm in the middle of working on the back-to-school wardrobes for my kids, and our eight-year-old is in need of new shorts, figured I'd take one for the team and back-burner my own desires for my children's needs.  Here's hoping they thank me later.  I used my current go-to shorts pattern and put together a quick pair with slanted front pockets for her, and threw in a sweet little ruffle to take advantage of the weave of this denim.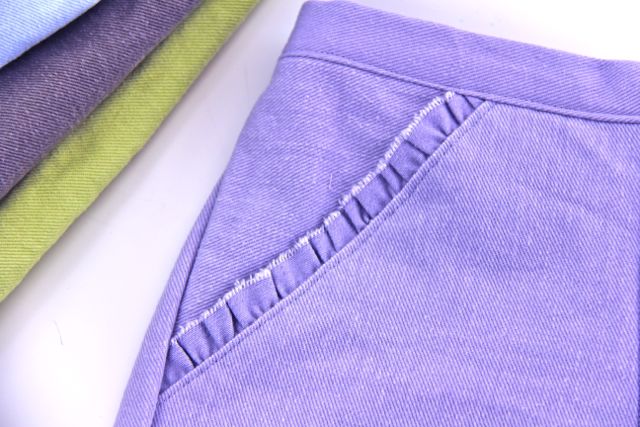 The short fronts and backs are cut on the fabric grainline, but the waistband and pocket facing are on the crossgrain.  The ruffle that's in the pocket slash is showing with the wrong side out.  All of that's an effort to give as much visual impact with a simple project–and I think it really shows how versatile a core fabric like denim can be.
The ruffle is a one-inch strip that was rotary-cut on one side, but then ripped on the crossgrain on the other.  I gathered it up down the center, and then popped it into my 1/2″ seam allowance.  SUCH a simple detail, and the fabric ripped perfectly, and it has just a subtle touch of fray along the edge, but I think it really gives an extra flavor to these shorts that prevents them from looking homemade and will turn them into something my child will love to wear.  (And how sweet is that lilac color, right??)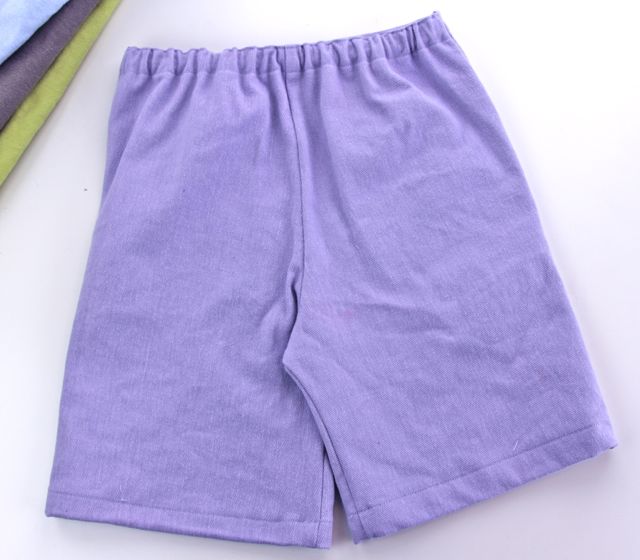 The length is just below mid-thigh, and the back waist is elastic, which is still my favorite method for making kids' pants.  It's just so simple, for me and for them–not just the sewing, but the dressing, too.  Easy to wear, and makes great play shorts for later, when these have been washed a zillion times.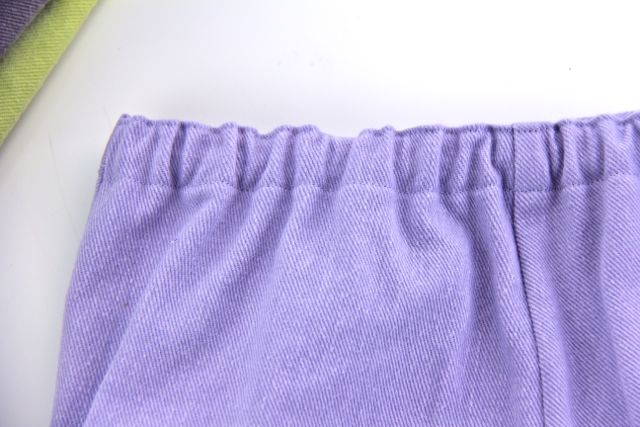 The elastic also gives plenty of space to move.  Our girl is eight, so she's just entering that tween age range, but she really is a little girl still (thank heaven), and she love to climb and jump and run and play.  And that's SO awesome, and something that I know won't last too many more years (at least six more, if I'm asking, though), so I want to make sure she has memories of all that running from when she was littler. You can win a copy of Dimensional Denim AND a bundle of these fabrics so you can play with them yourself! Enter here for the drawing, and if you just can't wait, you can find Crossroads Denim for sale at Hawthorne Threads, Beverly's, and Fabric Depot (and you can always ask your local fabric shop to carry the line–I think the more apparel fabrics we can get locally, the better).