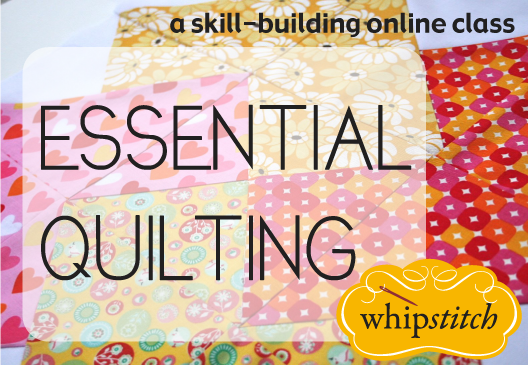 Modern quilts have completely changed the way I think about the historic art of quilting, and I have developed a love for it that I never anticipated.  There is something so magical about the endless ways we can combine fabric and pattern and color into a useable piece of art that will be passed down through generations.  Anyone who can sew can quilt with some basic skills–and this is your chance to learn them for the first time, or brush up in order to take your quilting to the next level!
Essential Quilting is an online class that covers the foundational skills of quilting, from choosing fabric all the way through placing the final stitch.  Using over 25 hours worth of lessons, all with lots of video and images, audio and downloads, this class walks you through the techniques that make quilting and patchwork so enjoyable and rewarding.  These essential skills can carry you through the projects we'll create during the class and for a long, long time afterward!  PLUS, as part of the class, download a PDF e-book of the course content to create a reference tool you can use as your quilting grows.
I developed this class based on my experiences teaching the Your First (Modern) Quilt class over the past few years, and have enriched that content to build an e-course that introduces you to techniques and designs you can adapt to any number of uses.  By making both traditional and modern quilt blocks, you'll learn the core skills of quilting while making something lovely and lasting to keep!  You'll make ten different quilt block designs to combine into a modern sampler quilt, PLUS you'll get patterns to make three mini-projects using your mad new skills!
We begin by covering the most important techniques and tools you'll use again and again when quilting: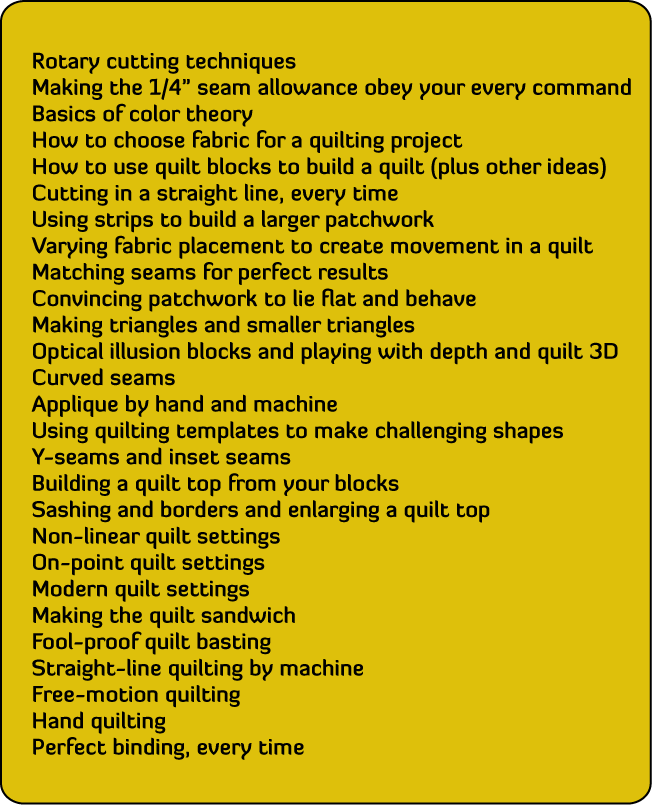 Then we apply those skills to a series of quilt blocks, both traditional and modern.  As we learn to make each block, we'll master techniques that will allow you to tackle just about any quilt pattern you can find.  Each block is specifically chosen to introduce you to new quilting concepts, new ways of creating patchwork, and new skills that you can use again and again.  As you complete each block, you move your own skill level up a notch, making blocks you thought you couldn't master well within your reach!  Working through each block, we'll look at comparisons of traditional blocks and more modern counterparts, and have a lively discussion of how fabric selection, scale in fabric design, and color can affect the overall look of a quilt.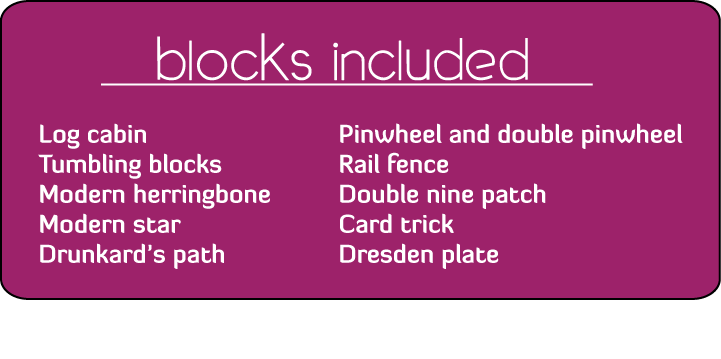 With these blocks and more under your belt, we'll create a sampler quilt that incorporates the blocks you've made and introduces you to sashing, borders, and binding–while mastering the art of color choice and fabric selection.  We'll look at how you can combine fabrics into a pleasing whole, even when working on scrappy projects, and we'll study all the amazing ways you can take the exact same blocks and shuffle and re-arrange them to make completely different designs through various block settings.  Learn to feel confident with both straight-line quilting and free-motion quilting in a variety of designs, and how to cleanly finish your quilt with no lumps or bumps!
Along the way, you'll be introduced to some of the most admired modern quilters around today, with audio interviews plus links and tips and insights!  Hear from Elizabeth Hartman of Oh, Fransson!; Rachel Hauser of Stitched in Color; Sarah Fielke of Material Obsession; and more!  Hearing their ideas and inspiration can give your ideas some form and lead you into what's sure to be a love affair with quilting.  As if that isn't enough, apply your skills to the three mini-projects, small and artful goodies that will keep you motivated to move ahead and complete your quilt–including a quilted modern throw pillow; a reversible quilted tote bag; and an applique half-apron with a secret pocket detail!  Each project is a printable pattern complete with instructions and pattern pieces so you can make them again and again.
This class really is a springboard to quilting that guides you through creating a quilt with lots of tips, techniques, inspiration and friendly support.  Join a group of other folks who see quilts as a way of expressing themselves and see how easily you can master these skills in the coming weeks.  I would love, love, love to have you join us and see you become as excited about quilting as I have!
The Essential Quilting E-Course registers as an on-going course, which means you can join anytime and work at your own pace!  Your access will never expire, and you can review any lesson as many times as you like.  You'll see comments from students who have taken the class before or alongside you, and leave your own to get one-on-one feedback from me as you work through the class!  In addition, once each quarter you'll have the chance to participate in a live chat, giving you real-time interaction with your classmates and with me, and get immediate answers and inspiration to carry you through as you grow your quilting.  Registration fee of $99 includes over 2o hours of lessons using video, audio, downloadables, printable worksheets, and images; direct feedback on your sewing through live group chats and our private Flickr group; a PDF e-book of the course content to download during the class; and piles and piles of support and inspiration.  Spaces are limited to ensure that every student gets one-on-one attention, so snag a spot while you can!