We just got in the new Lizzy House collection, Hello Pilgrim, at the shop.  When I originally placed my order, I did it the way I always do: sight-unseen.  That's how I like to roll when it comes to Lizzy, because I know that everything she produces will be something I have to, have to have.  But then I saw the swatches in person, and instantly requested an additional bolt of this print, just for me.  Because I knew right then that it would be perfect for the drapes in my den.  This photo makes the green of the walls look a bit more yellow-y than they really are, but you can see how perfectly the fabric works with the chic painter's tape accents we have going on.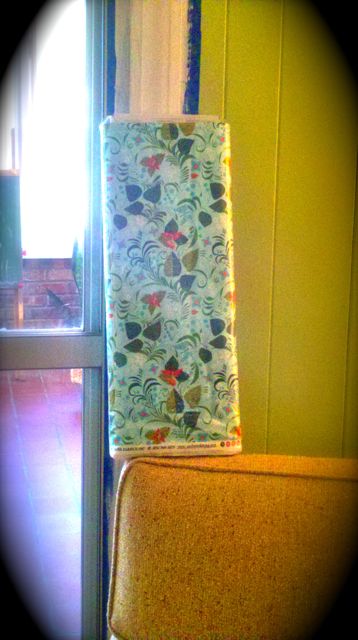 I'm lining these with white cotton batiste, and giving them a triple-pinch pleat treatment at the header, very mid-60s traditional, perfect for my 1968 ranch.  I love that the scale of this print is a little smaller than you'd normally see on drapes, but that the colors are perfect for my mid-century modern palette, and that Lizzy's signature style takes the 1968 thing we have rocking and makes it that much more modern.  And while I might normally use a heavier weight for curtains–this is quilt-weight–I think lining them and maybe using a light drapery weight at the hem will make the difference.
Next challenge: making the curtain rod.  Our den window is actually a sixteen-foot wide sliding glass door to the sunroom, and that's a lotta curtain rod.  Figure with the header making more bulk, I'll probably need 18″ on either side of the window edge to accommodate the finials and width of the curtains when they're pulled, which means I want a curtain rod that's 19 feet long.  Yikes.  Wish me luck, and I'll be back with an update!