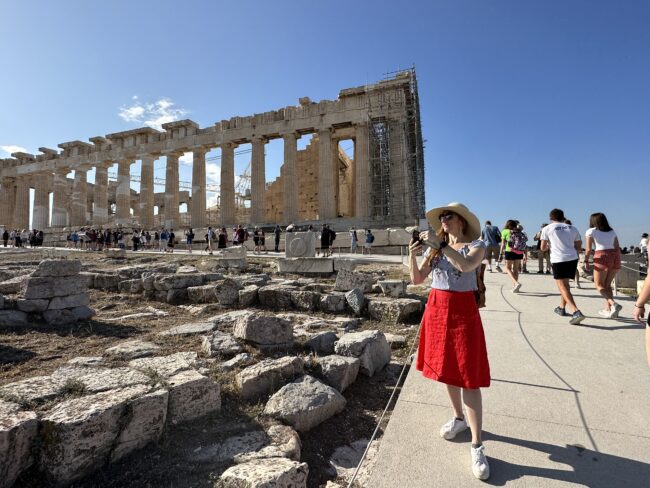 I love Agatha Christie movies. There doesn't seem to be any version of Poirot or Miss Marple that I don't enjoy watching (although Branagh wasn't my favorite, TBH). So when I visit ancient sites, I confess that in the back of my mind, I'm almost always fantasizing at least a little of being in an Agatha Christie story, 1920s-1930s naturally, with all the fabulous clothes that go along with such a vision.
When we visited the Acropolis in Athens, Greece I did the same thing–to the point that even before we left, I was picturing just what I wanted to be wearing on the day we climbed to the top of the hill and saw this iconic structure. I also knew there was a chance we'd be renting bikes after to pedal north of the Acropolis for dinner, and wanted to be prepared (as it happened, there were no rental bikes in Athens that we could find?? so that wasn't an issue in the end, but one dies want to prepare oneself for exertions, clothes-wise).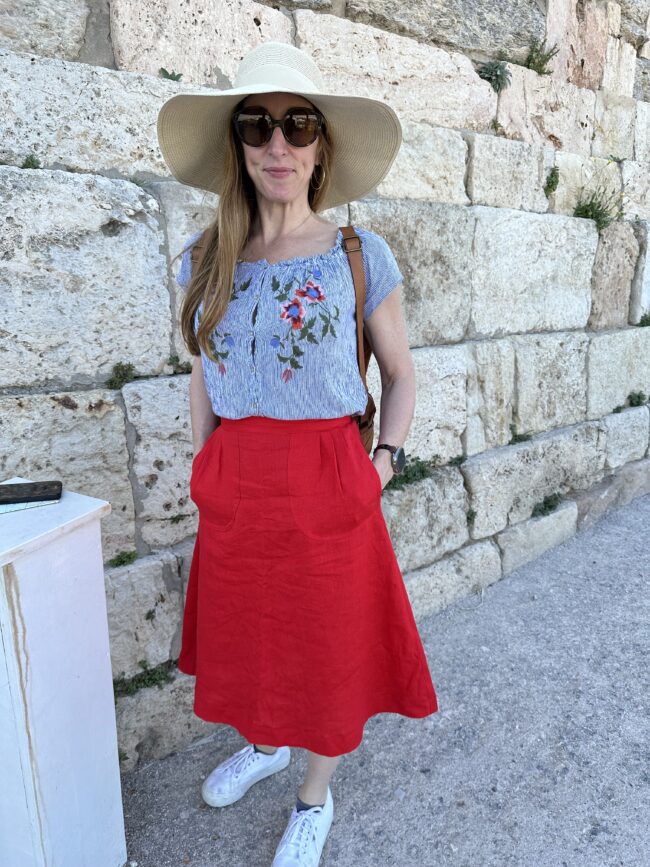 Vintage Sewing Patterns: A Crap Shoot
Hiding in my stash, I had a skirt pattern that came with a bundle I purchased at an estate sale. Buying vintage patterns that way means that often I end up with things I didn't want or that weren't the right size–some of those get sent to Goodwill, others get kept to see if I can get inspiration from them or adapt the sizing, and then there's the very few that will work, just the way they are.
This particular design, McCall's 4083, is from 1974 and in a size 10. At that time, a size 10 was 1″ too small for my current waist size–which is a small enough variance that I knew I could work with smaller seam allowances and make the pattern fit me (see below for the math I did to make this happen, after all the pretty photos of my success).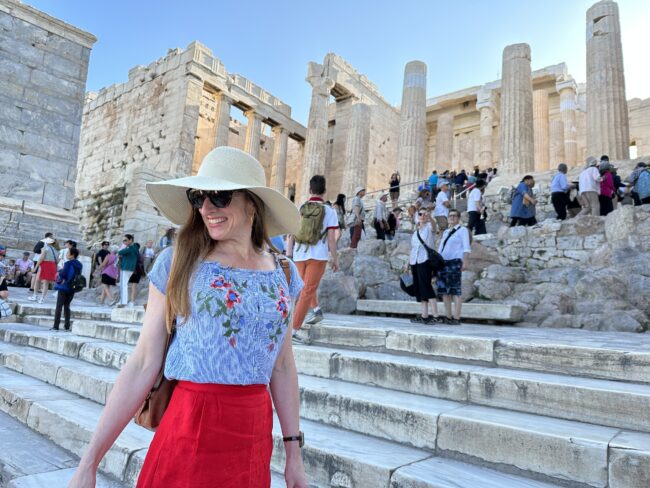 So when we started planning this trip to Greece, and I knew I was making my entire travel wardrobe by hand (you can see a six-part video series covering the whole process at The League of Dressmakers), I came across this pattern and knew it was just the thing.
It's a classic A-line shape but with a flat waistband, which I wanted: it gives the skirt structure and keeps it from stretching and distorting at the waistline in warm weather. This is especially important when sewn in linen, which gets softer and more "droopy" in heat, and when worn on a sweaty body.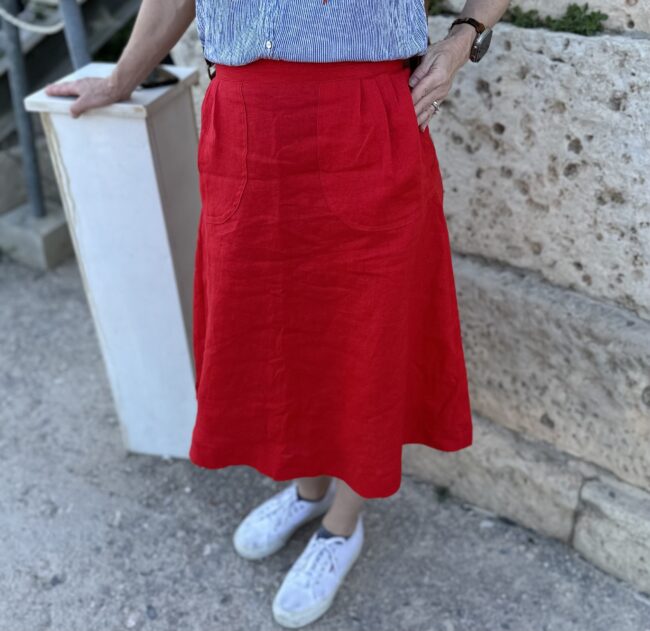 Design Details:
I liked that the design has a center back zip, which makes it easy on and off, and is quick to install. But the real selling point for me was the pocket design. They LOOK like they're in-seam pockets, but really they're patch pockets with a pleated detail at the upper edge, where they integrate into the waistband. This gives them volume at the pocket bag, but allows them to lie smooth along the waist and at the side seam, so they're nearly invisible and integrated into the shaping of the A-line skirt.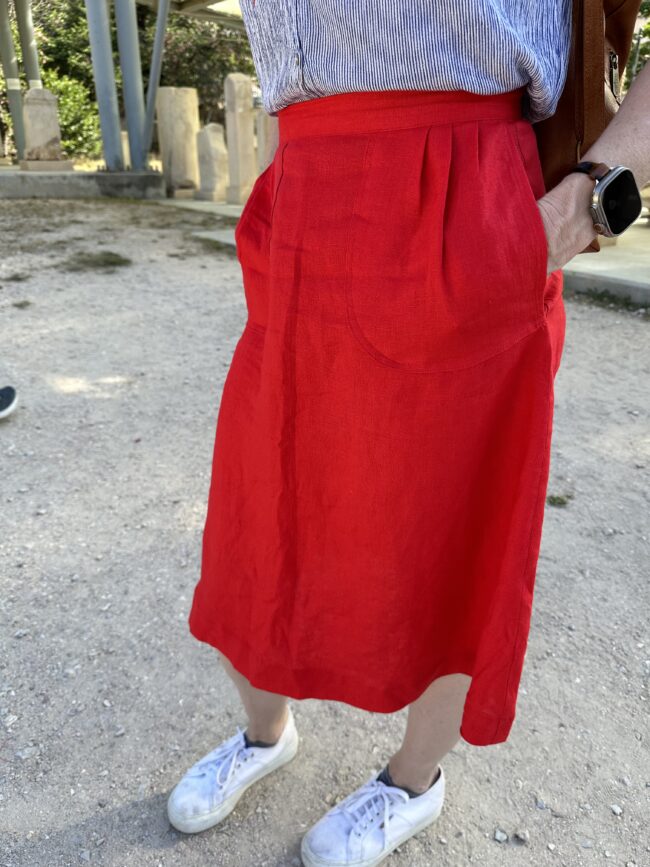 Sewing With Linen:
Linen was perfect for this project. It takes heat and steam SO WELL, and allowed me to get very precise pleats on the pockets–but also meant that as those pleats soften over time, they'll have an organic quality that gets more appealing the more the skirt is worn. I also love that there's no separate pocket bag–these are a patch pocket laid on top of the skirt body, so there's very little bulk despite the volume the pockets create. With linen, this is nice because the layers of the skirt will soften and collapse into one another, and the whole look will get more welcoming and easier to wear the more its washed.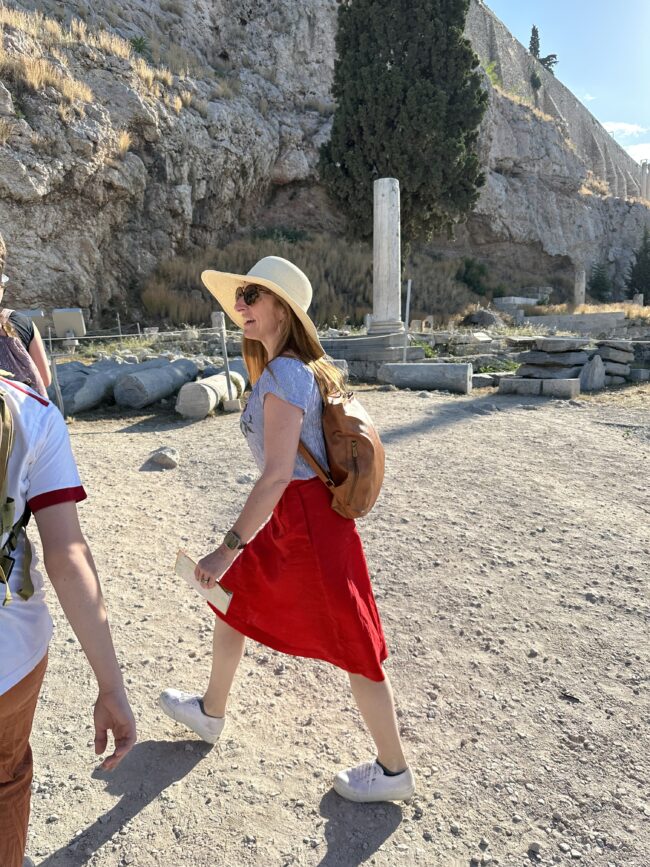 Results:
In practice, this skirt was everything I could have hoped. The width of the skirt hem gave me plenty of room to walk–and even to climb at a pace that some might call "alarming." (Please note: I was in a bind when I chose socks for this day of travel, and apologize that they're absolutely the wrong selection for these shoes + skirt.)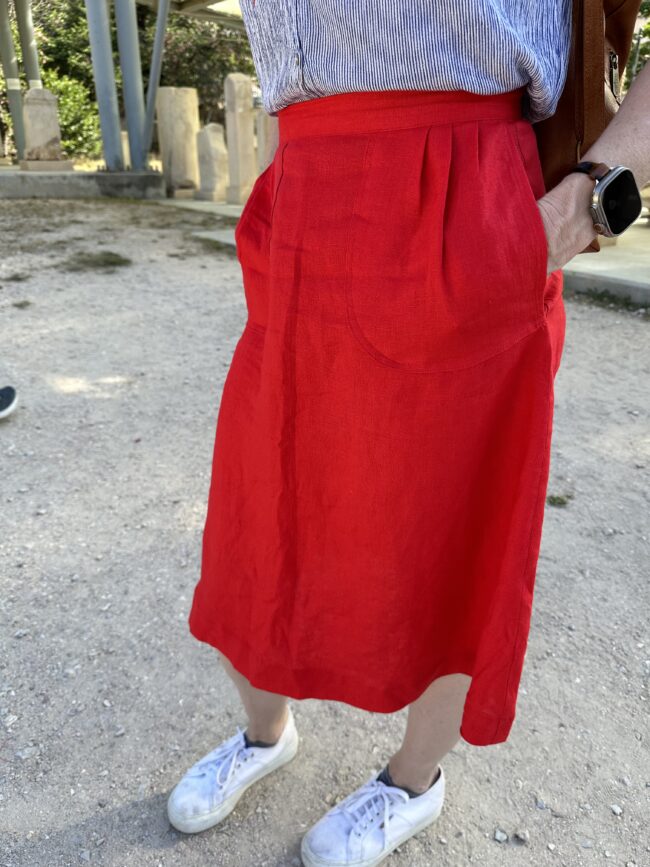 The instructions for the pocket construction included two rows of topstitching to attach them to the skirt body, but zero top stitching on the waistband, leading to a surprising level of sophistication with a really simple design. I wore it with an embroidered cotton seersucker top I got secondhand via Poshmark and a super cute pair of platform sneakers. It was a dream day where I felt I could at any moment pull my Baedecker guide from my pocket and conduct a small but necessary tour when our guide inexplicably failed to arrive–only later to have it discovered that he was murdered!
None of that happened. But if it had! I would have been dressed for it.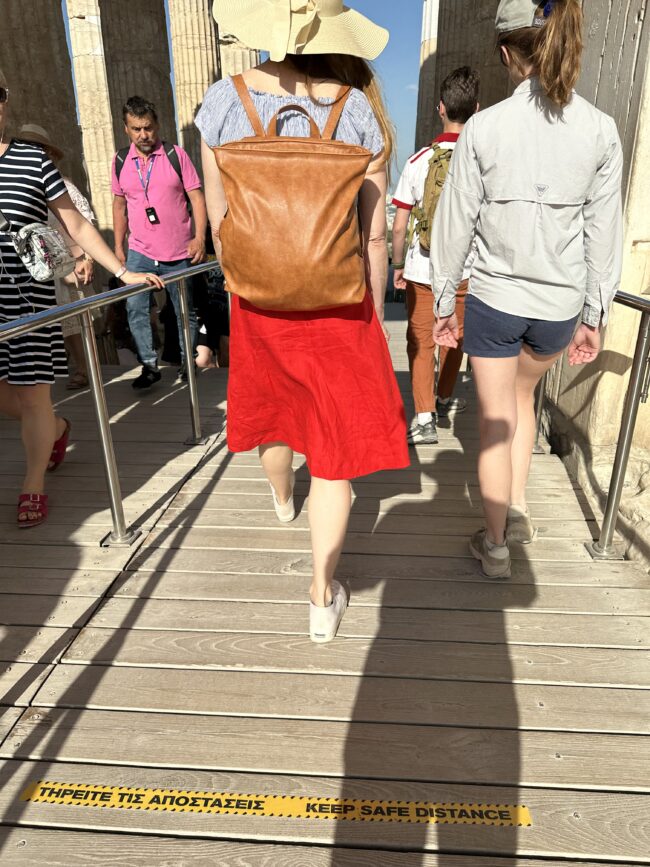 I'm wild for linen when I travel in hot weather. It has a reputation for wrinkling horribly, but I have a tried-and-true packing technique (spoiler: I also share the entire system as part of the travel handmade series at the League) that means I can pack loads of linen garments and still have them come out to wear looking presentable. The fabric breathes well, and I think it lends a flavor of sophistication that sets me apart from the "touristy" crowd, in a way that helps me feel more comfortable and confident when we're in unfamiliar places surrounded by the unknown.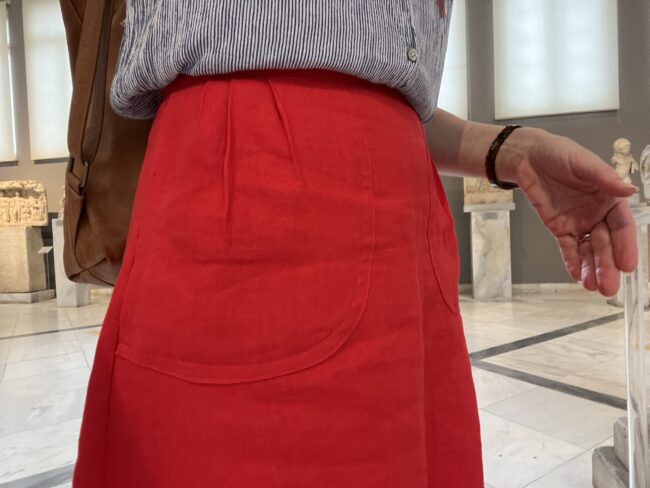 A Note On The Pattern Math:
I appreciate that not every sewing project succeeds when sewn from a vintage pattern. I was able to make this work by calculating that the 5/8″ seam allowance required in the pattern could be reduced to 3/8″ which bought me 1/4″ on each pattern piece side edge–two fronts at 1/4″ is an extra 1/2″, plus two backs at 1/4″ is another 1/2″ which gains me 1″ total at the waist and hips. I adjusted the waistband (which was just a giant rectangle) by adding 1″ to the end, and since it overlapped with a hook-and-eye closure anyway, the adjustment was unnoticeable. No grading skills required, just a tiny bit of mini-math!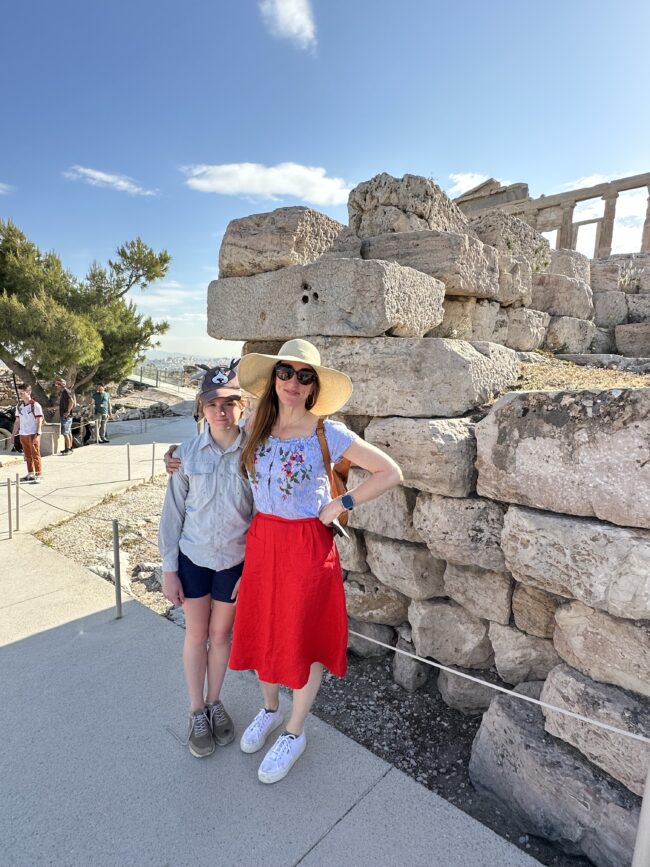 Want to learn more? Join us at The League of Dressmakers! Find your team, grow your sewing, and have fun with us.