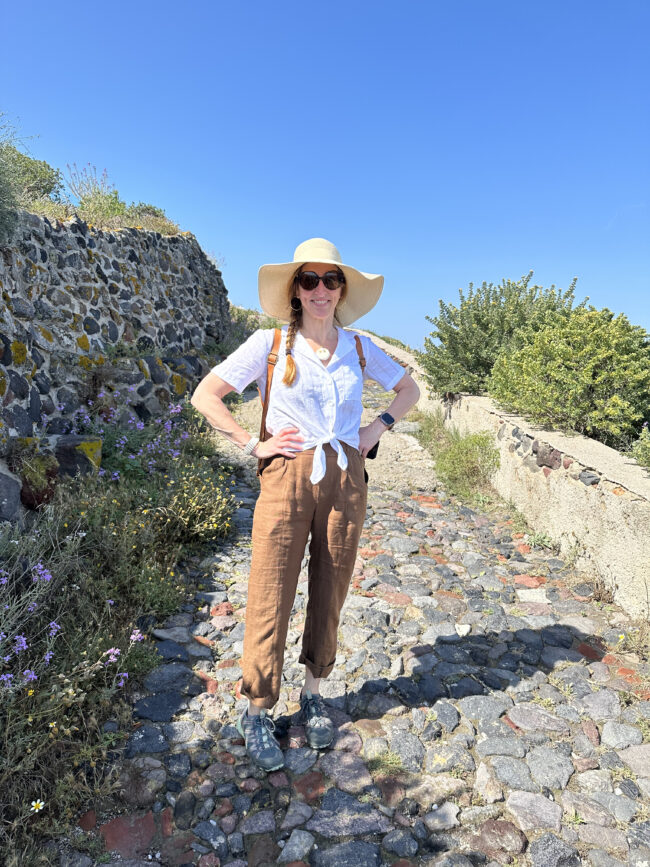 I made the Gilbert Top, pattern by Helen's Closet, specifically for a trip to Greece over the summer. I used a sortof windowpane? hemstitch? linen for it, and planned to wear it on a day when we did an epic "urban hike" between Fira and Oia on the Greek island of Santorini.
TL;DR: I adore this pattern and the shirt is everything I wanted it to be.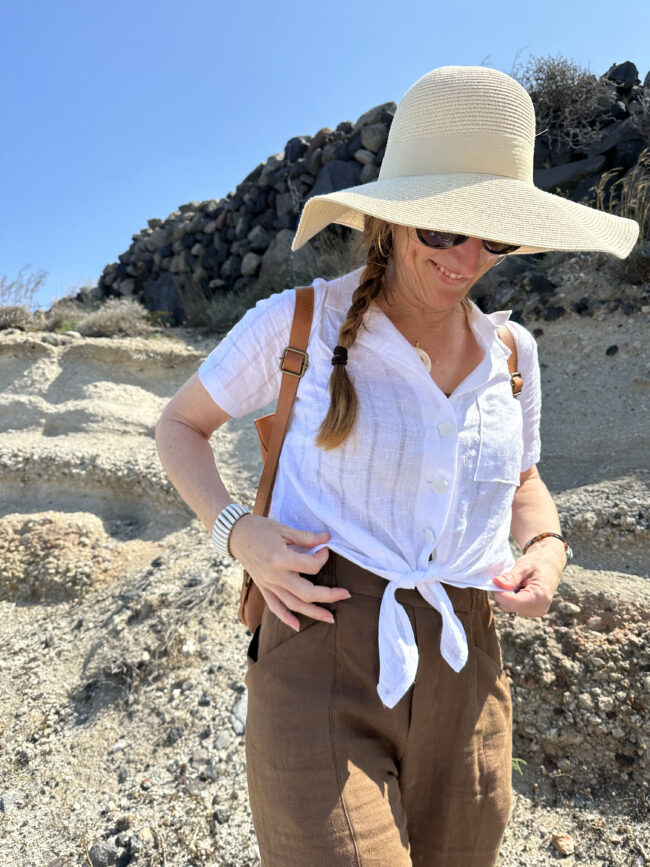 The Gilbert Top is a classic camp collar, button-up woven shirt. "Camp collar" means there's a separate collar pattern piece, but the way it integrates with the front facings of the shirt allow it to roll to the outside, making a double-pointed collar, like a Hawaiian shirt would have. This is a clean, but casual, look that goes with basically everything anyone could own.
Also: fun vintage ceramic buttons! Little flowers, so cute!!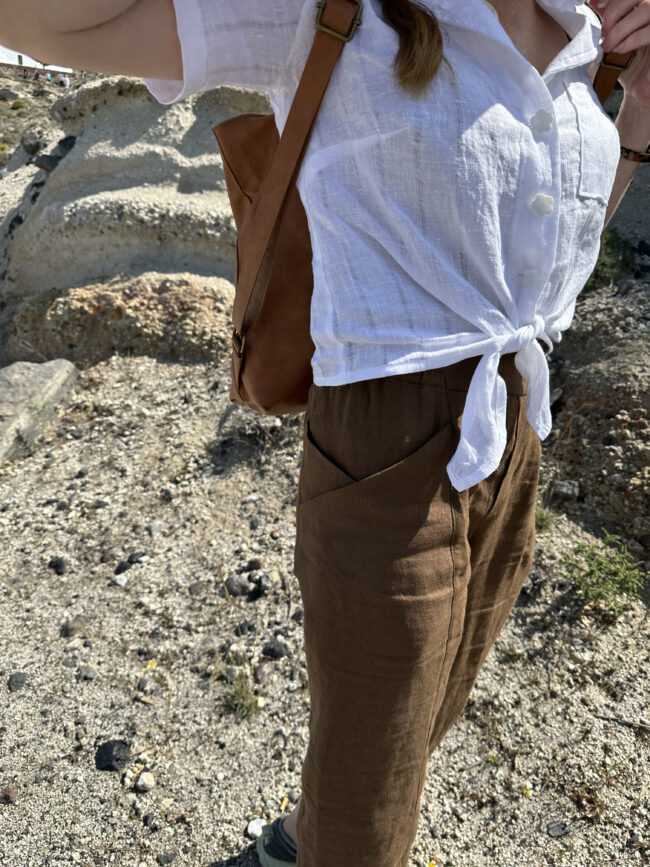 The shirt front has side bust darts, and they make some very simple shaping. Nothing too extreme, and the side seams fall straight to the hip, where the fronts tie at the high-hip level. I like that there's enough margin between the ties and the bottom button that I can loosen or tighten the knot and get a different silhouette, that either falls away from the body loosely or that hugs the waist for a little more curve.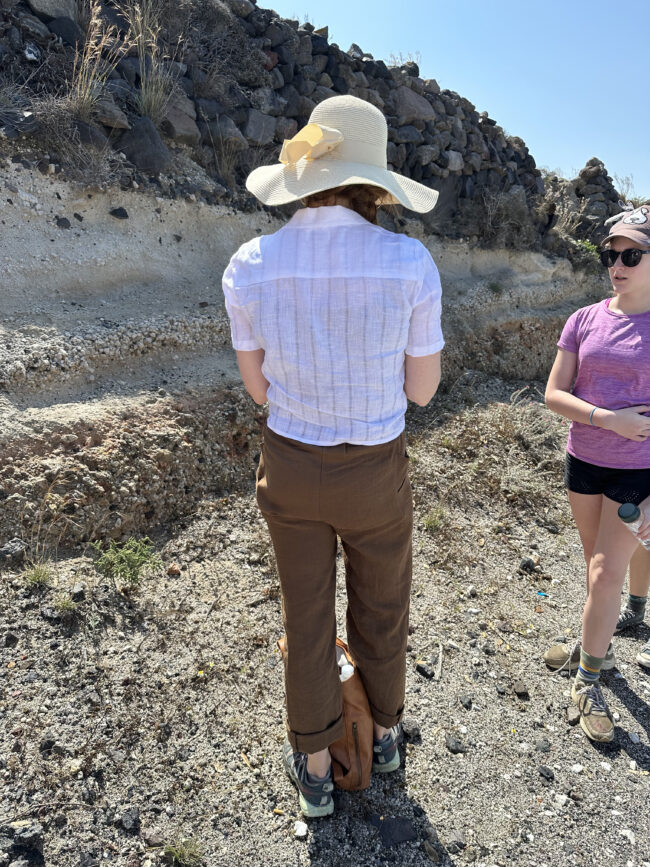 There's a back yoke, which gives some places to play with fabric design–like, you could throw in a plaid or stripe fabric and play around using the yoke. But because there's no pleat below the yoke, there isn't any excess volume in the shirt back, which made a fit I really liked.
I cut a straight size 6, which is sized for a 34″ full bust; mine is 35.5″ but I like a little less ease in most of my garments, and generally find that shirts that are sized for my bust measurement have too much margin at the shoulders, bust, and hip. I love the fit of the 6, and would have been swimming in the 8 (the size indicated on the pattern). Every garment I made for this Greece trip was a wearable muslin, so I was willing to roll the dice–and won!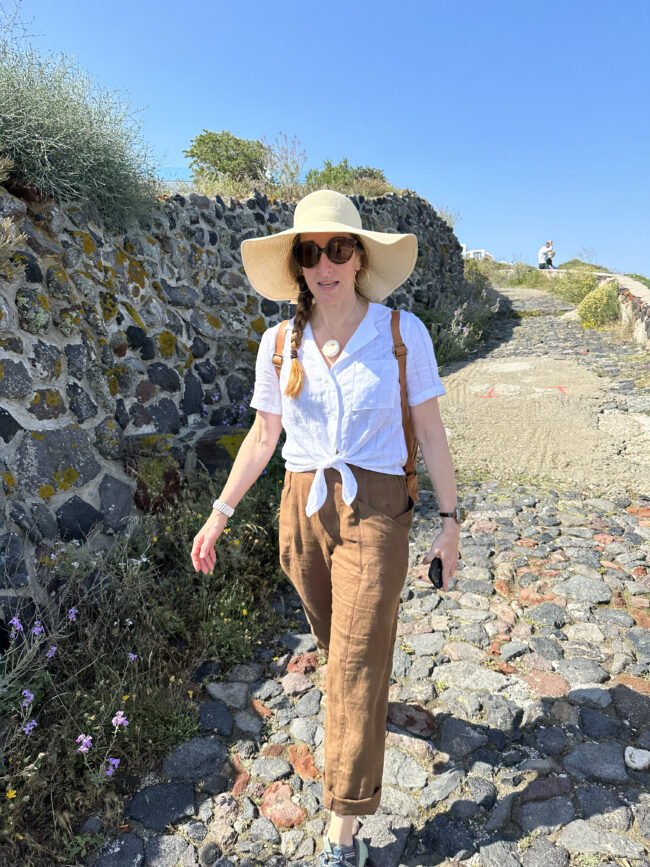 All those details combined made this shirt perfect for what I wanted: a top that feels pulled-together, but that's comfortable enough for walking (the "urban" hike was mostly a walking path along the caldera ridge, so I knew I wouldn't be getting muddy or scrambling over ledges or anything). The linen meant I caught the breeze from the ocean as we walked, and never got too sweaty–but even when I did I cooled off super fast. Delightful when we sat down to devour gyros in Oia after.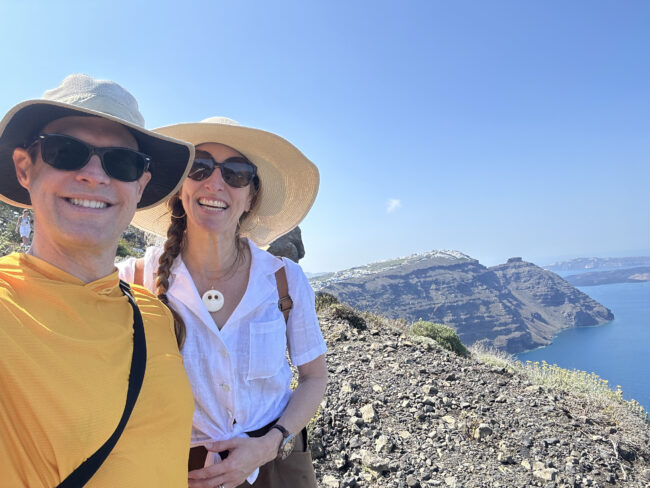 Because who wants to be sweaty in such a beautiful place?!?
I have never sewed specifically for a travel situation before–I made this shirt as part of a whole wardrobe-for-Greece project I'm sharing with The League of Dressmakers, part of an experiment in sewing a capsule travel wardrobe. To say that the Gilbert Top was successful is an understatement, and I srsly recommend it to anyone headed to a warm destination. I am LEGIT wearing it RIGHT THIS SECOND as I type, I love it so much.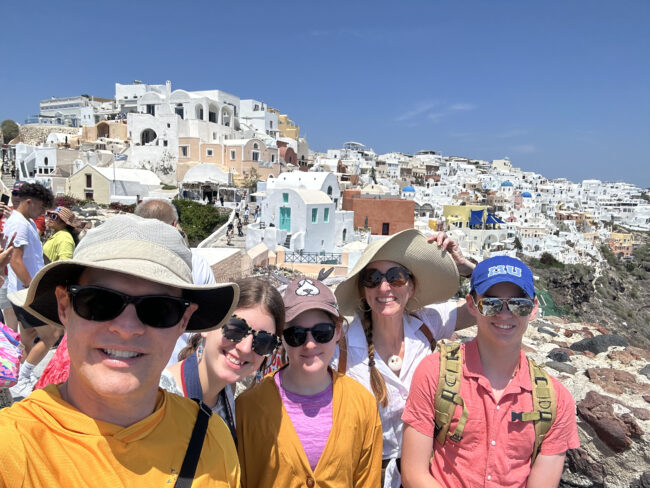 There's also a 97% chance the Gilbert Top will appear on this year's holiday card, I mean, LOOK AT THAT VIEW.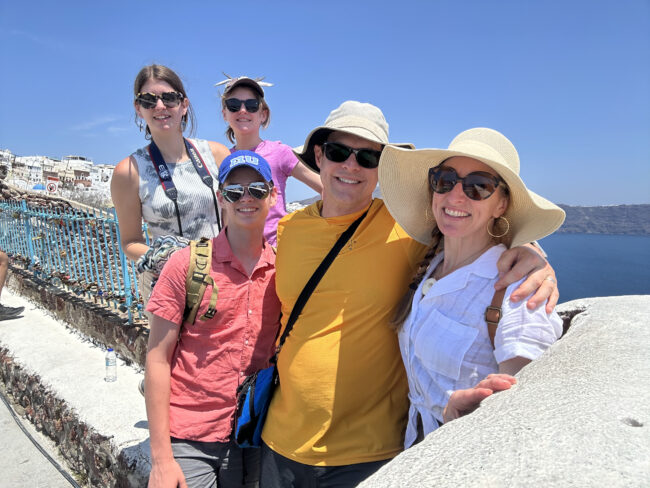 Linen can be tricky and tend toward wrinkles, especially when traveling, but my patented roll-and-squeeze packing technique (which I also share in the Sew For Travel video series at The League) meant that there were hardly any wrinkles when I unpacked this beauty. And one of the great things about linen? It softens over time, wear and wash after wear and wash, so it only ever gets BETTER.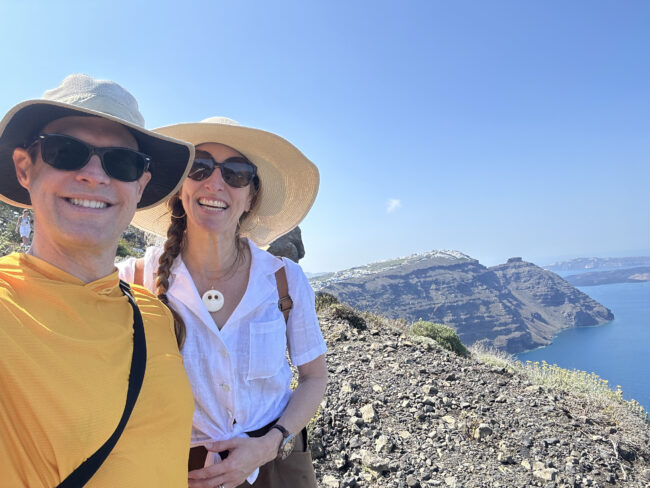 I'm told this is Helen's Closet's top-selling pattern of all time, for good reason. It took me about 45 minutes to cut out, and less than 90 minutes to sew. The sleeves were particularly well-drafted, and I appreciated the clear instructions and solid illustrations.
I'd like to remind you that I think we all should sew more garments from linen. Just for the record.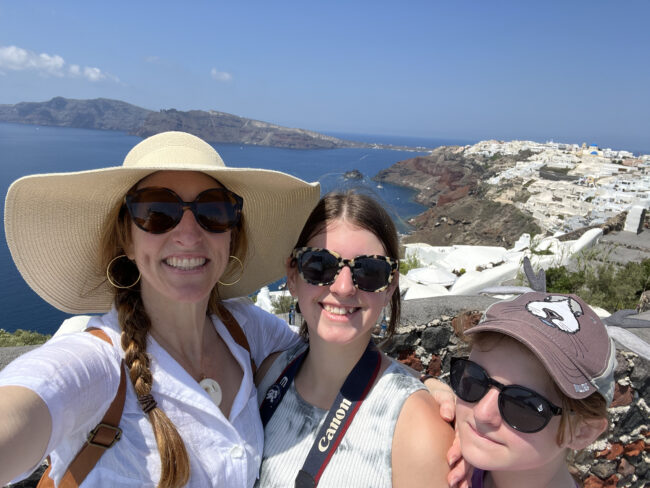 Wishing you happy sewing & happy handmade travels!
---
Other details:
Shoes are from Merrell, this amazing design that's got drainage so they're for water, but also sticky thick soles, so they're great for hiking–and mean I can pack a single "outdoorsy" pair of shoes for travel rather than two. I don't think they make this particular style anymore, but this style is close.
Pants are the Palisade Pant from Papercut Patterns, sewn up in a chocolate brown linen.
Hat is packable, crushable, and made from paper. It's on Amazon. (So is the mock-tortoise shell Apple watch band.)
Backpack is used via ThredUp, and I can't over-emphasize how great it was to have a vinyl backpack that wasn't "precious" to drag all over on this trip! Highly recommend.
Owl necklace is vintage, purchased via Poshmark.