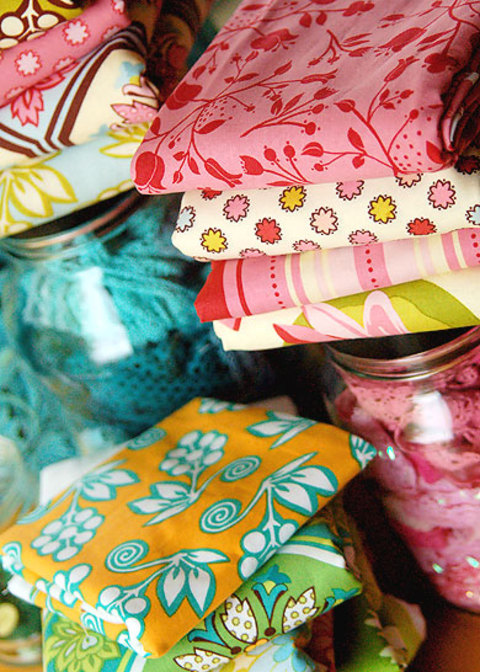 I'm delighted today to be guest posting for Rae over at Made By Rae as part of her Spring Top Sewalong. I have really, really been enjoying seeing all the entries pop up on Flickr, so when Rae invited me to come up with some tips on how to shop for fabric online, I searched through the submissions for some examples of fabric in action to illustrate–hope you enjoy!
For a lot of us, there isn't a nearby place to go in person and see some of the really fantastic fabrics that are available and that we drool over as we browse blogs and Flickr.  We fall in love with a print on Anna Maria's site or from Jay McCarroll's latest collection, and we want to touch it and feel it and look at it in different lights–and if you don't have a local independent fabric shop where you can do that, it can be frustrating.  You can shop online, but I hear from customers over and over that they're very hesitant to shop for fabric online because they think it can be a gamble, and when you're not really assured of what you're getting, it's intimidating to spend your cash and cross your fingers.
Buying online can be a great way to get access to fabric you don't have locally, and it's always fun to explore the wide world of prints and fibers and textures from the comfort of the Internets.  There are some really basic things you can know that make shopping for fabric online easier, and will lead you to choose the best fabrics for your projects.
Avoid polyester. This might seem like an irritating snooty rule, but it's always my #1, most especially when shopping for fabric that I can't feel and touch.  The problem with polyester is the enormous range in quality–you might find something in a shop that has a poly content and it feels OK, but there are so many lower-quality poly fabrics out there, and if you can't test them by touching them first, it's generally a good bet to avoid them, just in case.  You want your fabrics to feel good both as you wear them and as you work with them, and natural fibers like cotton, linen, silk and bamboo are much more consistent in that regard.  No one likes getting a nasty surprise when you open the box you've been waiting on and fantasizing about only to find that the fabric is icky and feels like plastic.  Yuk.
Choose fabric that has the appropriate weight for your project. Weight, in fabric, refers to the substantial-ness of the fabric.  Specifically, it refers to the number of ounces per square yard, which translates to how much thickness and recovery the fabric has.    A quilting print, for example, doesn't have the resilience to be used for a pencil skirt–it will bag at the backside and fail to retain its shape when it is worn.  Better to use a denim or a heavier twill so that your skirt will stay chic and fitted.  Most fabrics are referred to as "top-weight" (also "dress-weight" and "quilt-weight") or "bottom-weight."  Most quilting-weight prints–like Anna Maria Horner's or Amy Butler's--weigh about 4.5 ounces per square yard.  Most bottom-weight fabrics, like twill or denim, weight between 8 oz/sq yd (a lighter-weight fabric that can be used to make skirts, jackets or heavy shirts) to 16 oz/sq yd (closer to the pants we're accustomed to buying off-the-rack).  When selecting fabrics online, look for those terms to tip you off to how much recovery and thickness the fabric has.
Remember: there is a difference between

weight

and

drape

. While a fabric's weight refers to the thickness and recovery of the fibers, drape is different, and refers to the way the fabric hangs and clings to the shape beneath it.  Usually, the term used to describe a fabric's drape is hand, as in: "This twill fabric has a very stiff hand."  The drape of a fabric has a dramatic effect on how the finished garment looks and feels on the body, and some fabrics are better suited to certain shapes than others.  For example, look at this top in two different fabrics:The upper fabric, a quilt-weight cotton, hangs differently than the lower fabric, which appears to be a lightweight cotton chambray.  Notice that the upper fabric, which has less drape, fits better because of the darts in the back, which give this slightly stiffer fabric more shaping. The lower fabric, which has more drape and movement, doesn't need that extra shaping, since its softness allows it to fall closer to the body anyway.  Now, heavier doesn't mean less drape–a heavy fabric can be quite drapey, depending on how it's made; generally, though, lighter fabrics are less stiff than heavier ones.
Know the names of different fabrics so you'll have a mental picture of what to expect. There are a lot of different fabrics being produced these days, from voile to velveteen, and it's hard to know how they'll act once you get them home.  Having an idea of how each fabric behaves–its weight and drape, specifically–will help you decide how to manage your fabric-buying dollars a little better.  Your best bet for a truly comprehensive guide to fabrics is a good case-by-case book–try Fabric Savvy or More Fabric Savvy for starters; you can use it as an on-hand reference to decipher the product descriptions of various fabrics when you encounter them in online storefronts.  Below, I've listed some of the most common types of fabric that you might run into–please note that while all of these examples are cotton, they could just as easily be linen or bamboo or any number of other fibers, so it isn't really the fiber content that determines weight or drape.

Plain-weave

cotton describes most solid and printed quilt-weight cottons out today.   Plain weave fabrics can be any weight, and their hand is largely dependent on the fiber used to weave them, but the majority of quilt-weight cottons on the market are lighter weight with a semi-soft hand.  They do not tend to drape well and tend to "cone," meaning they create peaks when they fall from folds and pleats.  You can make lovely clothing from a quilt-weight cotton, but it won't necessarily be flowy or clingy. 

Voile

is a lighter-weight, semi-sheer fabric that has a softer hand and a lighter weight, along with a smooth, almost shiny surface.  Voiles are lovely fashion fabrics, and stitch up like butter.  They are suitable for tops and dresses, flowy skirts and for pillows or drapes.  They don't have the weight to tolerate being stitched into a pencil skirt, and while you can use them for slip covers or home dec, be aware that their thinner fibers won't tolerate lots of wear over time.      

Twill

is a heavier, thickish fabric that most of us think of as chino fabric or home dec weight.  The term "twill" refers to the way the fabric is woven and how the threads relate to one another.  Because of its thickness and weave, twill fabrics tend to have a stiff hand and to "cone" when draped, making them more suitable for pants, skirts and home dec.  In the top above, the twill makes the top stand out a bit from the body and creates a different silhouette than a lighter or more drapey fabric would have.

Jersey

is a knit fabric, rather than a woven like the others I've listed.  Jersey fabrics are prized for being clingy and having great drape regardless of the weight–you can have a very sheer jersey that has just as much drape as a heavy jersey.  Because of its knit structure, jersey is stretchy, which allows for all kinds of design options that wovens won't allow because of their hand.  Jersey is different from

interlock

, which is slightly stiffer and thicker, but the two can often be used interchangeably.
If you like to work with designer quilt-weight cottons, become familiar with the various manufacturers. You'll find that many of the fabric manufacturers (like Moda, Westminter/Free Spirit, Michael Miller, or Robert Kaufman) tend to be fairly consistent in the substrate they use to print their fabrics.  That is to say, the base fiber they print their fabrics on is usually similar in weight and drape from one collection to the next.  This is even more true when you look closely at one particular designer's work: Heather Ross' prints, when she was designing for Free Spirit, were this famously soft, drapey and slightly shiny base cloth that was pretty dreamy to work with–and that was consistent across the collections she designed.  Patty Young, when she put out her first collection of knits with Michael Miller, spent hours working with the sample base fabrics they gave her to select the substrate that eventually was used to print her interlock knits–and she continues to use the same one.  While this isn't foolproof, knowing what a designer has used in the past, or what weight and drape you can usually expect from a particular company, can help you predict what to expect when you order another of their fabrics online without the benefit of holding it in your hand first.
Shopping online for fabric can lead you to a whole world of new possibilities.  The tips above are intended to help ease some hesitation you might be feeling when purchasing fabrics you haven't held in your hand first.  I do want to say, though, that sometimes it's great to gamble and grab some fabric and see what happens!  Maybe you follow all these guidelines and when your fabric arrives, it's still not quite what you expected–there are so many projects waiting to be sewn, and perhaps getting the "wrong" fabric might encourage you to make something you'd been putting off (like something for you!).  Take some chances and know that there is no wrong fabric–just better fabrics for a task.  The more you sew, the easier you'll find it to figure all those things out.  Here's hoping this gives you a starting point to finding some amazing fabrics online!
For further reading, check out the Principles of Fabric Selection series on the Oliver + S blog.
All images via the Spring Top Week 2010 and Spring Top Sewalong 2011 Flickr groups, except topmost image, via Quilter's Buzz, and the twill top, via The Pleated Poppy.