I was digging and digging yesterday, worried that I'd lost it: the hands garland I made last year for Thanksgiving.  Each of our family's hands, traced and cut out, then stitched together to make a banner of a moment in time.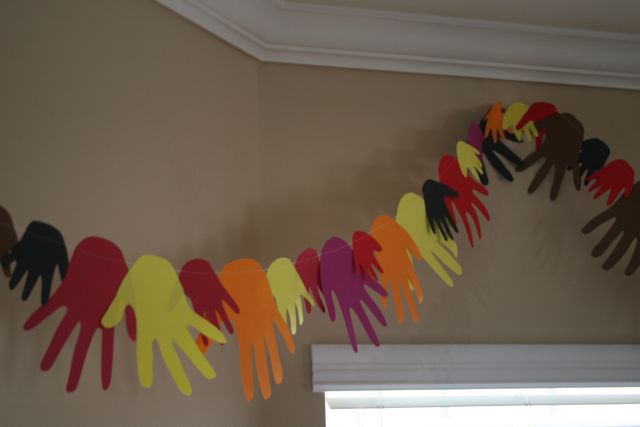 When we sat down to do this project, the day before Turkey Day, I knew what I really wanted was to capture a moment.  Making a memory is one thing, but cementing their tiny hands and seizing that instant to hold on to just a little longer…that's what I was hoping for.  So when I couldn't find the original the other day, I got pretty nervous.
I wanted to know that I'd be able to hang it in our new house.  No, dear friends, we did NOT close yet on the house we've been trying to buy for the past almost three months–it has been one thing after another, lots of delays.  To the point where we have had second and third and maybe even fourth thoughts about the whole thing–at what point do you stop being persistent and trusting and start being ridiculous and foolish?  We have no real way of gauging if this is the house for us and we're just having to work for it, or if this is not the house for us and we're ignoring red flags.  Finally, my husband and I came down to decide that as long as we're not making poor financial decisions, as long as we're being wise about what we're willing to agree to and how we spend our money, the best we can do is wait and see where the cookie crumbles.
So we are.  So, we have been.  And we thought this time, finally, we'd close tomorrow and own this house for Thanksgiving, and all would be well.  And I wanted to hang this garland there and be truly thankful that this whole process was coming to an end.  And alas, once more: postponed.
Which brings me to my point: it is a reminder, this most recent postponement, that what I really want, in all the world, is just to be with my family.  I don't care where I live, so long as I'm with my husband.  I don't care how big or fancy my house is, so long as my children are healthy and loved within it.  We are exhausted from this process, but we have so much more than so many, and for that I am truly grateful.
Hooray for little hands, for teeny cuts of paper that remind me how little they were then and are now, and flashes that show me how quickly the years will pass (no matter how loooooong the days are when we're all in our little house together).  I will hang this garland and be thankful to have so many blessings, no matter where we are.