I'm off on another trip this week (the next-to-last of this year, and it can't end soon enough–what happened to our resolution to travel less in 2011?  Oh, yeah: business travel.  D'oh!), which is making me think of travel gear and packing and what-to-do-on-an-airplane.
That last one might seem like a no-brainer to many of you, but I have flown so infrequently without children for the past few years, that I feel sort of adrift at the thought that I might have four HOURS where no one is looking for me, sitting in my lap, spitting anything at anyone (I hope) or making a stinky mess that I'll be expected to (quietly, surreptitiously) clean up.  I feel overwhelmed with the near-freedom.  (Only the constant and pathological fear that one of my children will come home with cooties or worse after five days at my in-laws tempers my excitement.  I know you know what I mean–you'll miss them sosososo much while you're gone, worry about every little detail you're missing, and then they'll be buttfaces ten minutes after you get home and you'll long for the plane again.  The Mother's Dilemma.)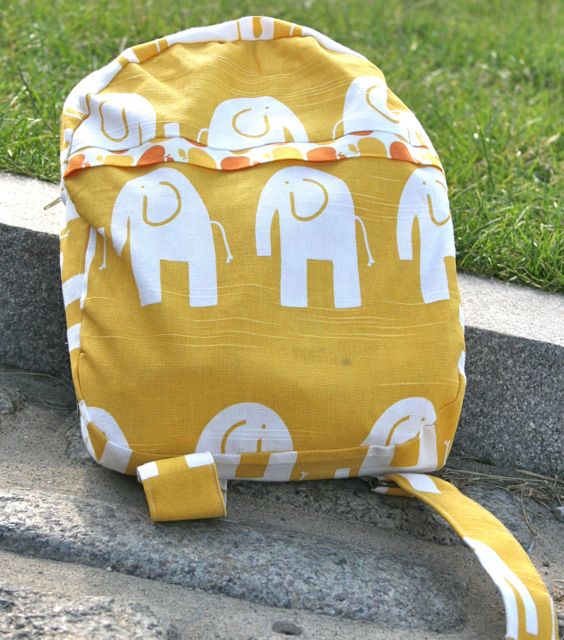 All this packing thinking makes me want to share the backpacks I made for the children when we took our trip to New England last month.  If I'd been wise, I would have taken a photo of all three of these (which I completed a two a.m. the morning we flew out, because one: that's how I roll and two: I do not feel I have traveled unless I am frantic with last-minute details), but sadly I failed in that regard, and don't have a single picture of them together.  And since I'm leaving in 24 hours, I don't have the energy to round them all up from various rooms in this house to do it now.  But I have time to tell YOU all about it.  Me=complex and complicated.
I made three, one for each of the children who walk and can therefore carry a loaded backpack.  They're all the Paris Backpack pattern from Little Things to Sew, and Liesl Gibson has done it again: clear instruction, clean design, and a joy to sew up.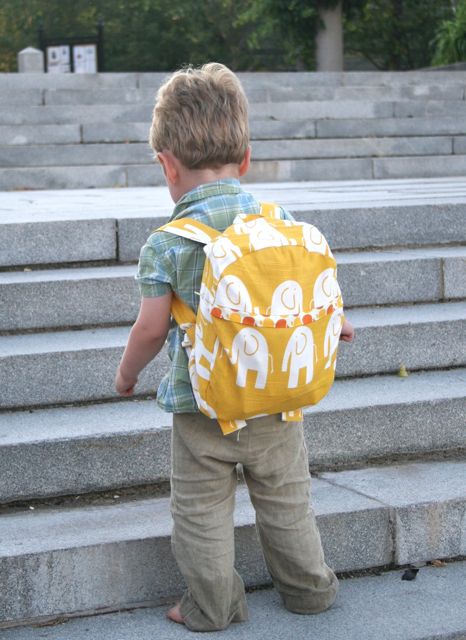 Fabric is a slub mid-weight home dec, with some quitling cotton accents in the seams.
I purchased, MONTHS in advance, toys and goodies and books and treats for the children.  Each one got loaded into the backpack (I had planned to wrap each one individually to slow down their enjoyment so it would last three hours, but then we'd moved a week before and I couldn't find the tape, and….you know how it is).  They didn't see the backpacks until we were leaving to get in the cab and head to the airport.  Joy abounded–seriously, they loved them.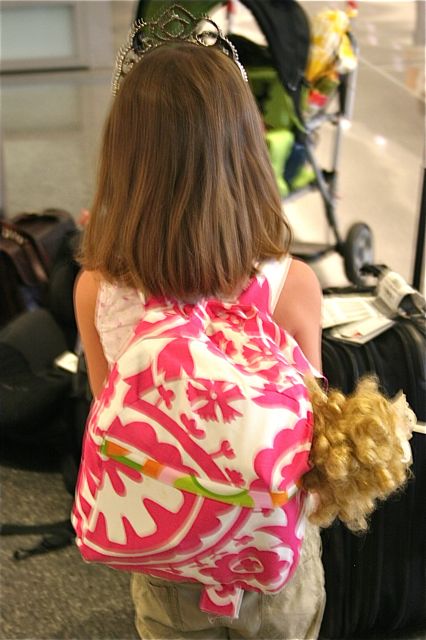 No one was permitted to unzip until we were on the plane, but once we were, they lovedlovedloved the treats, and all but one (our 2yo, who was NOT in a car seat on the way there but was SO in a car seat on the flight home) was a dreamy doll the whole flight.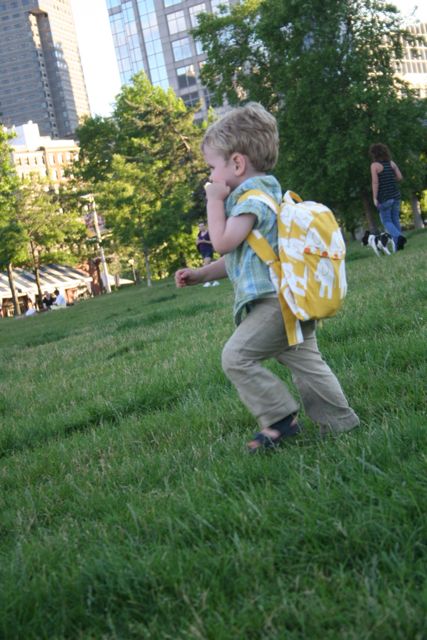 And they wore them absolutely everywhere we went the whole trip.  And they still love them now that we're home.  Do I miss the sleep I lost making these?  Not a bit.  Totally worth it to see them love something Mommy made.