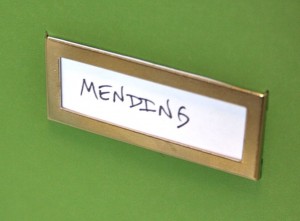 I have a bucket of mending.  It sits on a low shelf, just a cardboard Ikea box where I collect the projects that my family need done: a shirt with a lost button, a hem that's come loose, a pair of pants that need letting out, a tear in a favorite dress.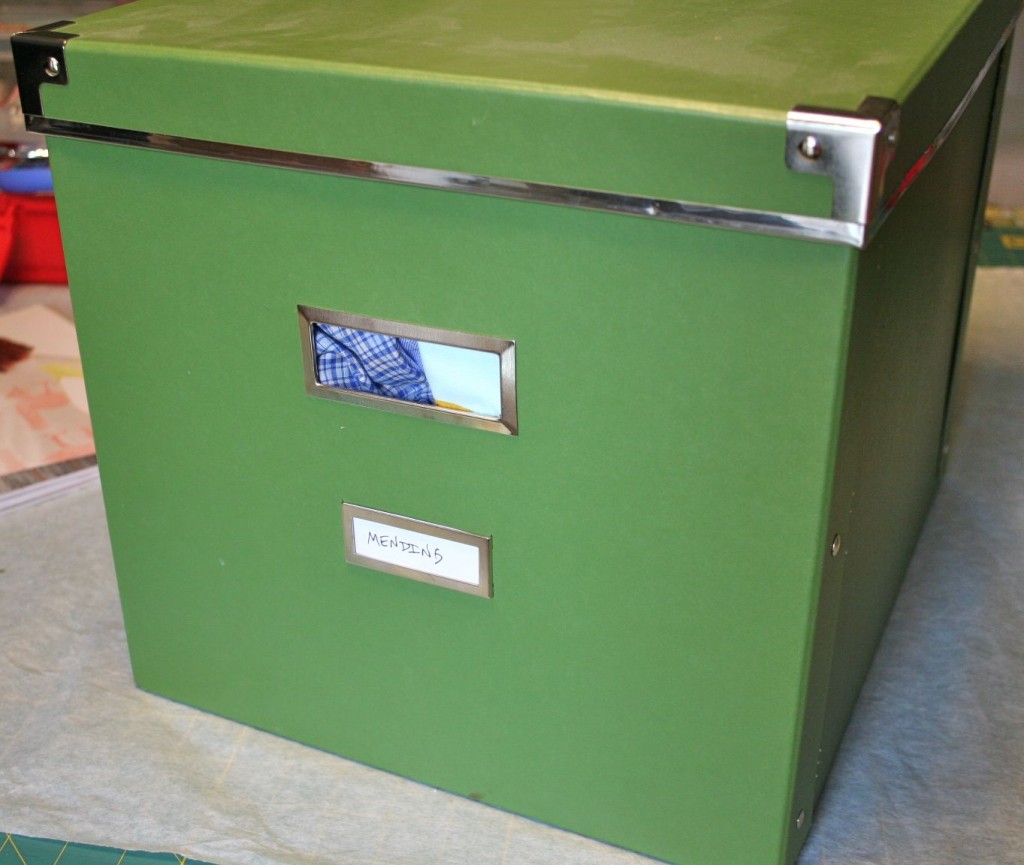 I hardly ever touch this bucket.
I think about it sometimes–but not hard.  It just sits in its little Ikea cubby, ready for The Day when I'll want and have time to mend.  This is an easily procrastinated task, and I'm 98% certain I'm not telling you something you don't know.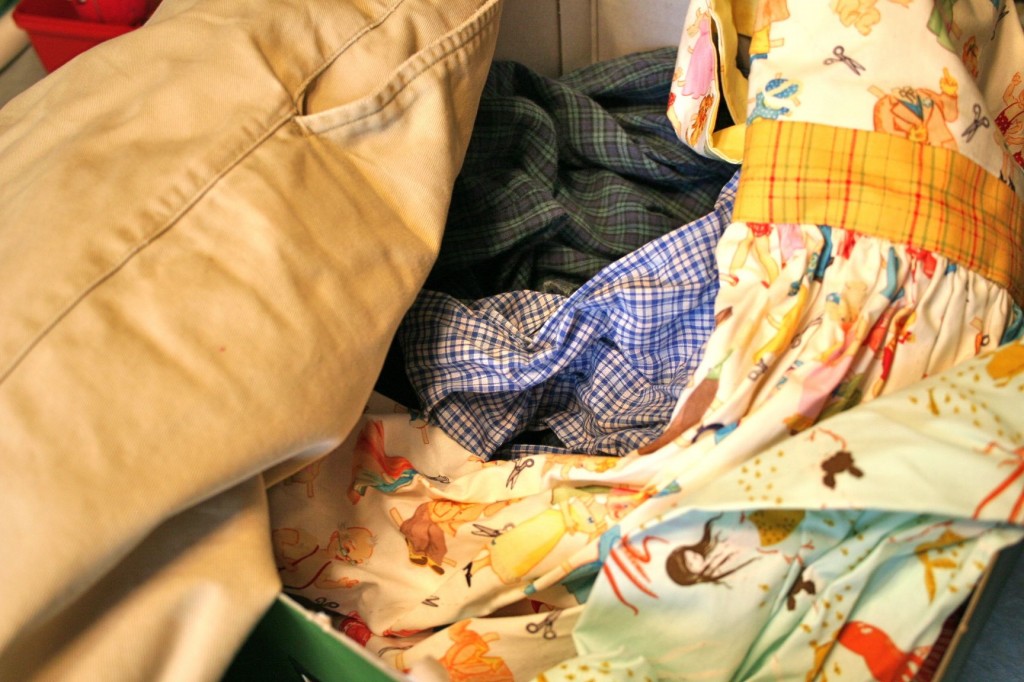 So I started thinking, as I was putting pockets on a skirt this morning–a quick job, an easy job, a brain-on-auto-pilot job–why did I choose to spend my time putting on pockets this morning, and not doing some mending?  Why don't I ever feel as though I want to do mending?  Is it that it doesn't seem like sewing?  Because mending is one of those sewing skills that seem to impress strangers (as in the conversation: "You sew?  Really?  You mean you could put buttons back on all my shirts and stuff?").  Is it that it seems like drudgery and that it's outdated?  Because last I checked, buttons have been falling off since buttons were invented, so I'm not really sure how it could have become outdated.
Which led me, in the meandering way of auto-pilot thoughts, to Robert Frost.  Most of us were expected to read "Mending Wall" when we were in school.  Whether we did or not is another story, but it holds up well over time.  (The work of Poets Laureate so often does.)  I wondered if his mending and my mending were the same mending.  So I Googled (God bless 'em) and re-read the poem for the first time in a long time.  It's a poem about two neighbors, one who thinks the wall between their tree-covered, cow-free properties is old-fashioned and needless, laughing at his neighbor for continuing to build it out of habit; and one who argues that "Good fences make good neighbors," and values the act regardless of whether livestock are involved.  The two meet every spring to mend the breaks in their stone fence that appear at the end of a long season of ice and snow.
When I was younger, I thought this whole poem was pretty dumb.  I mean, it seemed so obvious that the guy who keeps saying, "Good fences make good neighbors!" was wrong, and that it was time to Move On.  Reading it now, though, I see that it was actually the other dude who called him to mend the wall in the first place, who complained about the big holes hunters left in it when they were going after game.  I thought I understood Frost's point in the poem, that doing things year after year when the usefulness of the task has passed is wasteful and foolish.  It struck me this morning that in Frost's poem, the wall is built not just out of rote tradition, but because both men enjoy the camaraderie and the community of putting the wall back together, stone by stone.  And that maybe Frost is giving us two perspectives in the poem–that the other side of the argument is not that building a fence makes good neighbors because it keeps the other guy out, but that mending makes good neighbors because it brings the two together in a shared moment, a joint and familiar task that makes for joined and familiar neighbors, the core of any community.  As I mend my family's things, I feel the same sense of one-stitch-at-a-time satisfaction, of a return to the familiar, of placing needle and thread in a moment and pulling it more tightly about us all.  Mending may seem old-fashioned and outdated, creating walls where there need be none–why spend your time mending, when you could so easily toss and buy new?  But I think today that mending is bringing past to present, is placing value on memory and looking forward to usefulness.  Rather than drudgery, it is an excuse to sit quietly and patiently, to translate the meaning of the act to my children as a commitment to them and to the little bits of daily life that add up to a Life, add up to family.  Mending is trust that a task will be performed, it is devotion in performing it, and it is resuscitating those things that appeared lost and unused.  Like a velveteen rabbit, things that are mended are stitched with careful love and made more real.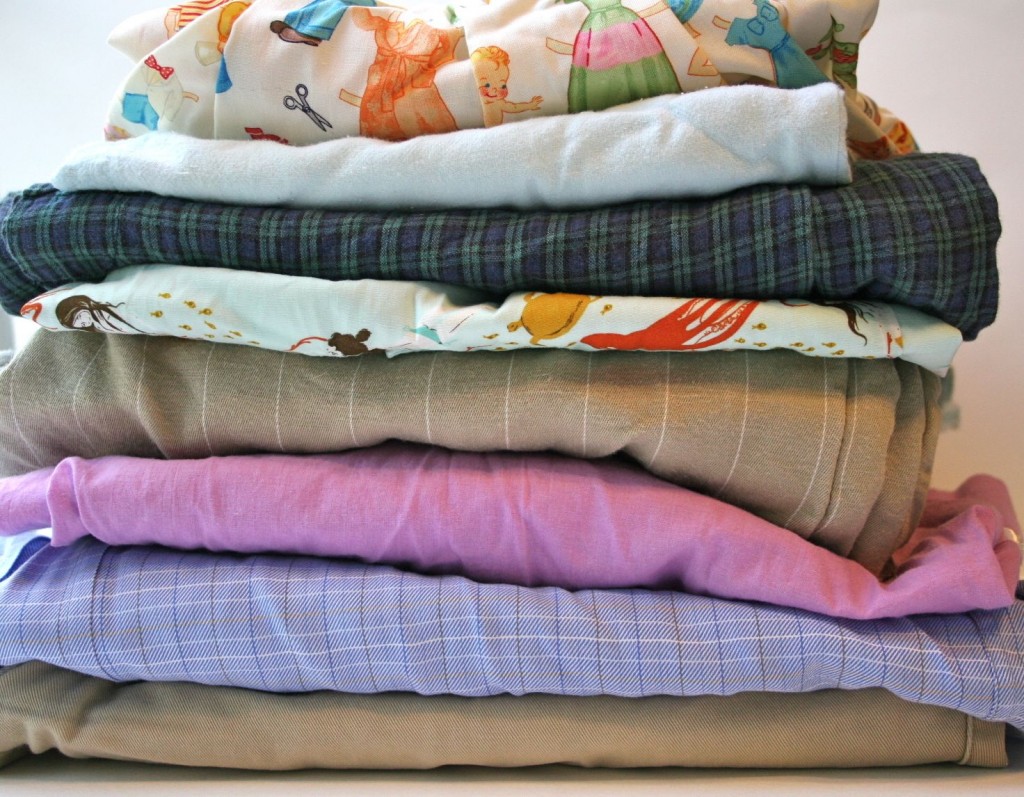 Maybe today is The Day, after all.