You know how when you have a lot of projects that you're working on, you say you've got some stuff "in the hopper"?  I've been cranking out deadlines the last few months, exciting projects that I really loved working on and was itching to share, and they're finally coming out, bit by bit.  First, there was the Ruby Star Spring Bee Skirt, an idea that was hatched months and months ago–last spring, to be precise–and now I'm really pleased to share another with you.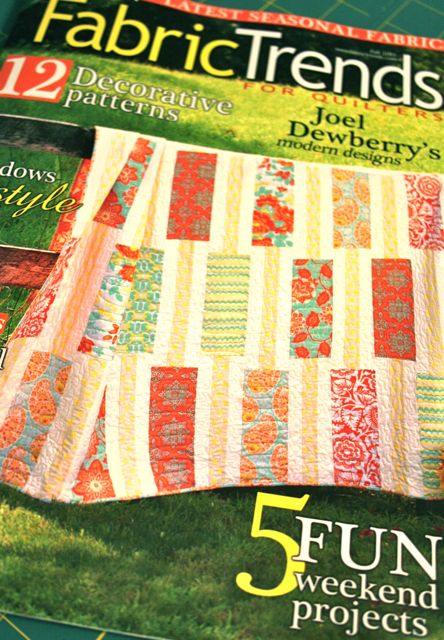 This showed up in my mailbox yesterday: the Fall 2011 issue of Fabric Trends magazine, complete with an article written by little ol' me.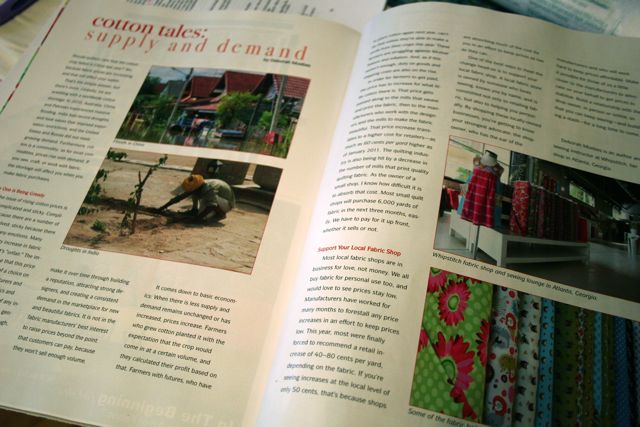 When I wrote about fabric price increases earlier this year, it was a topic I'd been thinking about for ages and ages–I mean, it's pretty relevant to our everyday lives if we're sewing at all.  Can't sew much without any fabric.  But I didn't expect my post to catch the eye of the editorial staff over at Fabric Trends, so when they contacted me and asked me to submit an article based on that blog post for their fall issue, I was really humbled and flattered.
I still feel so strongly that supporting your local shop is the best way for us to weather this economy.  I know–seems like all anyone talks about is how bad the US has it and how tough the economic outlook is, and we're all more than a little worried about our own personal economic outlook.  And I know very well that compared to most of the world, anyone living in America is by definition rich beyond measure–we are a fortunate country in that we don't realize very often just how truly fortunate we are.  So I don't mean to cry "Economy!" one more time.  But I love me some local shops, I love local customers, I love the community that exists when people have a place to go where they know they'll find kindred spirits.  This past summer has been brutal for smaller retailers, and fabric has been hard-hit.  If you haven't visited your local fabric shop, or supported a local shop that offers online sales, won't you think about it next time you stock up?  With so much awesome fabric coming out over the next few months, it would seriously rock if you'd buy yours from someone who will personally benefit from your purchase–and remember you next time you come through the door.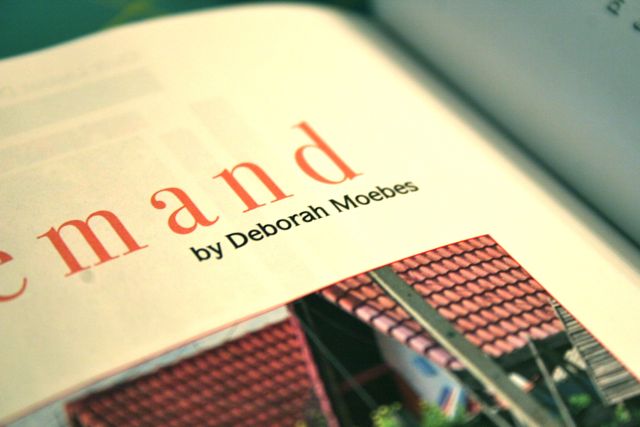 Lots of other great articles in this issue of Fabric Trends–Joel Dewberry!  free patterns!–and I'd be blushingly flattered if you read mine, too.  Here's to a day of gratitude for cool opportunities, and thankfulness for our sewing community!