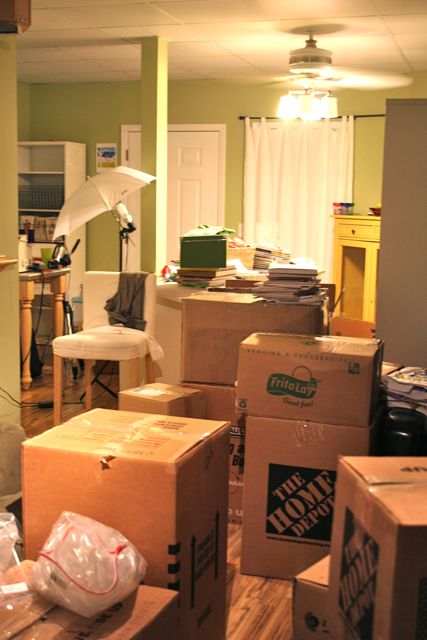 I need your advice.  So, we're packing up to move.  Again.  This is what it looked like when I packed my studio to leave the last house: took 32 boxes.  Not even kidding a little.  Now, my husband clearly loves me, because we've got some hourly help coming tomorrow morning, and what I don't know is this: what do I need to keep out, and what should I let them pack away?  What I mean is, what is it in your sewing room that's totally essential and that you couldn't wait to unpack from a box because you'd need it too soon?  My brain is fried, and I just know I'll let them put something totally important at the bottom of some box, and then put a ton of thread on top of it, and I'll open the big box of thread and I won't think it's that important and I'll say, "Meh, I'll unpack this box later," except I won't, really, which means that this Really Important Thing will be lost for all eternity and only found in twenty years when we move out of this NEW house into…whatever comes next in twenty years.
Do you see why I need your help?  Take pity, world.
P.S.  See that wall color?  That's the one we picked for the entire house in the new place.  Just in case you're following along on our renovation progress.  Living room, den, dining room, entryway, kitchen, breakfast area, sunroom, all the same lovely shade of green.  Or, it will be, once I paint it.  Gotta go.