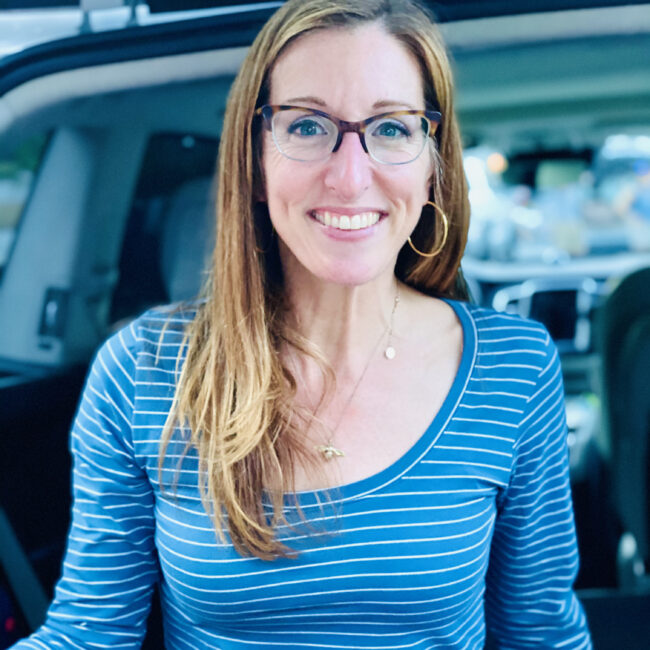 During MeMadeMay2021, I didn't sew anything new–except this tee.
At the time, we were living without a closet, since ours was under renovation, and sleeping in our basement surrounded by half a dozen IKEA clothes racks with all our worldly garments making a soft wall that did not at all resemble privacy–but if that's the price for renovating our closet to combine three small, weirdly-shaped closets into a single, dream closet, that's a price we were willing to pay.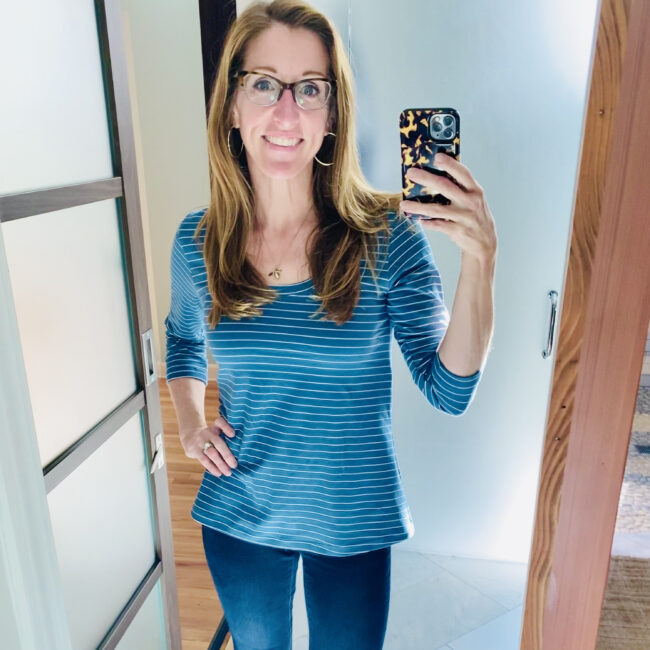 Point being: I wasn't making anything new because the things I already have were enough of a job to manage. But as the month wore along, one huge benefit of having everything I own displayed very literally before my eyes became clear–that I was able to inventory and evaluate.
I have lots of dresses, lots and lots of dresses. I have lots of skirts. I have, bizarrely for a hot climate like ours, a wide selection of long-sleeve button-front shirts. What I lack are SHORT sleeve shirts, and tee shirts that don't have puns or bands on them.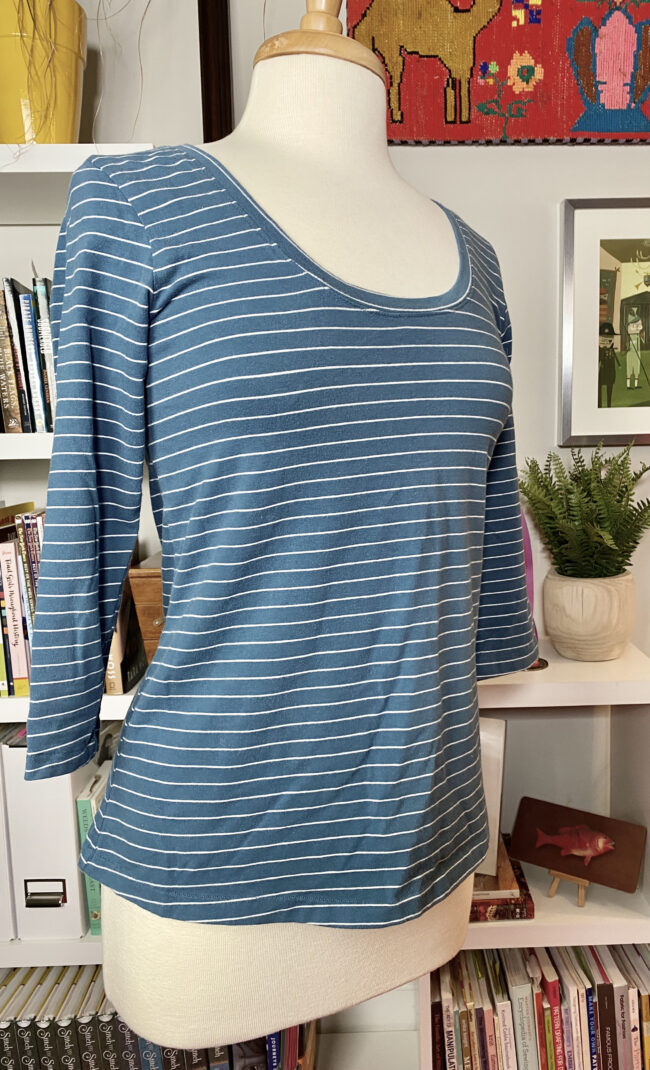 This is the Plantain Tee pattern from Deer & Doe, stitched up in a stupid-soft cotton jersey from Art Gallery fabrics. Another side effect of having ALL MY CLOTHES on display for 2+ months was confirmation that I love, love, love stripes/dots/plaids on almost everything, so adding a striped 3/4 sleeve tee to my wardrobe seemed like a year-round solution and a no-brainer for my ONE new sewing project during May.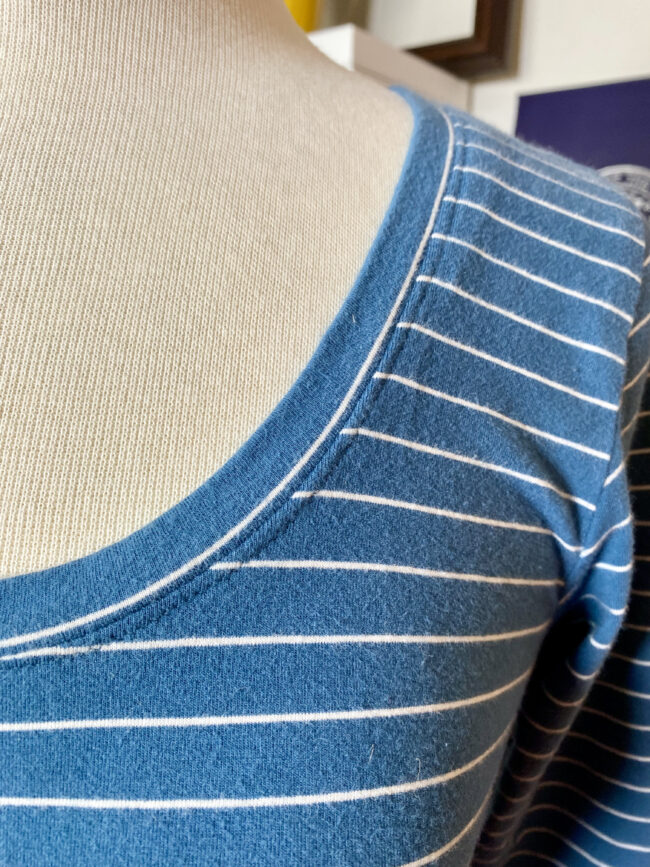 By far my very favorite feature of this tee is the scoop neck, my hands-down favorite neckline forever. I seriously think it looks good on everyone, it's the easiest to style, it works best alone or underneath a blazer/sweater/overalls, and it's good in all weather situations. Love, love.
The fitted shoulders are a huge win here, too, and make the looser waist and hips fall away from the body in a comfortable swing-y shape that's easy to wear and simple to style. I'm learning to lean away from garments that look great alone but can't be worn WITH anything? So I'm a fan of the way this worked well with skinny jeans (which I will NOT be surrendering, I don't care how many BuzzFeed articles exhort me to do so) but I also like that I can layer it under a jacket or overalls.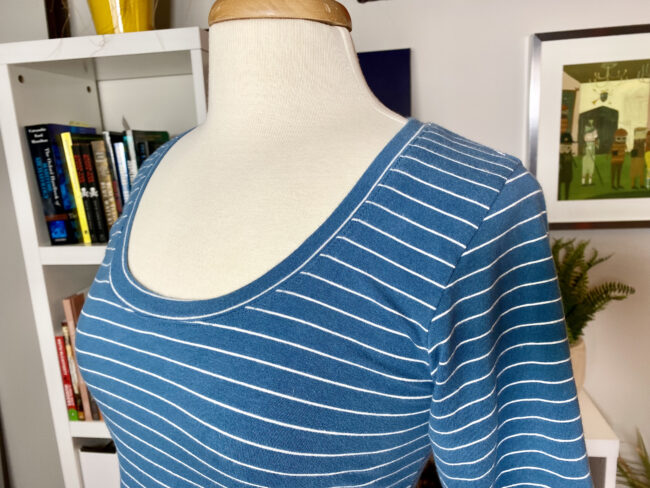 I'm also OVER THE MOON about this fabric, which I had saved all pre-washed and folded neatly with a note pinned to it that reads "Plantain Tee Deer + Doe" on a scrap of paper and written….I don't know, two or three years ago? At least?? So while this is the only garment I sewed in May 2021, it's not an idea that popped into my head and I was driven to make it RIGHT THEN. Apparently I like to allow my ideas to marinate first.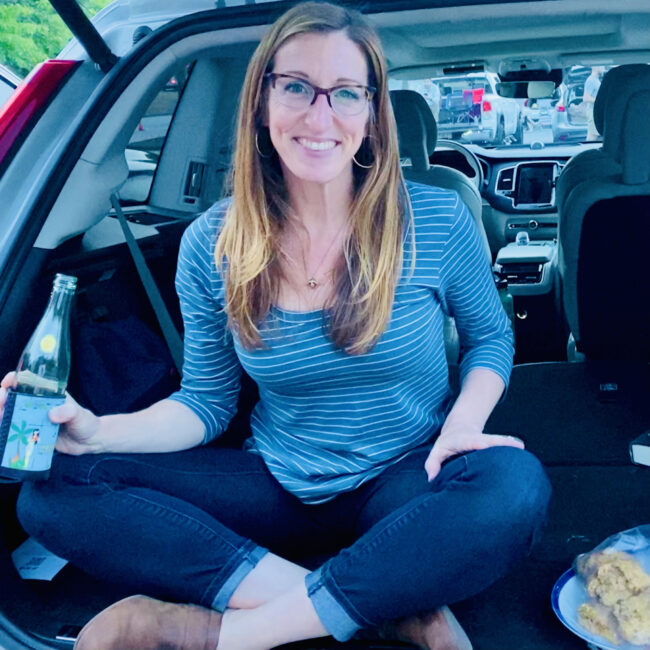 Worth the wait, is all I'm saying. I wore it about eight minutes after I finished sewing, to a family drive-in movie complete with cookies and popcorn. It's so soft, softer than I have words to describe, and when I dozed off before the Goonies had even found the pirate ship, it was like a little Friday night cocoon. Sewing magic, at its best.