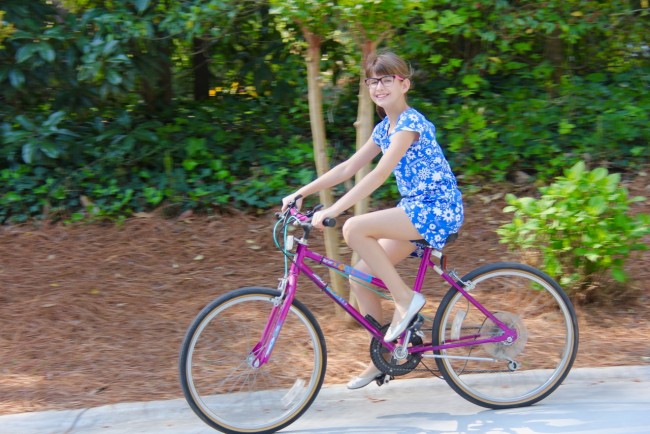 I first met Dana through a benefit auction online.  I offered up one of the dresses I used to design, and she was the second bidder–outbid by a dollar.  And we bonded over how, in a benefit/charity situation, maybe our goal shouldn't be winning the auction by the least amount possible, because maybe the goal isn't winning the auction, but rather making an impact and the "winning" is icing on top.  We became fast friends.
I love that Dana has the biggest, biggest heart.  She is exactly the person in real life that she is on the internet: she's enthusiastic and humble and hilariously funny and sincere and generous and supportive and kind, and she doesn't take herself too seriously.  She is a legitimate joy to be around, and really, you guys, when you're with her you feel better about who YOU are, and it makes me want to be like her every day.  I just think she's an awesome human being.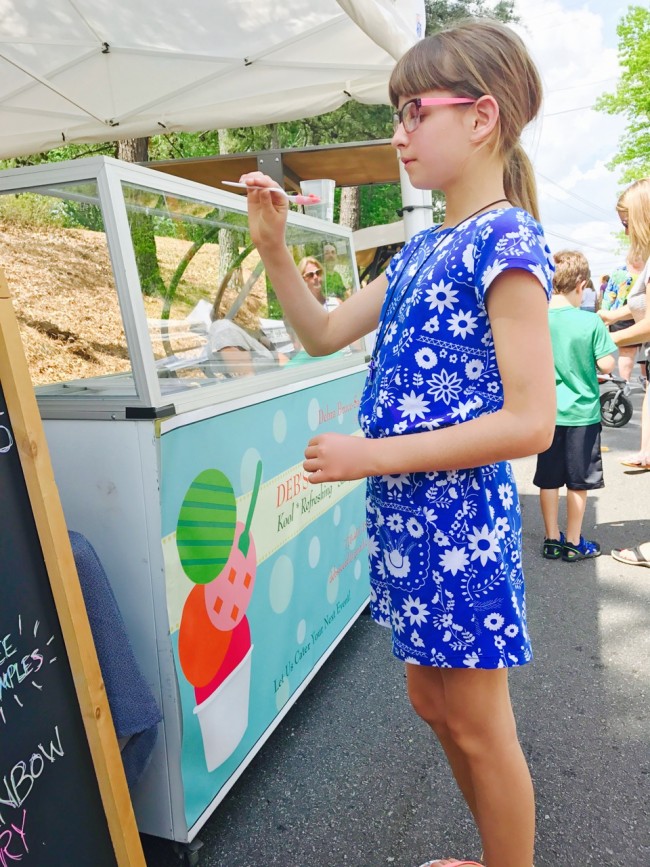 And not to stretch a comparison, but I honestly think her fabric designs look JUST LIKE HER.  They're bright, and fun, and cheerful.  They exude joy and whimsy, but with style and clean lines.  They're engaging and light-hearted, but they're still stylish and modern.  Her new line, Fiesta Fun from Art Gallery Fabrics, does for me exactly what Dana says she was going for: it invokes the mood and flavor of Mexico, in a bright and sophisticated way.  So when she offered to send me some, I seriously didn't even hesitate.  It was like buying concert tickets, or finding a really cheap price on an airfare: I clicked so fast I got carpal tunnel.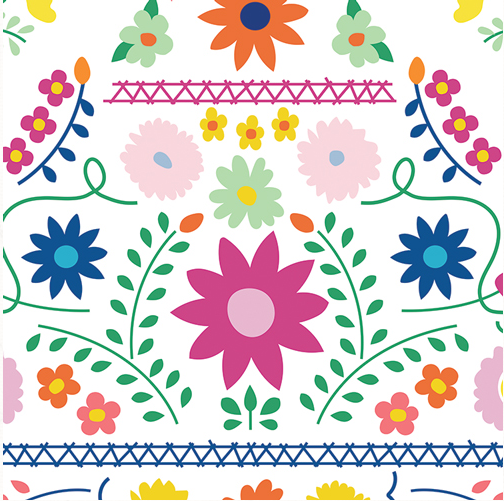 I was initially tempted to snag the Mexican Dress print in the morning colorway–gah, I love it so much, it totally reminds me of embroidered Mexican tunic tops.  Plus, it comes in a heavier canvas weight, and wouldn't it make the best Moss Skirt or pair of swanky summer shorts??  I was envisioning myself wearing it to Disney and feeling very Southern California and summery.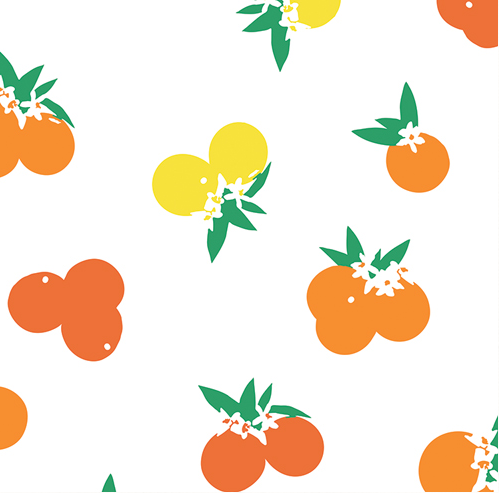 It's also a miracle I didn't choose the Citrus Sunrise print, because it is widely known that LEMON IS MY FAVORITE FLAVOR OF EVERYTHING, and I find citrus prints (and colors) very difficult to resist.  (As a matter of fact, I literally just remembered that I have all cut out and stored in a gallon ziploc an entire quilt of lemon/lime/orange prints with solids, and have completely forgotten it on the back of my shelf.  Which illustrates my point about the citrus, but really has very little to do with this post.)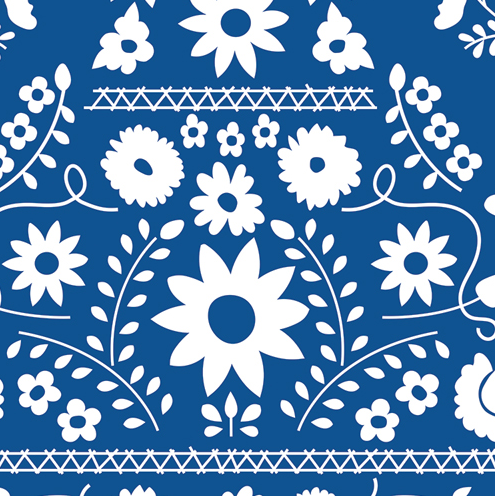 In the end, I asked her to send me the Mexican Dress print in the midnight colorway, because–wait for it–IT COMES IN KNIT.  And this is the butteriest, BUTTERIEST jersey knit you ever did see.  It's just the softest thing.  It has a good weight to it, and drapes really nicely, and it is pleasingly thick without being THICK, if you know what I mean.  It feels healthy hefty, but not stiff or beefy.  It's a seriously dreamy fabric, and the print is so, so good.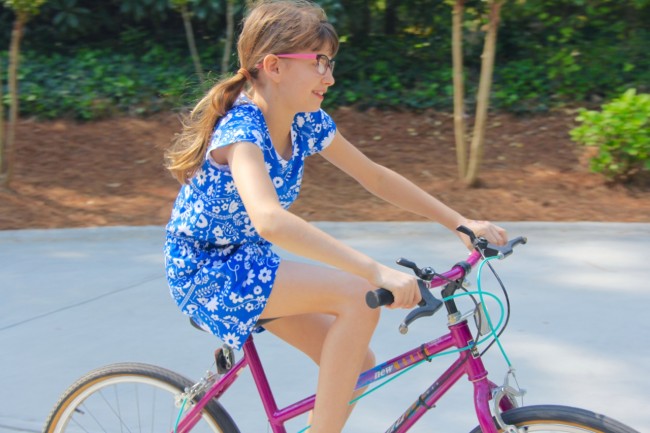 I initially thought I'd make a tee shirt for myself.  But this color is one of my daughter's favorites, the color that she drags me over to see at an art festival when she discovers a painting or photo or scarf and she wants to show me EXACTLY THE COLOR SHE'S TALKING ABOUT.  So it was a natural that I'd want to make something for her, something I knew she'd wear and love, love, love.
This cotton jersey is absurdly soft, but it's also 5% Spandex, so it has good recovery.  Rather than make her a tank or a tee, I opted to make her something a little looser, where a close fit wasn't terribly important, and she could have lots of movement and take advantage of how completely anything made from this fabric is going to feel like Secret Pajamas.
This is the Linville Romper pattern, which is really designed for a woven fabric, like a lawn.  In the knit, I went with a size 10, even though she's between the 10 and the 12 in most things.  I wanted to avoid the danger of this drapey fabric hanging on her, and since she is generally super modest, I was concerned that the larger size would leave the neckline too low for her comfort.  So the smaller size it is (this is, in a lot of cases, a safe strategy if you want to experiment with sewing up a pattern intended for a woven in a knit: move down a single size to allow for the added stretch and different drape of the knit).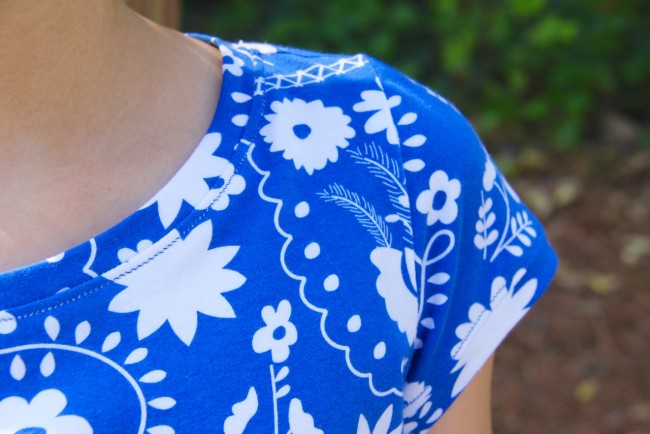 The pattern has a ton of options, but I definitely wanted the shorts romper with the sleeves.  This print demanded a summery outfit, and I can't even talk about how completely it fit the bill.  The sleeves went in without a hitch, and I only made a few small alterations because of the change in fabric.  For the neckline, instead of facing it with bias tape as the pattern instructs, I made a simple neckline like I do on all my tees: cut a strip of knit crosswise that's 10% SHORTER than the total neckline circumference, measuring 2″ wide.  Sew the short ends together with a 1/4″ seam, then fold in half wrong sides together.  Mark center front, center back, and the two sides (halfway between center front and center back), and match those to the same points on the neckline.  Sew right sides together, stretching the neckband slightly as you sew, then flip and press to the inside.  Topstitch with a stretch stitch and MAGIC!  Perfect tee neckline.  This one got some steam after, and it lays beautifully flat.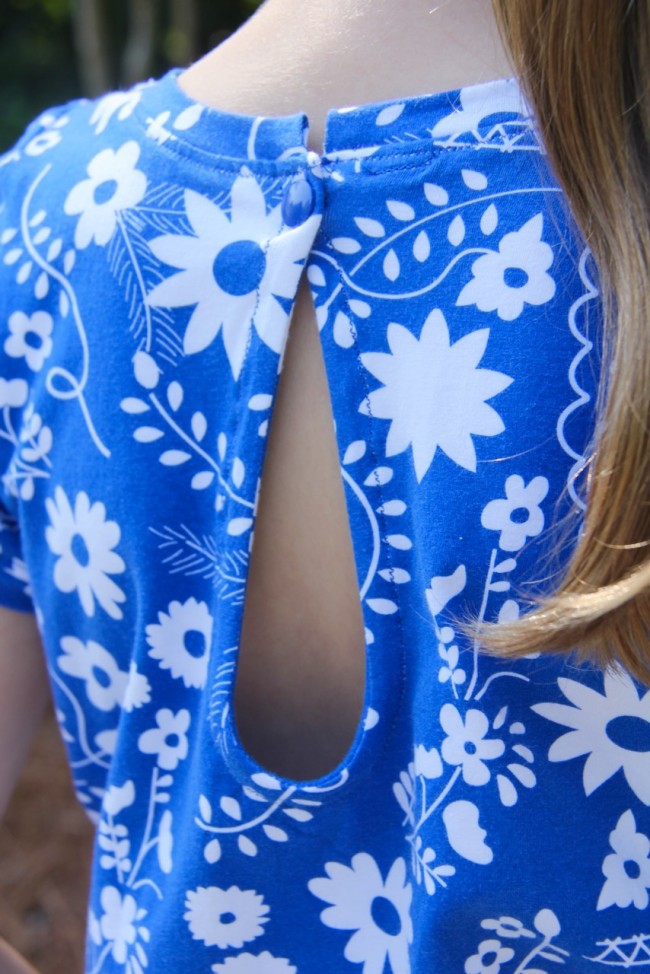 The keyhole opening at the back is from the original pattern, and it's such a great detail.  For the oldest girls (the pattern goes through size 16), I think this opening should be made higher–the bottom of the curve would for sure show a bra strap in the back (we're ALMOST to the point of getting our girl her first Yellowberry, but her dad and I are holding tight to one another and trying to treasure these last little girls years a liiiiiittle longer).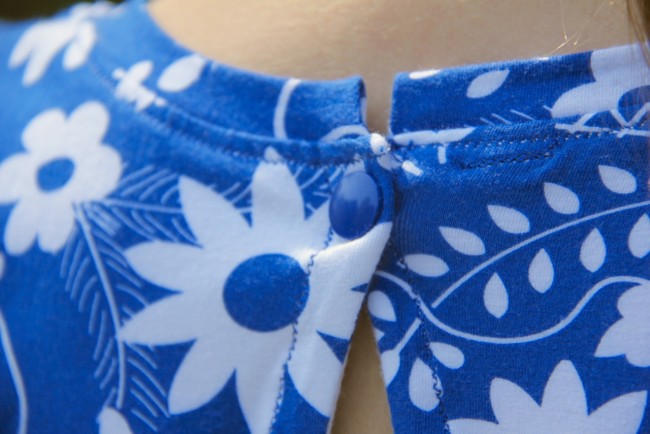 At the top of the opening, the instructions would have you place a button on the right and a thread loop or elastic on the left, but I had a bunch of KAM Snaps sitting in my drawer, and the color was a perfect match, so I thought, why not?  KAM Snaps are flat on each side, so there's nothing to catch those baby-fine hairs at the back of her neck, and they're made from high-grade plastic, so they don't get cold.  They went in EASY EASY, and are super snug and firm, so there's no danger they'll pop open.  Much simpler and quicker solution to a closure–I was tempted to omit the closure altogether and simply extend the neckband around the entire opening, like a bridge that holds the keyhole closed at the top, if that makes sense?  But I realized that a tee shirt-sized neckline wouldn't give her enough room to pull the romper on and off, so it really needed a functional closure, even in the knit.  The snap is perfect.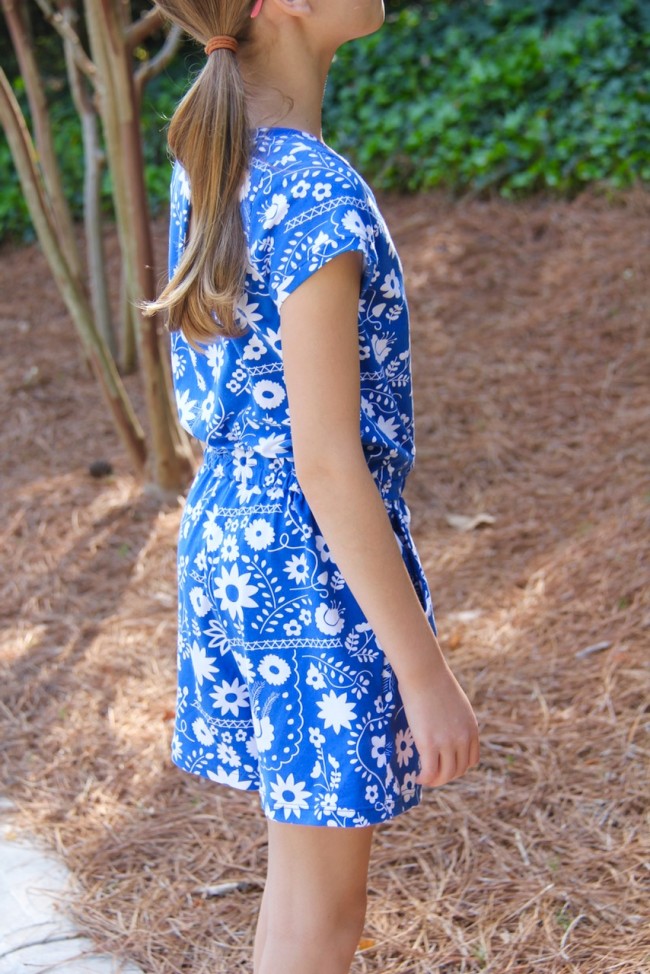 Before it was even off the machine she was jumping with excitement and asking over and over and OVER, "IS IT DONE YET?"  I swear, I've never mastered my aversion to sewing a hem as fast as I did on this project for her.  She loves the color and the print, and she loves that it's a romper.  The hem on the shorts is a basic twin needle stitch.  I finished off the lower edge with a serger first, then turned and pressed it under with some steam to hold it before stitching directly over the serger stitches with a double needle in matching thread.  Lots of stretch and movement, no popped stitches, and it looks super profesh.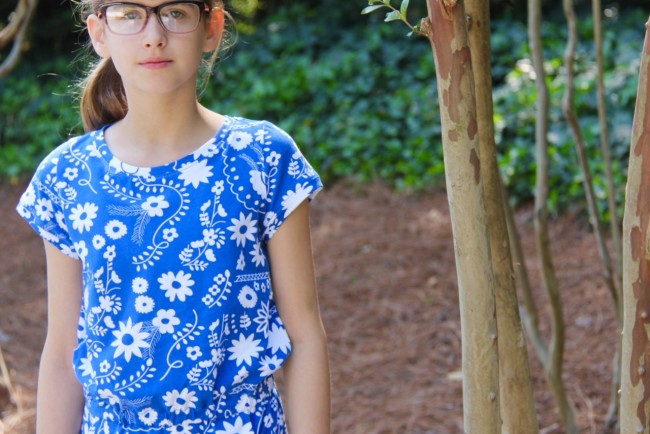 On the sleeves, the hem is identical to the technique used for the neckline, except that the length of the binding strip is the same as the sleeve circumference–the 10% deduction at the neckline allows for recovery after being stretched out, so there's no gaping or sagging, but that's not really necessary here, and I was tired of doing math.  I think the sleeves look a little more finished and have more POP with the little banded hem.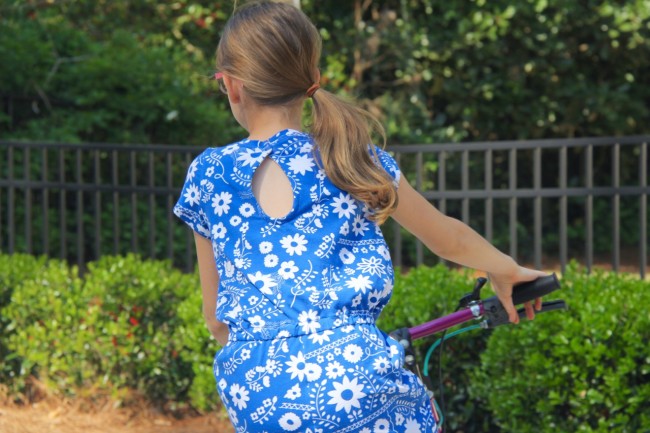 You can see from these photos just how much movement she has in this romper–for reals, I don't think I could have dreamed up a better match between fabric and pattern.  The waistline allows for an optional drawstring in addition to elastic, which I would absolutely do in a woven, but with this knit, I wanted easy, easy, easy fitting and play.  So just the basic elastic waist, which gives her a huge range of motion.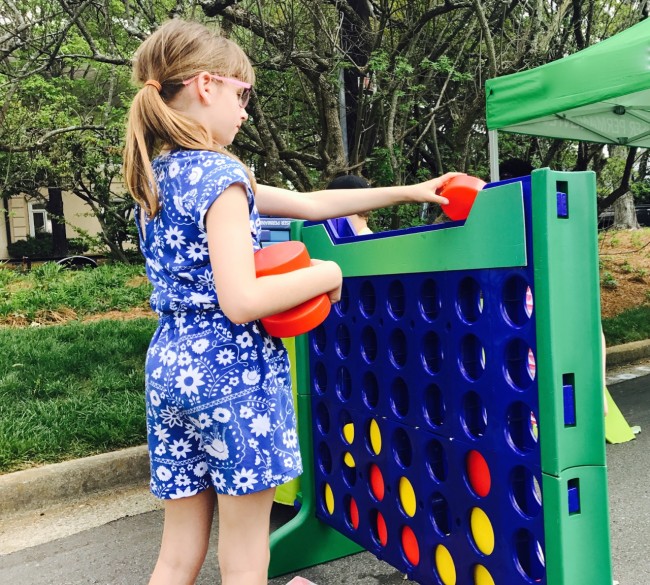 But at the same time, she looks very polished and…well, GROOMED.  I mean, how many of us get out of the house and look over to realize our children are wearing clothes that may very well have been picked up from a pile on their floor??  In this romper, she looks like she got dressed ON PURPOSE.  Which makes her look a little too grown up, but c'est la vie.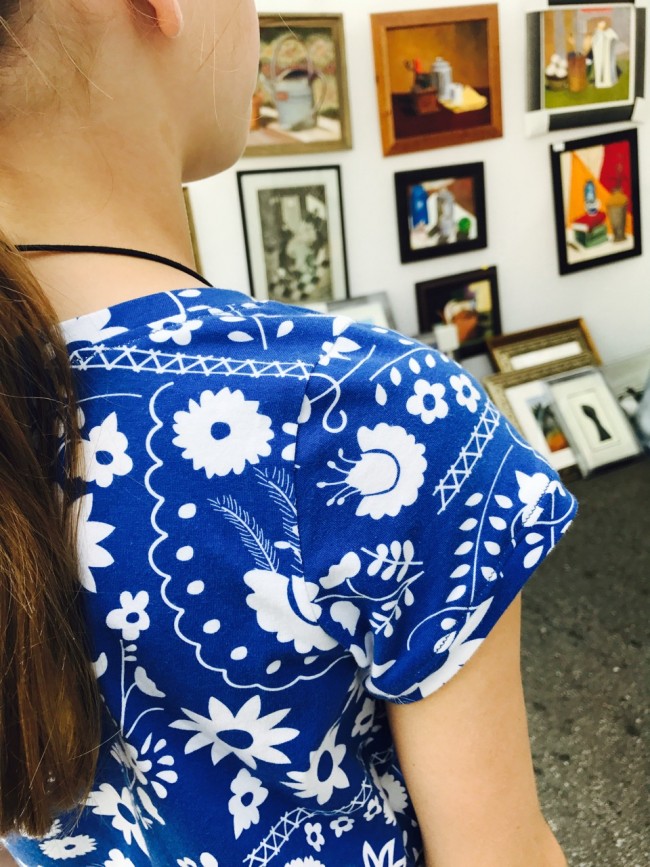 I think a big part of the success of the outfit is the fabric.  It's such a clean, sophisticated take on the Mexican embroidered motif.  I love, love this color on her–somehow, it's both updated and modern, but still age-appropriate.  She looks groomed, but also like a little girl.  That's such a tough balance to find, and I suspect all of us know that the clothes in the shops for girls this age AREN'T FINDING IT.  Dana gets it, obviously, with two girls at home, and I love that she has designed fabrics that are playful and vibrant but that are also sophisticated and wearable.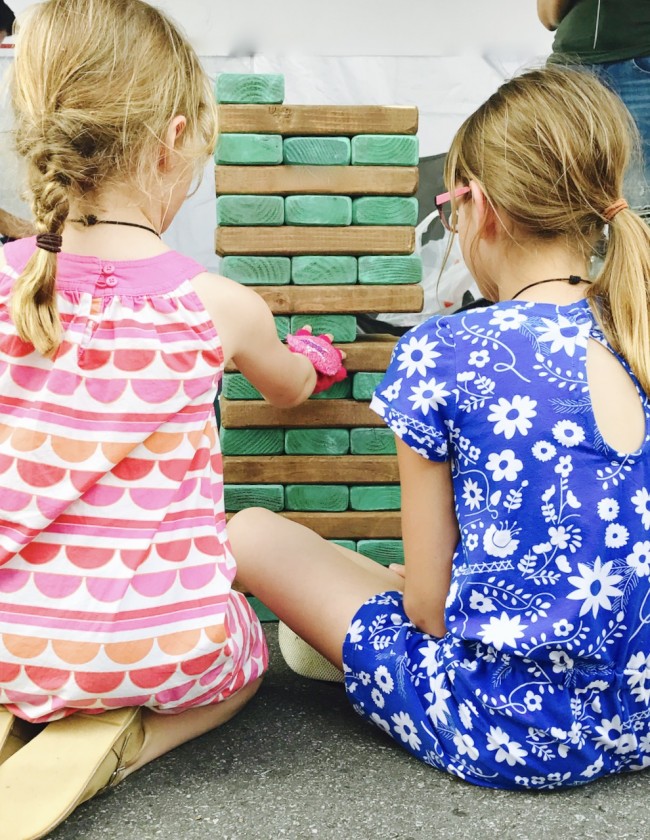 Our girl absolutely did not want to take this romper off.  She said over and over, "Mom, it's so soft!  Mom, it's so pretty!"  We both love the quality of the jersey fabric, and I was impressed by how well it washed up.  I did launder it twice before sewing, which I do with all my knits–it's not at all unusual for a good quality jersey to shrink as much as 20% when laundered and tumble-dried, so I like to run the yardage through twice before cutting and sewing.  There was zero fading in the print, and the color is so vibrant.  And honestly, I think it even got SOFTER in the wash, so this is officially her New Summer Outfit.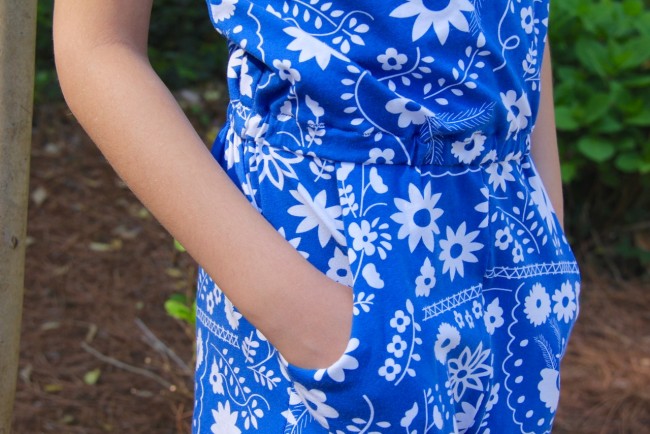 Also: pockets???  Yes, please!
You can find Dana's entire collection at Hawthorne Threads and The Village Haberdashery in quilt-weight cottons, canvas, and knits–and at lots of local independent fabric shops.  You can also see some of the other insanely good projects folks have sewn up with these fabrics on Instagram under #fiestafunfabrics, and view the whole collection at Art Gallery Fabrics.
Thanks, Dana, for letting me play with your stuff!!  Hit it out of the park on this one, lady. xo