Introducing a new super fast and useful sewing pattern: the Prayer & Meditation Cushion!
Whether you currently have a spiritual practice of any kind, there has been a ton published in the media recently about how meditation is becoming widely used by successful professionals to allow them to balance their work with their personal lives.  Aside from aiding in focus and relaxation, meditation and prayer–separately or in combination–are well documented to increase mental clarity and improve interpersonal interaction.  A little bit of quiet time each day (as little as 10 minutes!) can transform not just your outlook, but your relationships and your work.  Nothing short of miraculous.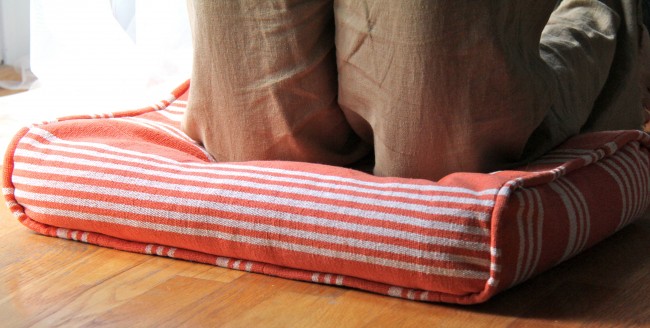 This pattern didn't come from all that research, though.  Most of that was news to me when my husband shared Tim Ferris' podcasts and mentioned that many of the folks interviewed swear by daily meditation.  My initial desire was much more pedestrian:  I wanted to make a thoughtful gift for the ladies in my Wednesday morning women's group.  Somewhere around Christmas, I was envisioning sewing them all up some kind of kneeler cushion, which seemed like a good idea, but the idea of making six boxed pillows with piping kinda made my head spin.  Plus, who wants to spend even 10 minutes with piping biting into your ankle bones while you try to achieve a spiritual oneness?  Not me.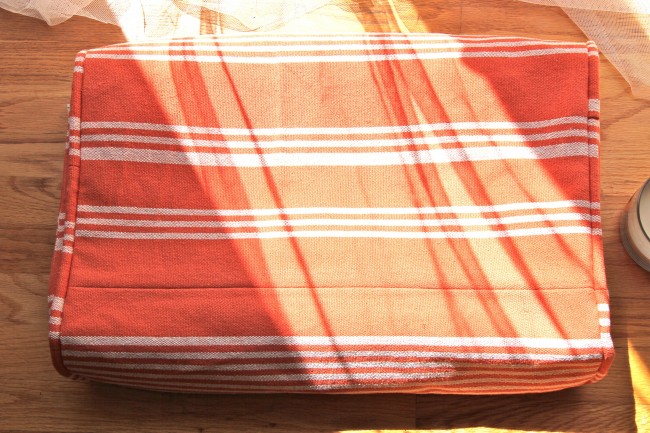 But then!  I had a vision!  What if the piping wasn't on the top and the bottom, with a stretch of boxing between them like a sofa cushion?  What if, instead, the pillow was made like a clamshell, with the top and bottom of the cover meeting one another like two interlocking pieces?  And the piping only went around the single seam?  How cool would THAT be?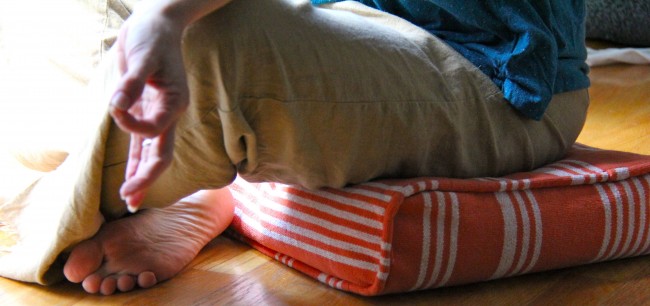 So that's what I made.  And as long as I was at it, I put together a pattern to share with you!  You'll notice in these images that there are no seams along the long edge of the cushion top (behind my knees, in the image above) or the short edge of the cushion bottom (to my left, in the image above).  There are only TWO pieces to this cushion pattern, and they wrap around to meet one another in a little piping kiss that's elegant and very clean to assemble.
The finished cushion measures 22″ by 15″ and is about 4″ high.  It features a boxed zipper on one short end, and a filled insert that allows you to launder the cushion cover separately–we have hardwood floors and a dog, which means anything of a textile nature that ever, ever comes in contact with the floor collects hair like crazy.  Washing was a must.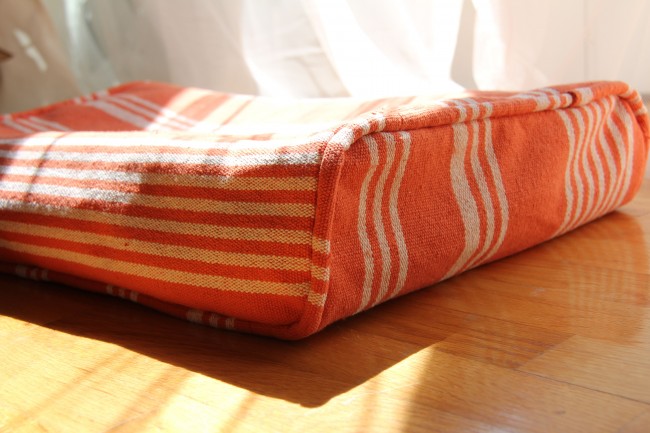 I wanted lots of support for my cushion, whether I used it for sitting or kneeling, so mine is filled with one 5-lb bag of organic buckwheat hulls (and a hint of lavender–more on that later!) for a solid base that molds to my body–but you could also fill it with fiberfill or even the bits of leftover fabric that usually end up in the trash.  Because the piping wraps around the body of the cushion, it doesn't matter what body position I take, I don't have a line of piping along my ankles and can stay comfortably for an extended period without needing to fidget.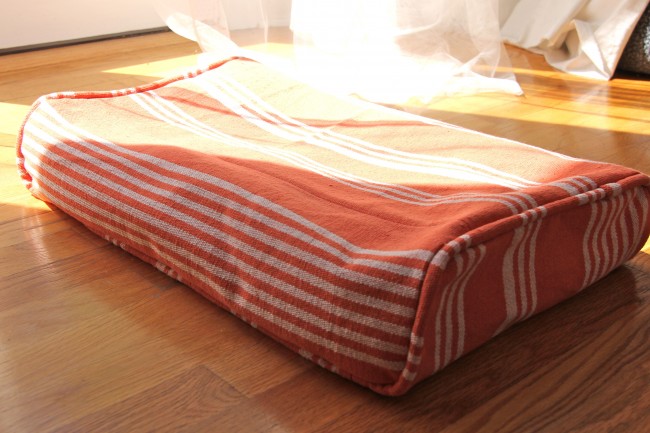 Now, there is ONE seam in the body of this cushion, if you're looking closely: dead in the middle of the top, you can see a seam where I joined two sections of fabric to make enough for the pattern piece.  That's because this cushion was made from an upcycled table runner that I scored at Home Goods for $12.  It's heavy and sturdy and has a subtle texture, and wasn't so expensive that I was at all worried about making mistakes if it didn't turn out.  Your cushion could be made of a similar heavy home dec fabric, or linen, corduroy, denim, even a twill.  You could harvest fabric from old curtains, or find swatches at a decorators supply.  Lots of options to make a cushion that will really last!
This pattern is now available from both my shop and from Craftsy.  It's in PDF format for immediate download, and prints to 22 pages with diagrams and full-color instructions to guide you through installing the zipper, making and applying the piping, and assembling the cushion, plus making and filling the cushion insert.  I hope you'll love it and can't wait to see what you make!