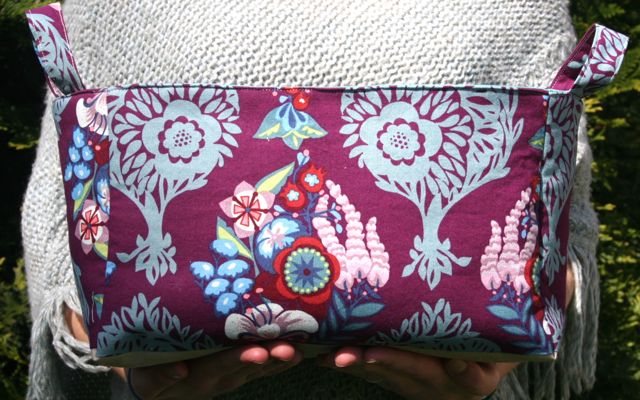 I love these little fabric buckets.  They have, I know, been done a dozens times over, but somehow the revelation that they'd be a perfect way to organize my scrap projects was just the push I needed to finally put some together.  As befits buckets used to organize scrap projects, I wen through the largest of my scraps to choose fabrics for these puppies–the nice thing is, since they were scraps, I was pretty much guaranteed that they were fabrics I already loved, since I'd used them once on another project.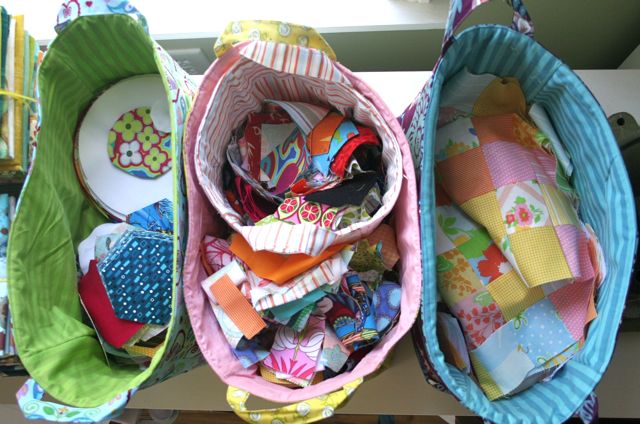 The three large buckets are made to fit on the top of the Ikea bookshelf I have beneath the low window on the north wall of my studio.  (It sounds so grand to call it the "north wall," and disguises the fact that it's exactly 12 feet from the "south wall," which is also the door to the garage–but I digress.)  The base of each is a heavy-duty Waterford linen, and all the buckets are batted with a fusible fleece I'd had lying around and didn't know what to do with–woot for using up leftovers!  Finished measurements are 7″ high x 6″ wide by 12″ long–really, a great size for mid-sized projects, to store the bits and pieces as they get put together without making a big, fat mess.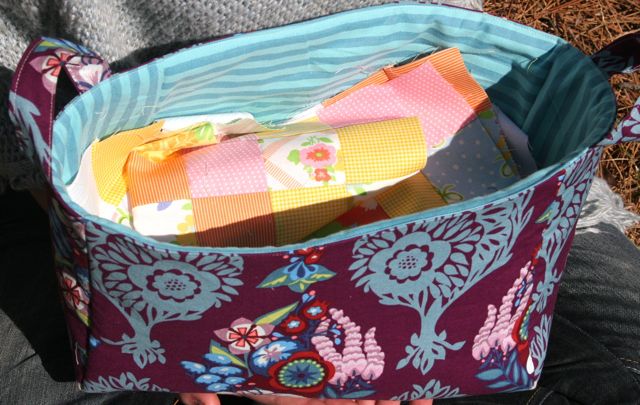 And here's where I do that thing where I punch myself on the shoulder and get super proud for being so darn clever: they're awesome for toting projects from place to place.  Am I a little slow that I didn't really plan to love this part so much?  Not only are all the bits and pieces tucked away, all the zillions of itty bitty scraps organized, but I also have built-in handles so that when I want to move my work from the shelf to my machine or to the sofa to work, it's a snap!  Feeling pretty self-satisfied about that one, y'all.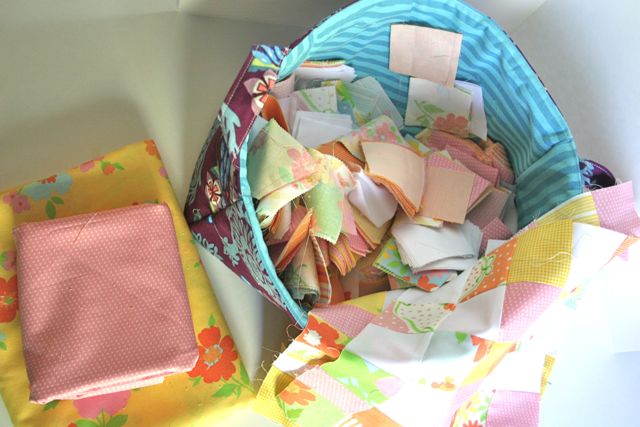 This particular bucket is holding the postage stamp quilt I'm working on for our youngest.  I brought home two Dream On charm packs, because the yummy vintage bed sheet-ness of them called to me, but I had no idea what I'd use them for.  They laid around (lay around?) for weeks, until the baby was playing with them one day and I realized that they look like her.  Not in a weird way, just that somehow the colors and the warmth and lightheartedness of the fabric seems to suit her sweet disposition.  Plus, she likes to nap.  So, there's that.
I love little tiny pieces, so cutting the charms into quarters seemed super appealing.  To get a mosaic look more like tile work, I'm mixing in some micro prints, too: a dot from City Weekend, a stripe from Punctuation, and a tone-on-tone check from Hideaway, plus some white Kona to balance it all out and help those warm brights to pop.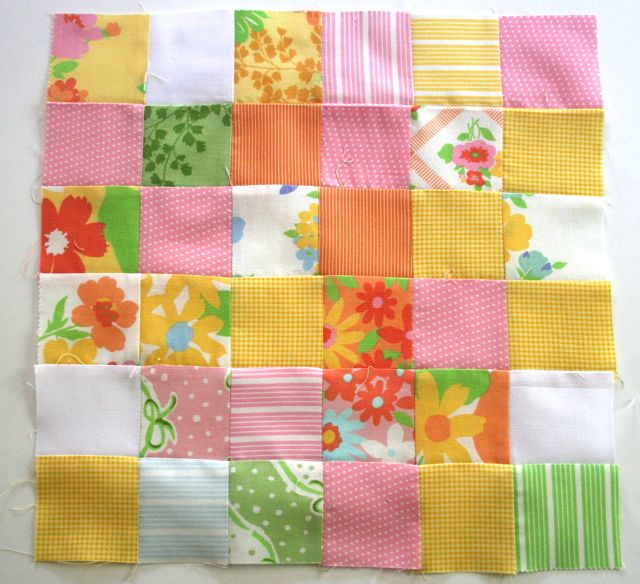 Pieces are cut to 2.5″ square, and this finished block is 12.5″–I'm looking at 63ish blocks total for the twin-size quilt I'm hoping to get.  I love the warmth and the flashback feel of it, and I confess that I really, really love the tiny scale–am I crazy to like sewing itty bitty things like this??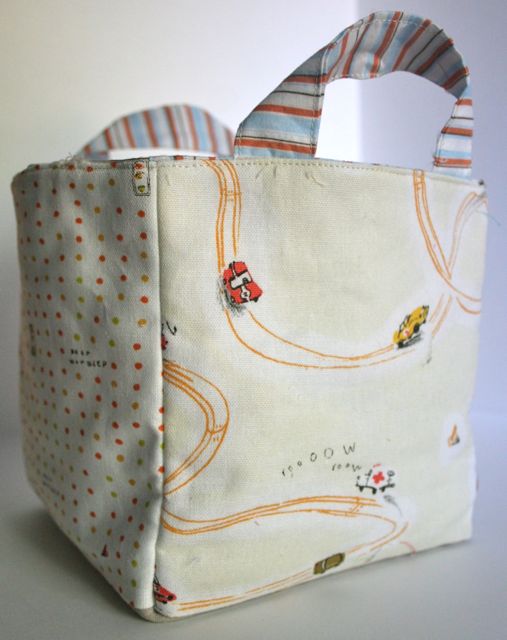 Which brings us to the off-shoot project.  Leave it to me to be halfway through one project before I fall in love with a whole other idea.  This smaller bucket–which is 7″ cubed–was the first I made, out of pre-cut Heather Ross scraps I got as part of someone else's stashbuster sale on Etsy.  Score!  I love the compactness of this little bucket, but after I made it and decided to make the others larger, I figured I'd set it aside or give it to the children.  Until I realized that it fits perfectly inside the other buckets, and that it works great as a divider: if the larger bucket is too big for one project, putting another mini-bucket inside it allows it to hold TWO projects without taking up any additional shelf space.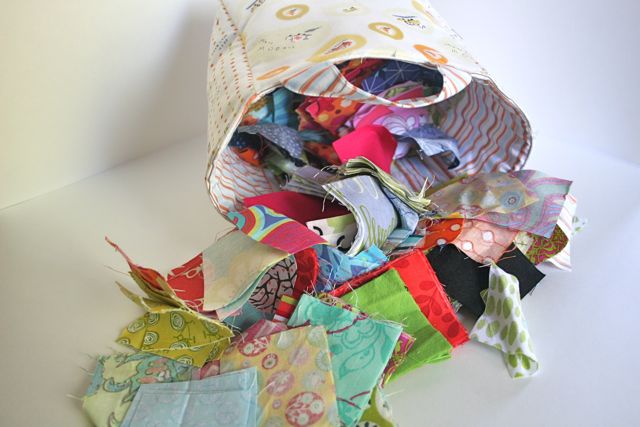 So, as I was chopping up all those scraps, I broke the next-to-smallest pieces down to 2.5″ square to make another postage stamp project.  I love the mosaic-ness of the Dream On quilt, but I'm thinking with these disparate prints and colors that I'll make the next with a single neutral solid, alternating with the scraps.  Last night, I dreamed of Kona Ash.  I know that's totally not normal, but it's been happening a lot lately.  And who am I to fight nocturnal inspiration?
Tomorrow: scrap bucket #2!