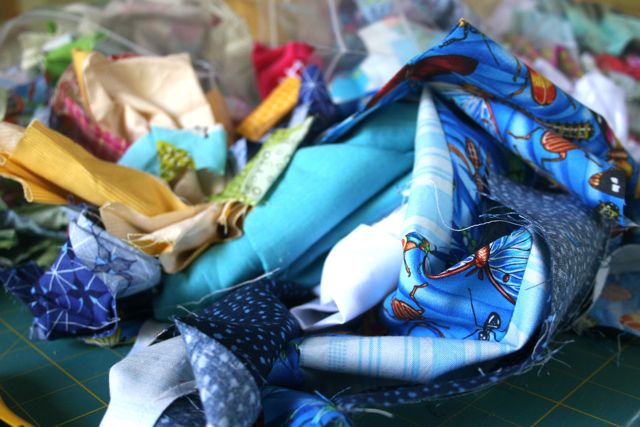 You know how sometimes, it's as though an idea is sitting in your brain, right next to another idea, and the two ideas really work together pretty much perfectly, but somehow you don't quite connect the two–and then, when you do, it's as though you always had that idea, and it works like magic?  This was like that.
I have bags and bags of scraps.  And recently, I've been (cheerfully, happily) sewing so much, that they've been accumulating even faster than usual.  I've got some oversized zippy bags that I've been stuffing–well, I started with one, and then that one got really, really too full, so I had to have an overflow bag, which is how I ended up with two.  And when the overflow bag began getting super full, I kinda noticed for the first time that I have, like, a LOT of scraps.
Meanwhile, back at the ranch, another part of my brain was aware that I'm working on some scrappy projects, and that I'd need to–at some point–cut into my scraps to make these scrappy projects.  Which are made from scraps.  So, in order to do that, I'd need scraps.  Where would I get scraps??
I think you see where this is going.  Wayyyy before I did.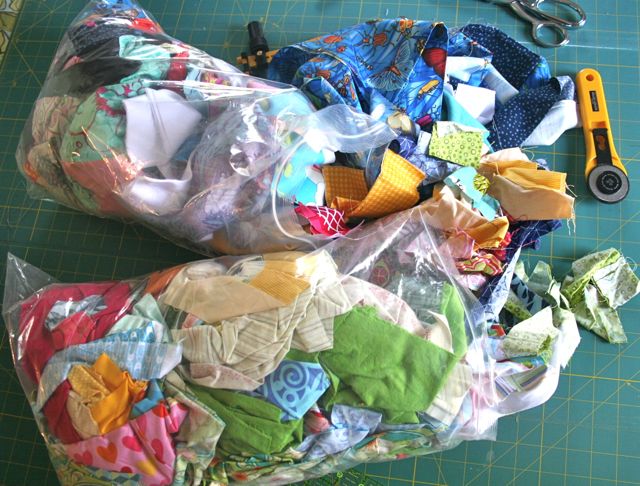 Being the organizing list-maker that I am, I began by categorizing my scrap projects so I'd know what I needed to cut.  I've got a yo-yo project in the works, along with my on-going hexie obsession plans, plus I've dived headlong into a postage stamp quilt project for our youngest (now that her brother's quilt is in progress, she's officially the only kid left who hasn't gotten one yet).  Add that to the ticker tape idea I have floating in my head (inspired in part by Rachel's Bottled Rainbows), and that's FOUR categories of scraps, in varying sizes.  Clearly, I needed more bags.
Except: bags are kinda ugly.  And as I was organizing the rest of the studio this weekend, I knew I didn't want walls and walls of plastic bags that don't really motivate me to finish anything.  It could easily start to look like my pantry: just organized enough to be a little depressing.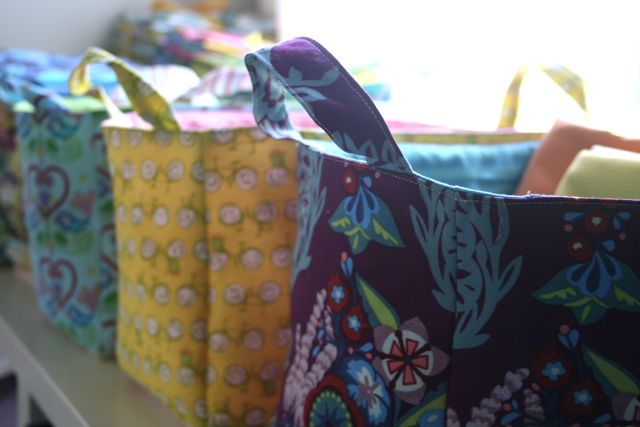 Enter my Fabric Buckets.  These were ridiculously easy to make–quick and simple, and super cute.  I sized them to fit the top of the low bookshelf that runs beneath my north-facing window, and each one holds a different project.  I spent a good part of yesterday cutting scraps based on size and sorting them into these project-based buckets.
Anything over 9″ x 9″ doesn't count as a scrap.  Those pieces got folded neatly and added to the fat quarter bin for when I need a bigger piece for a project, or for when I need many pieces of the same fabric; they'll get cut on an as-needed basis.  Everything smaller has been sliced up and added to the appropriate bucket.  Not only did I have a nice, relaxing day cutting (semi-mindlessly), but now I feel like I've got a big leg up on these projects AND my studio is tidier!  Winning!
More tomorrow on each of the projects in the baskets, including current progress and offshoot projects (which always seem to develop–there's never enough time for all the ideas!!).  I have a feeling this week is about to become Scrap Week, y'all.  And I am SO feeling it.