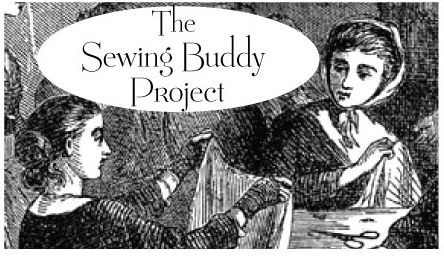 At last!!  Back for a THIRD year–can you believe it??–the Sewing Buddy Project is OPEN for 2012!  Sewing Buddies began back in early 2010 from suggestions I got from readers who said they felt that the best motivation they could have to learn more and do more sewing would be to have a friend who would encourage them and support them and inspire them and keep them accountable for meeting their sewing goals.  I devised an intensely scientific matching system that utilizes here-to-fore unknown technology to pair up the perfect buddies, some of whom are still going strong.  It has been so much fun to watch these folks–who really are sewing pen pals, of a sort–get to know one another better and meet in person and participate in charity sewing and inspire one another and make me laugh.
This year, I'm looking to mix things up a bit.  Not because it hasn't been awesome the past two years, but because I want to make the Sewing Buddies a bit more participatory than in years past.  It's easy to enter into a group and either lose focus or steam, or simply not know what comes next after the initial getting-to-know-yous are past, including for me–and while I think a lot of our Buddies have had some amazing ideas and deep connections, this year I want to make sure ALL of us do!
This year, Sewing Buddies will all be eligible for participation in quarterly sewing challenges, centered around a theme.  Every three months for the rest of the year, all you Sewing Buddies will have the chance to win prizes, showcase your sewing here on the blog, and grow your own sewing skills by working together to create something awesome!  All the challenges are designed to take TWO people to complete–but also to account for the fact that you're pen pals and not next door neighbors.  They're optional, but why not take advantage of a chance to do some new sewing, get to know another stitcher better, and win fantastic prizes at the same time??  There are THREE challenges in 2012, and each of them has some really delicious prizes–I'll be rolling those out over the coming weeks to get you motivated to step up to the plate, as it were.
Additionally, the Sewing Inspiration e-mails I've been sending are becoming the Sewing Buddy Inspiration e-mails!  That's right: all my 2012 Sewing Buddies will be added to the list of folks who helped me launch my Sewing Inspiration emails, and will receive a monthly message of stitchy motivation, right in their inbox, complete with ideas and techniques to help you really bring your A-game to the current quarter's sewing challenge.
Sweet!!
As in the past, it all begins with you throwing your name in the hat, so let's get started!
Guidelines for 2012 Sewing Buddy Project participation:
Agree that you will leave no email from your Sewing Buddy un-answered.  Simply replying to each message as they go back and forth will build your commitment and resolve.  If your Sewing Buddy-ness goes no further than encouraging emails once a week, that's awesome!  It will keep you on-track to meet some goals or to challenge yourself in a way you might not have otherwise.  If you both decide to start your own Flickr group or joint blog or do some mail exchanges, even better.  At a minimum, though, resolve to always answer your Buddy's emails–any other participation in challenges or contests is completely voluntary.
Branch out and get a new Sewing Buddy, even if you've already been rocking it with your 2010 or 2011 Buddy.  You can never have too many friends who sew!  You can keep your other Buddies and learn great stuff from a new one.  Isn't friendship awesome?
Sewing Buddies can be from anywhere in the world, as long as you're willing to communicate in English.  We've had folks from Britain, Australia, Denmark, Sweden, Spain, Portugal, Brazil, Canada, Austria and a host of other nations participate, and you can, too!  I can't promise you'll get a Buddy who is geographically near to you, but isn't that part of the fun, that discovery?  Hooray for international diplomacy!
Be on the lookout for contests, challenges, secret passwords, and even (gasp!) meet-ups designed just for Sewing Buddies!  We'll have our quarterly sewing challenge, but there is plenty more that we can do–and I've taken suggestions and comments from past Sewing Buddies very seriously as I work to make this the coolest pen pal experience you've ever had!
That's it!  I'll begin matching names in the magic whirly-bin of Sewing Buddy Science on March 25, 2012.  Sign-ups will close April 1, 2012 at midnight.  Pairs will be notified no later than April 2, 2012 and the first challenge will be announced the same day!
To participate in the 2012 Sewing Buddy Project:
To add your name to the list to be matched with a Buddy, simply leave a comment below–that's it!  Include a working email address that you check (this will be captured when you leave your name, so it isn't necessary to leave it in the body of your comment).
You'll receive an email from me asking you to (1) confirm your participation and (2) name a favorite color and a number between 1 and 10.  These emails will go out in batches beginning March 23; Buddies will be matched from within each batch.
I'll use the responses to the emails I receive along with a super-scientific system here at the Whipstitch Labs to match you to the PERFECT Sewing Buddy based on a four-fold formula that's much too complicated to write about here but that is really awesome and space-y.
I'll send an email to the both of you giving introductions in proper Victorian style (a lady never spends time with someone to whom she has not been properly introduced), and then like a mother whose chicks are leaving the nest, I'll step back and watch as the friendship flourishes.
You and your buddy will make the initial contact and see where it leads you!  Contests?  Maybe.  Inspiration?  Certainly.  Life-long friendship?  Golly, I hope so.
That's it!  I'm really looking forward to hearing more from all of you this year, can am so pleased so many of you are looking to continue the Sewing Buddy love.  Hooray!