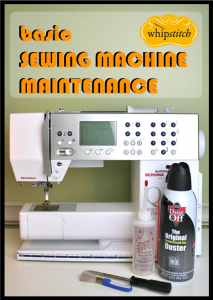 If you're following along, we're having an exciting week of CLEANING!  I know how it sounds.  But really, it is exciting to clean your sewing machine–seeing it all shiny and happy is much more satisfying than 20-year-old me would have ever guessed.  Plus, it has the added benefit of making your sewing better and your machine last longer, so it's totally worth the very few minutes that it takes to get the job done.
Today's machine is a top-loading Brother, one that's super common on the market and a great starter machine.  I will apologize in advance for not having found one that was filthier for all of you, so you could really see where the lint gets and how threads can get caught and abandoned–but I think you'll get the idea.
Have fun, and keep it clean, y'all!