I wore my Driftless Cardigan–photograph below from Instagram, and yet another garment I have yet to blog about because I'm too busy wearing it–this morning, and a friend asked if I had made it.  And what I told her is this weird revelation that I've been having over and over, and that feels so obvious that I keep doing a double-take, because how have I failed to see the truth of this so many times?  It is this: I wear the clothes most that I like most.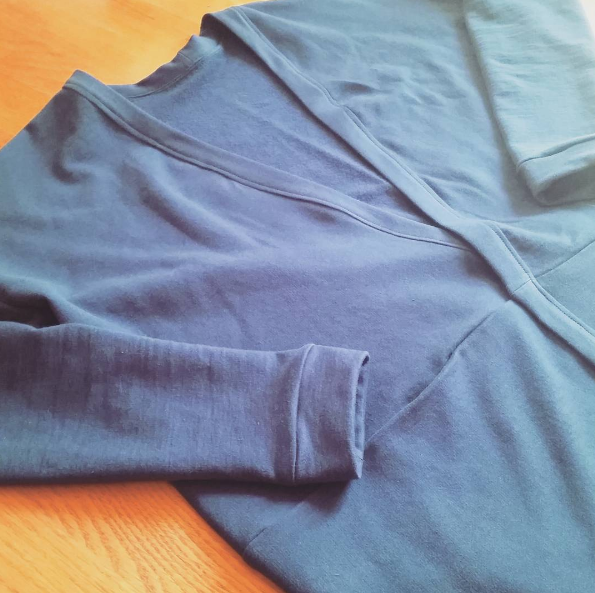 I mean, FOR REAL.  Like it's possible to have a more banal epiphany, a more lame realization.  I WEAR THE STUFF I LIKE BECAUSE THAT'S THE STUFF I LIKE.  This is, perhaps, not the deepest thought I've ever had.  And yet!  It feels so pivotal!
Plus, see, there's a little more to it than that.  Honest, there really is, particularly if you're someone who sews.  The point of my comment to my friend this morning wasn't that I wear stuff I like–it was that I have made a LOT of stuff in the past, with my very own two hands, that I didn't really wear that often.  And it was because I didn't like it as much–certainly not MORE–than things I already had in my closet.  I wasn't making those garments because I needed them, or even because I wanted the actual finished product.  It was because I wanted to do the sewing, but not because I wanted the sewn item.  Do you see how that can lead to a lot of back-of-closet pieces?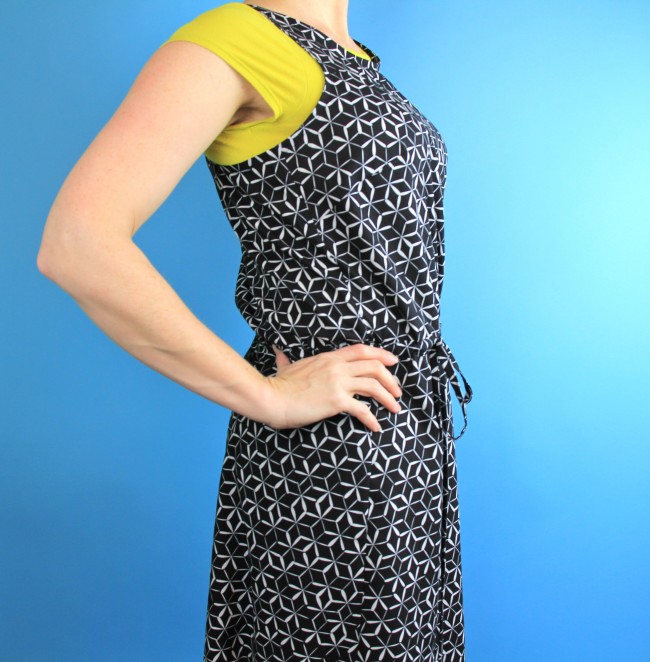 I think more and more of us are aware of the ways in which consumption affects our lives, and how easy it is as someone who Makes, capital M, to fall into this trap of accumulation.  We call it "stashing" but I think we all recognize that it's really hoarding.  I have said multiple times recently that I'm working through some uncomfortable feelings about my own greed.  I don't like feeling that I've bought a ton of stuff that I didn't really need, I just wanted to HAVE it.  But then I never use it?  It just sits there?  What IS that?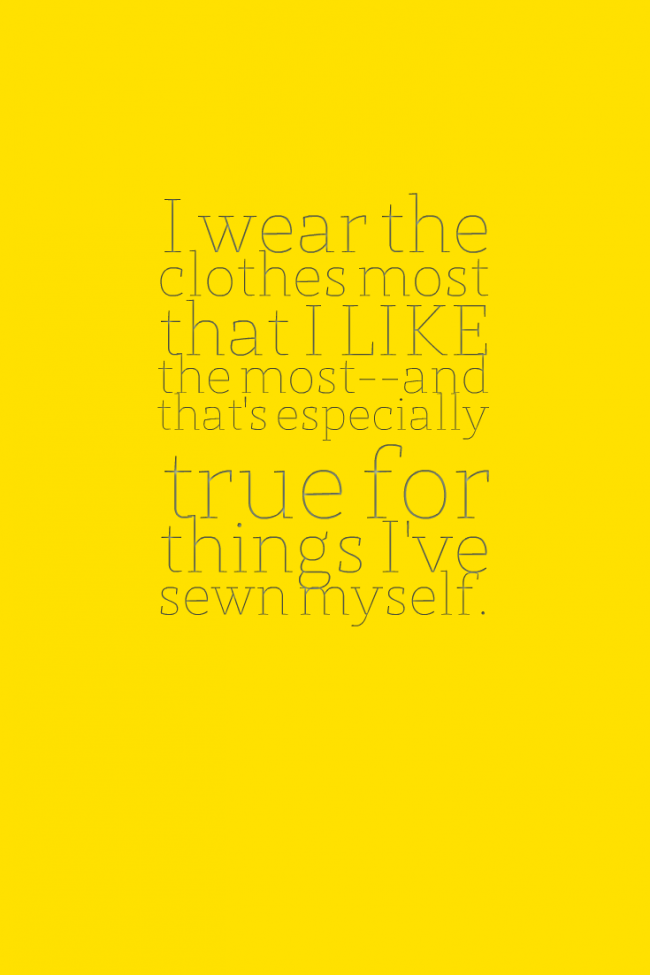 Let's put those two ideas together, two ideas that don't seem to relate to one another, but gimme a minute and I'll show you how they're actually two puzzle pieces that fit in a way that makes it obvious that this one's the corner and that one's the bottom edge and we're finally getting the borders done so we can start to work on the inside.  ONE: I keep sewing things I don't really want.  TWO:  I keep accumulating fabrics that I ONLY want.
Good grief, are we all just a bunch of sad bunnies lost in a snowy forest, or what?  WHY AREN'T WE SEWING THINGS WITH THAT FABRIC WE'VE BEEN HOARDING?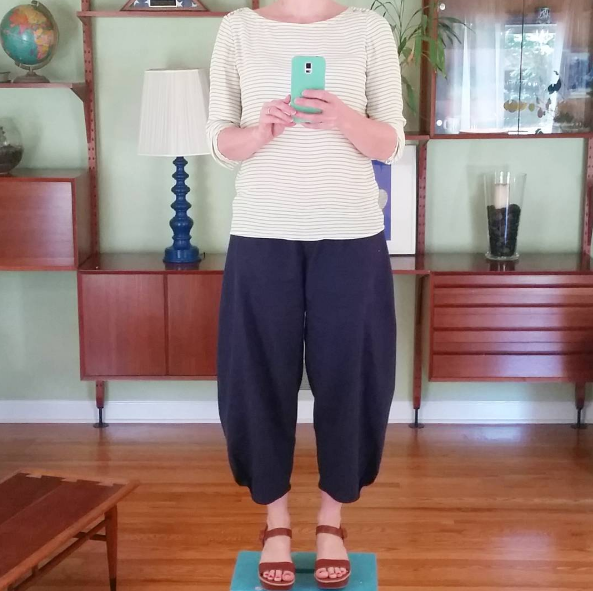 Because then, I would have lots of items I am really excited about, and a much smaller trove of neatly stacked "precious" fabrics that will molder and become dust before I can possibly get to them.  It isn't so much about not stashing fabric, it's more about making things I really love and love to use.  I don't want to address the greed of having lots of fabrics I don't need by replacing it with the greed of having a lot of GARMENTS I don't need–I want to use the two categories to build the DNA of good sewing practices, deliberate acts of creation, the double-helix of satisfaction and beauty, without waste or gluttony.
The thing is, having more fabric stashed is not the same as using less or consuming less.  We've still spent money on it; if we ordered it we've still used fossil fuels to have it shipped to us; we're still giving up space in our homes–and in our chi–to keep it folded up and put away (and heated and cooled!).  It may be stashed, but that doesn't make it LESS.  And all those same observations apply equally to anything we make from that fabric!  That's the kicker.  The trick isn't to sew through it mindlessly, just to say, "Hey!  I'm using up my stash!!"  The trick is to find the balance that sews through it mindFULLy, leaving us with less in the stash and more things we WANT TO WEAR EVERY DAY.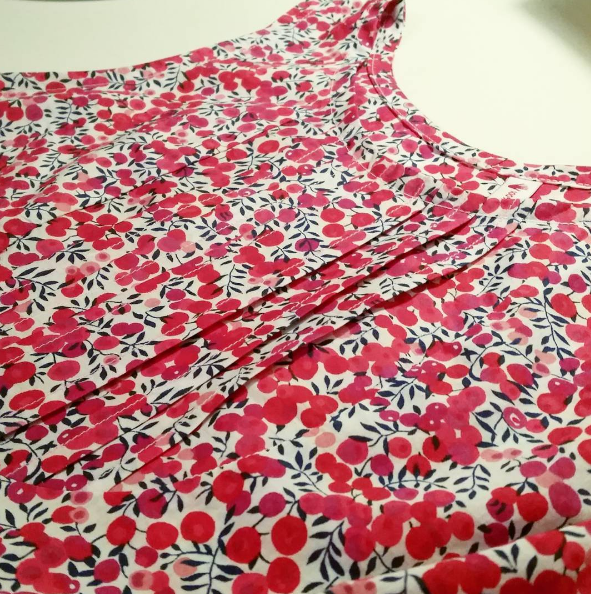 What are the garments you're most happy with? For me, it's the the ones that are (A) nicest, that mimic expensive clothing, like my Liberty tuxedo tank top, which took such a small bit of fabric but feels so expensive; or (B) classic basics that are building blocks for my everyday life, and that work with every outfit, like that Driftless Cardigan up there, sewn up in a buttery soft navy French terry/fleecy hybrid that looks good no matter how much I wear it.  I don't wear the novelty pieces, like the zillion skirts I have given to charity over the years made of the cute kawaii fabrics that I love but don't really know how to use in my wardrobe.  I wear the navy linen cropped pants that are the perfect alternative to shorts, and the black rayon maxi dress that's cool and comfy and appropriate for a wide range of outings, and the linen checked Tova top that makes me feel casual and chic.  These are the pieces that don't always make it on the blog–because I'm too busy waiting for them to come out of the dryer so I can photograph them, but as soon as they do, I put them back on and never get the chance.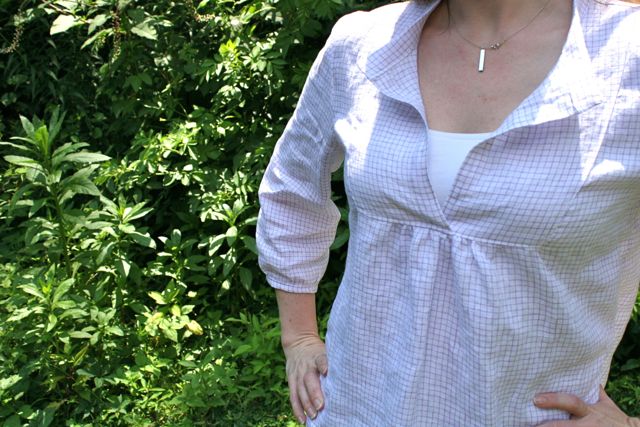 We wait and wait to use fabrics because we don't want to "waste" them–but instead, we end up wasting our time and energy because we sew things we don't really desire.  How upside-down is that?  When I read Amy Herzog say of knitting that we ought to knit up big swatches before starting a project to ask ourselves, "Do I want to wear this fabric?" it was this ENORMOUS game-changer for me.  I don't know why it struck a nerve right when it did, but my brain opened up and birds flew out and around me like a Disney movie as I realized: I am NOT thinking that way about the things I make.  I am not thinking, "DO I want to wear this?"  I am thinking, "Do I want to SEW this?"  And those are different questions that act on different drives.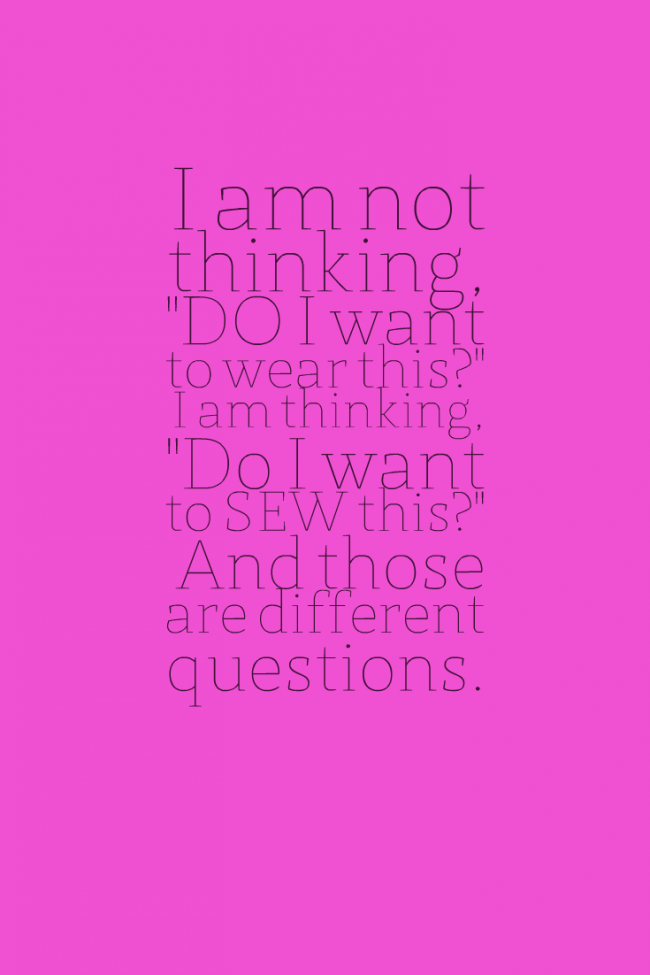 They will never stop making fabric.  There is no, no, no reason to save up fabric.  It will fall apart and turn to dust over time and you will never get to enjoy it if you leave it sitting on a shelf, un-sewn.  And didn't you buy it so you could enjoy it?  Didn't I buy it because I loved it so much that I ignored the contraints of my budget in order to get just a little piece of it?  Aren't we all preventing that fabric from realizing its DESTINY by leaving it un-sewn??
I know that for some of us, it seems so expensive to cut into our precious prints.  We don't want to "waste" it.  But if I have learned nothing else in 20+ years of garment-making, I have learned this: use cheap fabric, get cheap clothing.  It's not that you have to spend a fortune on supplies–it's just that instead of spreading our budgets out over LOTS of supplies, why not get really good ones and end up with something you love to use, over and over again?  And if we stop asking "Do I want to sew it?" and start asking, "Do I want to WEAR it?" we make different choices in how we invest our resources before sewing.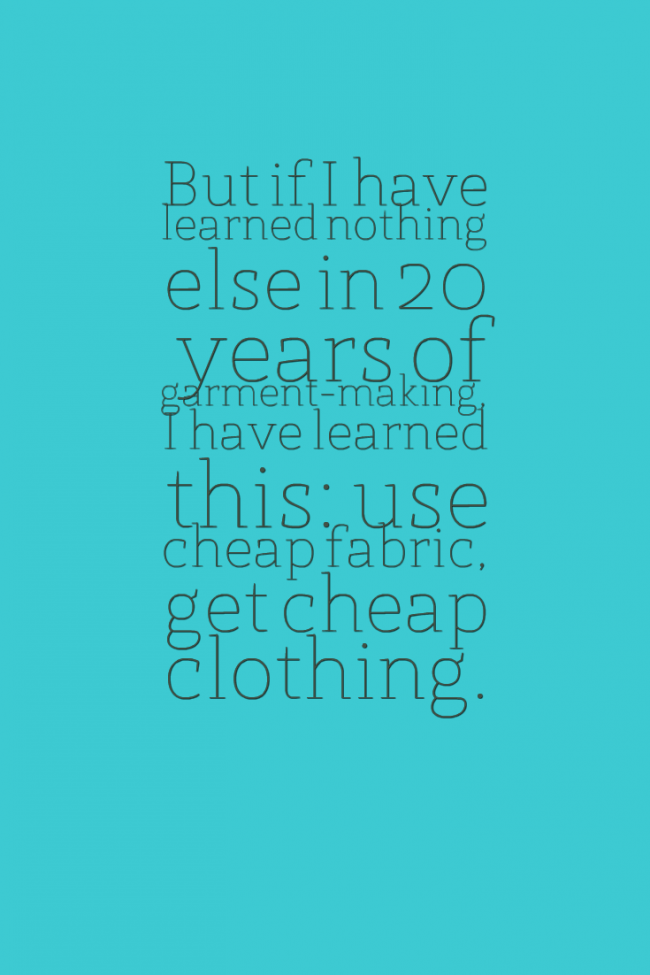 So, for me, this is the END of The Stash.  I don't know that I can commit to not buying any fabric for a year, blah, blah.  I'm pretty bad at following through on those kinds of pledges and things, so I won't bother making you or myself a promise I'm going to forget about later.  But I'm done buying fabric and shoving it in a closet.  And let's be real: I don't need to buy ANY fabric for a long, long time unless I have a specific project in mind.  I have a LOT of fabric up in here, y'all.
Anybody else picking up what I'm putting down?  I have felt a definite shift over the past year or so, toward a more thoughtful and deliberate way of approaching our sewing, and it smells GOOD.  Hope some of that is wafting your way and that your sewing is satisfying you today.