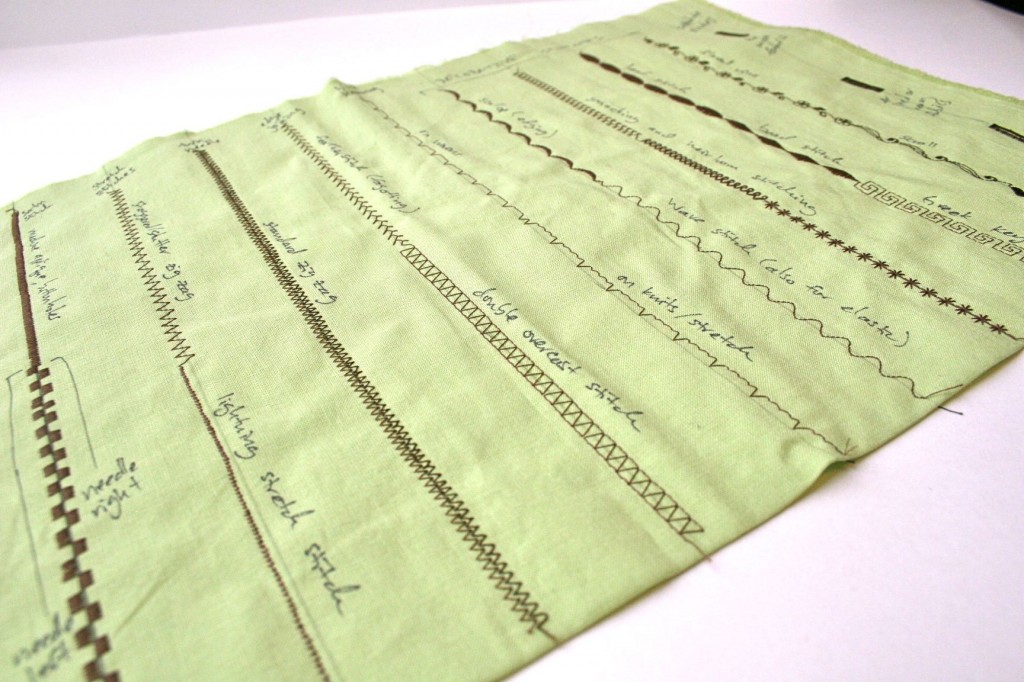 When I was writing Stitch by Stitch, I really wanted to focus on the struggles I see the most in folks who come through our classes.  No matter what the sewing background–someone who took Home Ec so long ago they feel like they've forgotten most of it; someone who learned from her mom and wasn't really all that into it then, but now she's kicking herself; someone who's brand-new to sewing and has never even touched a machine before; someone who has learned alone from the web or from books, and is worried that the subtle nuances and foundational facts might've been overlooked along the way–the most common complaint I hear is that we're all  looking to make sure we've got the core skills, the foundational techniques, nailed down so we can really see how far our sewing will take us.
One of the things I see the most is the total paralysis a lot of us get when we're confronted with the various stitches on the machine.  When I very first learned to sew, my machine made a straight stitch and a zigzag.  That was it.  Not even a buttonhole function (alas).  So when I moved up to my next machine, I was suddenly confronted with piles of stitch options, and I had no idea which ones did what or when to use them.  You know which ones I used?  You got it: the straight stitch and the zigzag.  And all those other little buttons just went to waste.
I want better than that for all of us.  I spent some serious time with my owner's manual investigating what it had to say about each stitch.  I've learned over time that some manuals give more details than others, so I combed through reference books and various sites on the Web to fill in gaps, and I'm delighted to present you with:
A Stitch Identification Primer.
Get the flash player here: http://www.adobe.com/flashplayer
Flip through the slideshow to see details on each of the stitches shown above on the sampler (the stitch sampler itself is one of the bonus mini-projects included in Stitch by Stitch).  Because these are images of lines of stitching, a number of photos will extend beyond the frame–just grab them with your mouse and shift to see all the details and text, since I've included facts and suggestions for using each one!  Larger images can be seen on Flickr.

Happy stitching, y'all.