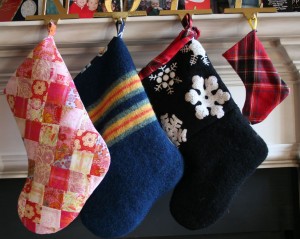 When the Great Flood of 2009 came through last Sept, one of the storage bins hardest hit was holding our Christmas things. I'm grateful that my husband's vintage, 1950s artificial tree he inherited from his grandparents survived, as did more than half of our ornaments, but some of our keepsakes and all the stockings were ruined–not only did they get wet, but the red dye from innumerable ribbons had stained them beyond saving.  The worst part is that many of them were handmade by my grandmother: cross-stitched from patterns she picked out for each of us specifically.  Now, they weren't necessarily patterns I might've picked out myself, but the love that went into each one was apparent, and made them really special to us.
Which meant this year, we needed new stockings.  I worked feverishly on each one right up until the car pulled out of the driveway to head to my mother's for Christmas Eve.  One for each of the children, suited to their personalities: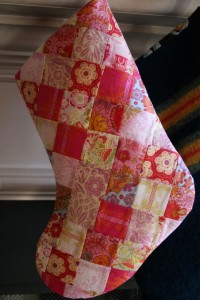 For Miss M, a pink and honey voile confection from Anna Maria's Little Folks Sugar Cookie color palette.  She adores it, and it was stuffed to overflowing on Christmas morning.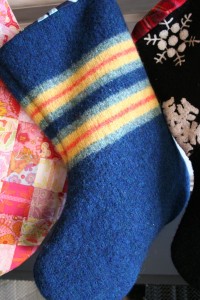 For O, our little man, a wool athletic sweater, felted and stitched back together.  Lining is Alexander Henry's Ready, Set, Robot! and is so perfect for our guy!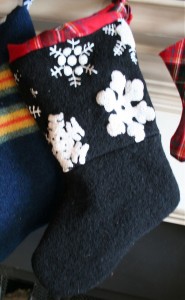 For our oldest, E, a special request: "Mom, can my new stocking be black?"  Um, OK.  A boiled wool jacket, pieced together to make the right dimensions, and topped with a twisted fringe of Christmas plaid.  Lined in the same plaid, she thought it was just right–if only I'd really added those skull beads, like she wanted.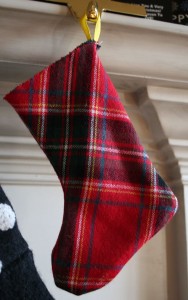 And finally, this teeny one.  No, not for the dog.  For the New Baby.  You heard me: we're expecting #4 in early May, and thought we'd go ahead and put up an anticipatory stocking this year!  We're as surprised as you are, trust me, but having another teensy stocking on the mantel has made it all the more real to us, and we're already super excited to meet this new addition once the weather warms up.
Next time: Mom and Dad's stockings, which were a little trickier…  In the meantime, anyone know a Christmas word with 6 letters? I'm thinking next year, "Noel" won't have enough hooks.