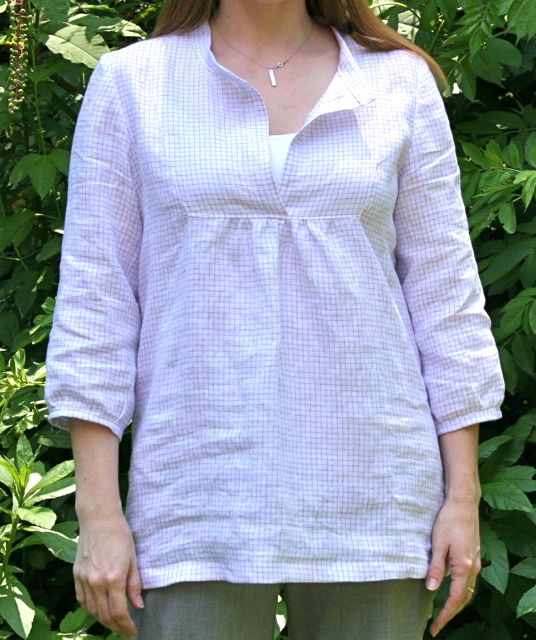 Seems like the entire World Wide Internet Web is talking about the Tova pattern, so it was high time I made one for myself.  I chose a deliciously lightweight heirloom linen in a subtle lilac check–love!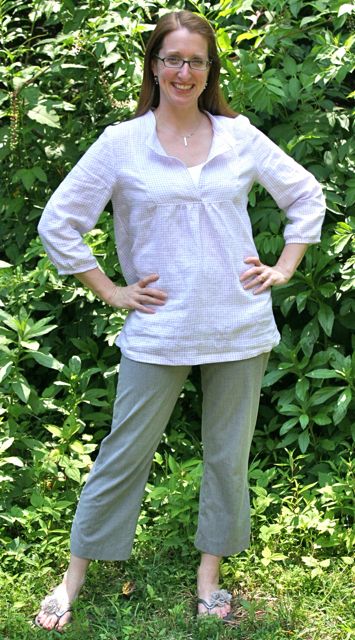 The pattern is everything I'd heard it was: clean and straight-forward to assemble, with a great fitting sleeve and nice details that make it look high-end without a ton of extra effort.  The sleeve especially pleased me, since I really, really appreciate a sleeve that goes in cleanly, without a ton of wrangling.  This one reminds me of the Schoolhouse Tunic in the way it fits with so little easing and finagling.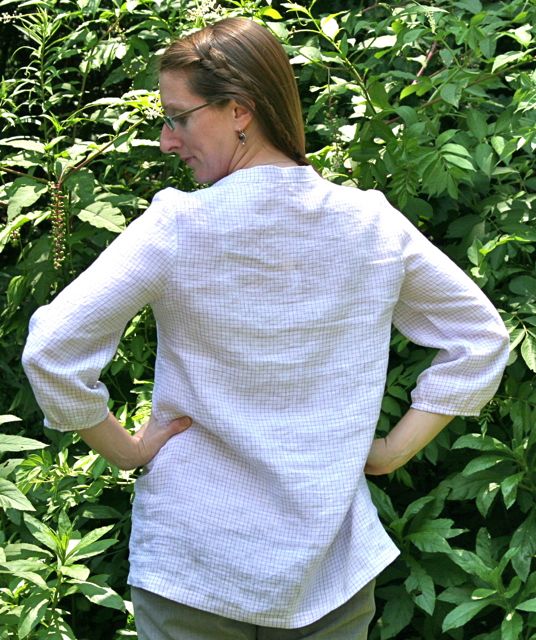 I hemmed and hawed a bit on what size to make.  The M is for bust 35-36, and the L for bust 37-38, but I measure 36.5 over my bra, so I was torn.  Ordinarily, I'd jump in and make the smaller size, since I know I prefer a slimmer fit, but I'd heard that the Wiksten tank is snugger in the bust, and I didn't want to risk it with this linen.  So I went with the L.  It's looser than I would have chosen, but I think that's a good thing–because I tend to get things that fit more closely to the body, I don't have a lot in my closet that is loose and easy like this.  And in trying it on, I realized that the few things I do have that are easier in fit I wear over and over, so I'm pleased to have something new that I can throw on for carpool or put over my swimsuit or just wear on those not-feeling-my-skinniest days.  Which happen more frequently the further behind me 35 gets, but that's another story.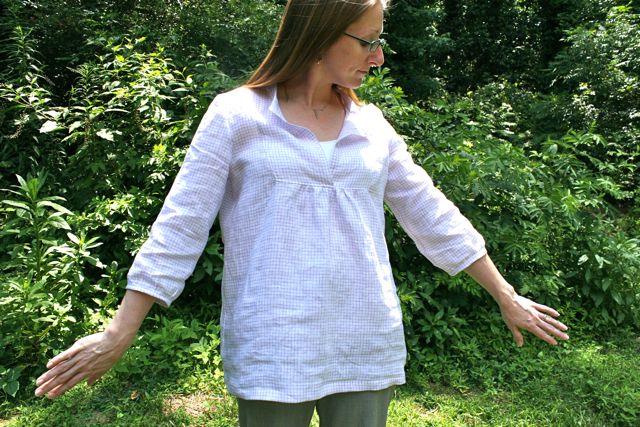 This sleeve hem is pretty nice, too, with the itty bitty cuff and the loose fit.  I imagine in the dress length, maybe in a pinwale corduroy, I'd love this in the winter and fall.  The fit of the inset is nice and easy, too, and so soft and unstructured over a simple camisole.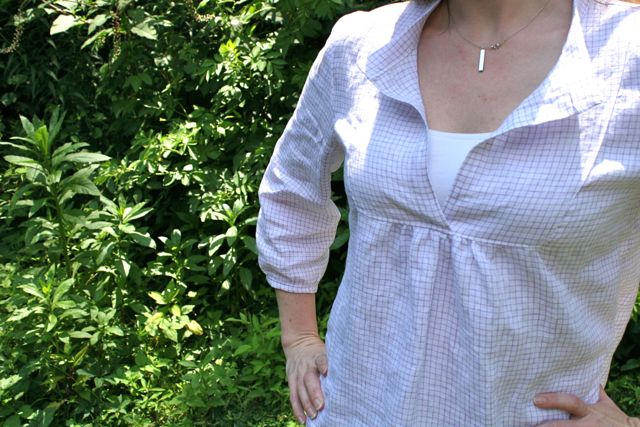 I was hesitant to make this with no interfacing, and had to turn to Twitter this morning when I realized the pattern doesn't call for ANY.  What??  No interfacing?  But really: she doesn't use any interfacing.  And a big part of me, the one that's been sewing for a long time, pushed back on that HARD.  Because how do you make a placket and a collar with no interfacing, right?  I'm super glad I elected to trust the pattern and my fabric choice, because I think the loose and relaxed result is just the right note to hit with this shape.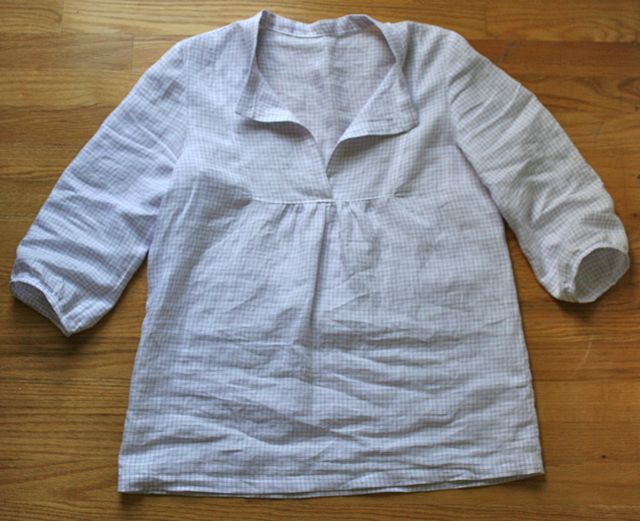 I'll be teaching a class using the Tova top this summer, too, as one of the pre-day sessions at the Martha Pullen School of Art Fashion.  If you take the BabyLock school, or any other school during the last full week in July, you can sign up for any of three additional days ahead of time, making one project each day.  If you've been wanting to do a retreat but haven't found one, or if you'd like to refine your garment-making skills, it's such a fun chance to do that–and they have lunchtime prizes and lots of goodies to go along with everything, too.  It's like summer camp for grown-ups, but with sewing machines!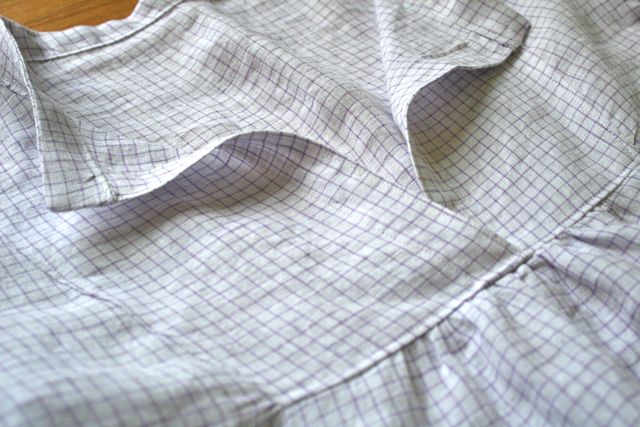 I think the part from this pattern that probably benefits the most out of having guidance when you haven't used the technique before is installing the yoked inset.  There's a trick to getting the corners to fit and having a smooth result that gets easier the more you do it–but isn't it always nice to have someone blaze the path and give you some pointers to get it done?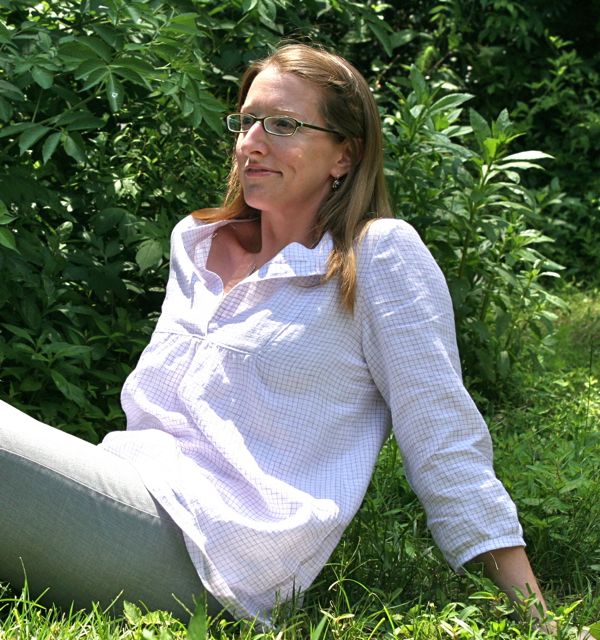 I'm not entirely sure what this look is on my face, but I think I was trying to show how comfortable this top is to wear–I'll for sure be making at least one more, probably a stripe.  My one regret is that I didn't cut the inset on the bias: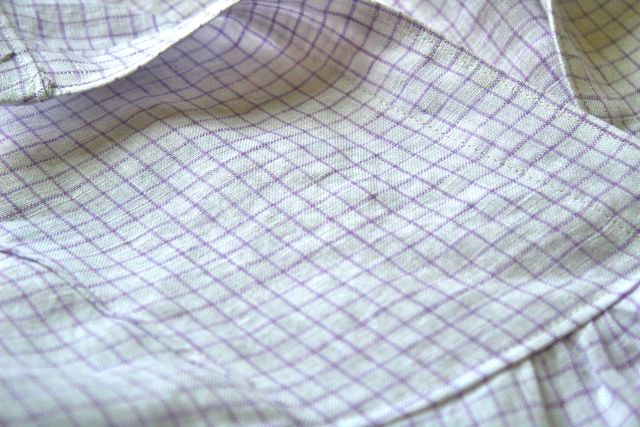 I love, love, love this fabric, but if I had one thing to do over, I'd have cut these checks on the bias for the inset and the cuff, to add a little visual interest to the top as a whole.  I'm thinking for a striped version, it'll have to be a mix of directionality in order to keep this simple shape spiced up. Other than that, I think it's totally dreamy!  I'm wearing it right. this. second.  And I'll be wearing it Thursday night to suck up to the local PTA as we head to our first meeting before our #2 child goes to the local public school.  I'm hoping this top will hit just the right note of chic-but-confident-and-relaxed so that they'll want to play with us.  Ah, the suburbs!