I work on an Ikea table top, which holds my sewing machine, my laptop, an external monitor, and all my papers: calendar, notebook for ideas, sketch book, catalogs, printer paper.  I also keep a small desk lamp and a Bluetooth speaker, which makes listening to Pandora (or Netflix, let's be honest) much more pleasurable for those of us who may or may not be losing their hearing.
For the past two years, I've been working each day with all those things on the same table.  And the papers and notebooks really weren't working out.  I was using the lamp and the speaker to prop up the notebooks, like bookends, all behind the laptop, everything wedged to the left of the table to make room for my sewing machine.  On occasion, when I need to quilt a project, I'd move the papers and notebooks to the floor to keep them from getting accidentally pushed off as I was working.  I needed a solution.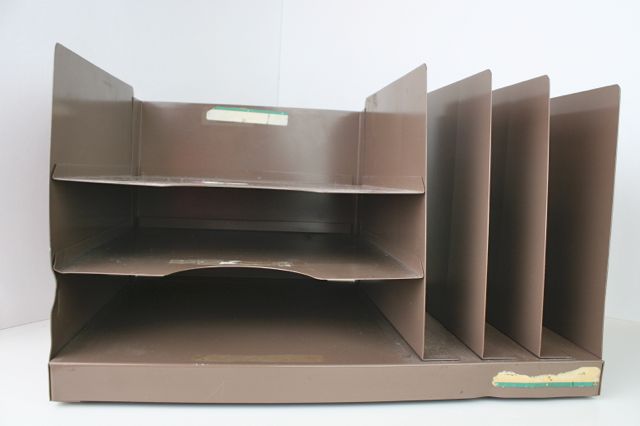 I started thinking about something vintage, something that screamed "official Air Force desk supplies circa 1980."  I could have waited and hit thrift stores and yard sales and scored it for 2 dollars, but I didn't want to wait–I had been shuffling through, and I was ready to fix this mess.  So I hit eBay, the yard sale of the impatient.  I found this one for about $15, including shipping, which was more than I might have spent, but I got it super fast and shipped to my door.  Score!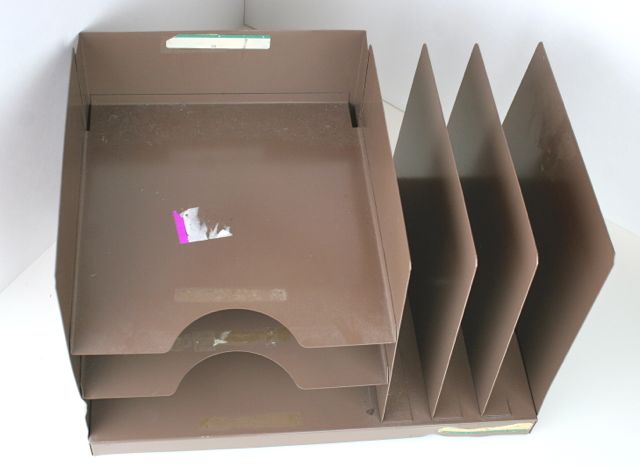 Naturally, I didn't just want a metal vintage desk organizer.  I wanted one that had both vertical AND horizontal storage.  I like what I like, okay?  I love this one, even though it had a couple dings and bruises, and some icky sticker residue on multiple surfaces.  I figured from the beginning that I'd paint whatever piece I found–it suits my penchant for bright, glossy colors better–so I wasn't super worried about the dings and stickers.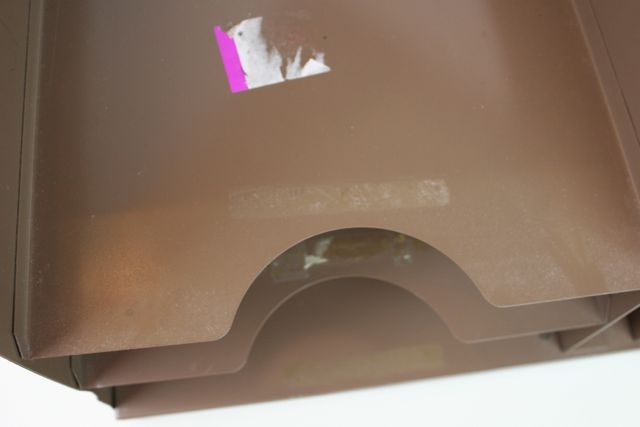 When I was in college, I worked five semesters at the university book store between terms, preparing the used textbooks for re-sale.  When used books would get shipped in to the store, our task was to sit on the floor behind a barricade marked "employees only" and remove the stickers from each book before re-stickering and placing them on the shelves for sale.  It was the early 90s, y'all–we did things old school back then.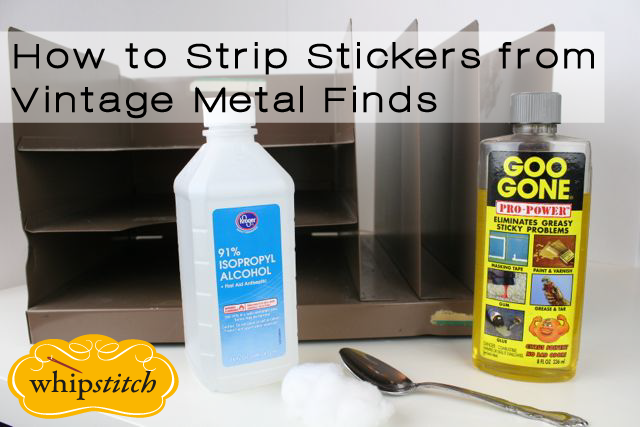 Which pretty much makes me a sticker-removing expert.  I made it happen a little differently than we did back in 1992–we used lighter fluid to soak the stickers and weaken the adhesive back then, which was probably a sketchy idea, but that was how the suits wanted it done.  These days, I generally avoid techniques that might cause the fiery destruction of my home for the sake of a craft project, so I went with my old friend, Goo Gone.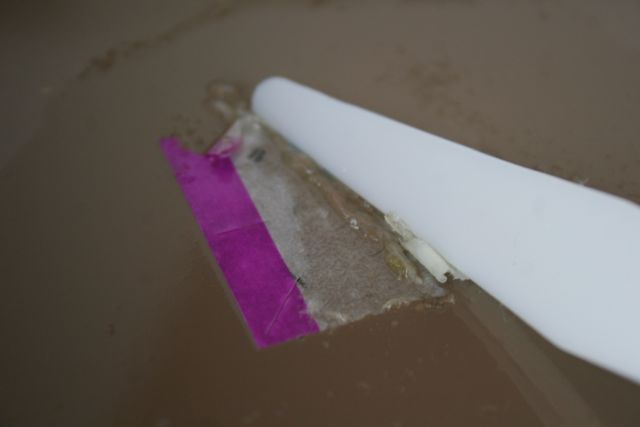 Using cotton balls soaked in the Goo Gone, I saturated the individual stickers and icky spots.  Then, with a palette knife, I gently scraped away at each sticker from the edges to the center.  Some of them took some time to soak through all the way–the goal is to get the adhesive really wet, so that the palette knife will scoop up all the paper AND the sticky at the same time.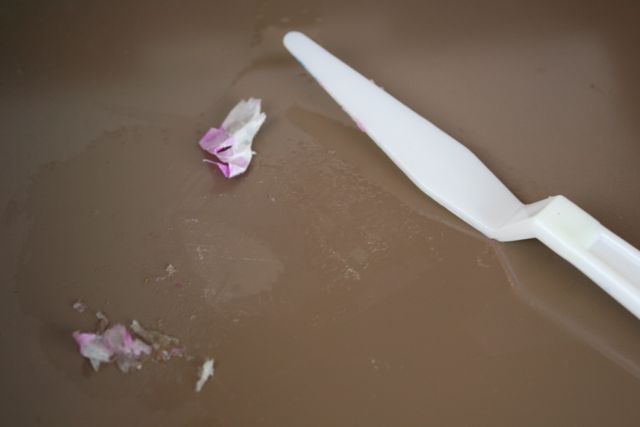 This can be time-consuming, patient work.  When I was at the bookstore, we'd all sit in a circle and "shoot the breeze" as we oldsters like to say, which helped the time pass more quickly.  For this project, I enlisted the help of your friend and mine, Netflix streaming video.  (At the time, I was re-watching every episode of Bones so I could catch up to Season 7 and the baby, which is what I really wanted to see.  Nothing like scraping off old stickers while solving crimes–scientifically!)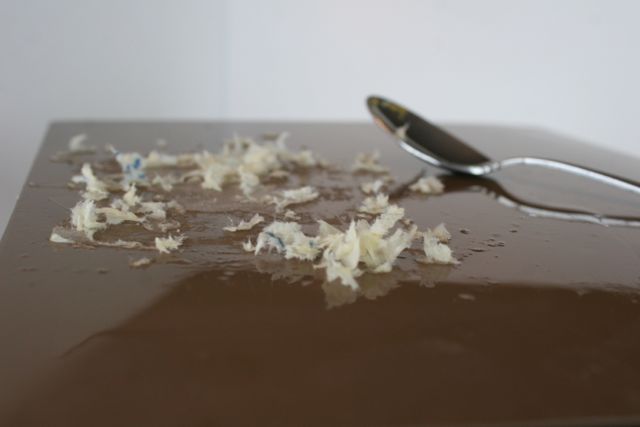 In a few cases, there really wasn't much sticker left in the sticker, if you know what I mean.  In others, there was  a LOT of sticker left–like this one, on the side of the organizer, which was a solid 4″ x 5″ of vintage crunkly paper with that crazy-hard-to-remove 70s adhesive that has become congealed with time into a cement-like consistency of stubborn ick.  In those cases, I saturated the sticker, let it sit for around 10 minutes, and then went at it with a spoon, but this time from the center OUT.  Using the side of the spoon, and trying my best not to dig so deeply that I scratched the original paint (which I worried would lead to a less-than-smooth surface when I repainted), I scored the sticker in multiple directions, leaving scratches all over the body of the paper that would allow more remover to soak into the adhesive beneath.  I added more Goo Gone and let it sit another 10 minutes before going back with the spoon to scrape the area clean.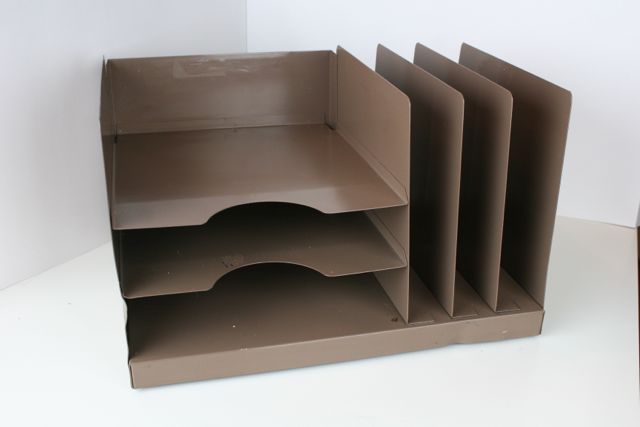 The finished product is very nearly flawlessly smooth!  The two exceptions are small areas where someone had attempted to anchor a peeling label with clear tape–man, that tape is nigh unto impossible to remove.  So I didn't.  I did my best, y'all, but in the end, I had to bow to the technology that was Scotch tape in 1970-something.  It lives here now.
Once all the stickers were cleaned up, I rubbed the whole thing down with a bit of rubbing alcohol on a cotton ball, to make sure that any residue was gone.  Because the Goo Gone is citrus-oil based, I was worried if I left any behind, it would make my paint go all squirrely, and I wanted to be sure to get a really clean, glossy finish on the final product.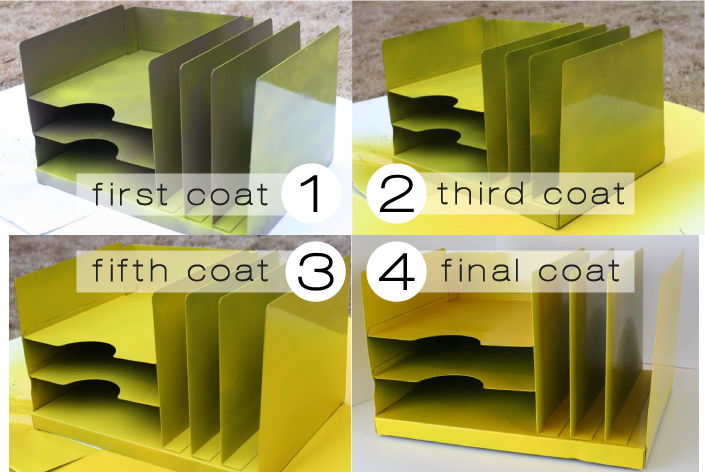 Next up was the painting.  I used a standard home improvement store can of spray paint in Whipstitch yellow (naturally), and chose one with paint and primer in one.  I went outside and placed a sheet of poster board beneath the organizer to make sure I didn't get any funny ghost outlines of blades of grass on the sides of the unit.  I used one entire can of paint, and thought I'd need to go back to the store for another, but decided to let it dry for the weekend before making any final decisions.  In the end, the imperfections and spots where the coverage was less than perfect are hidden by the papers and notebooks I'm storing, and since I'd rather not waste paint and have a half-empty can in the garage, I called it good.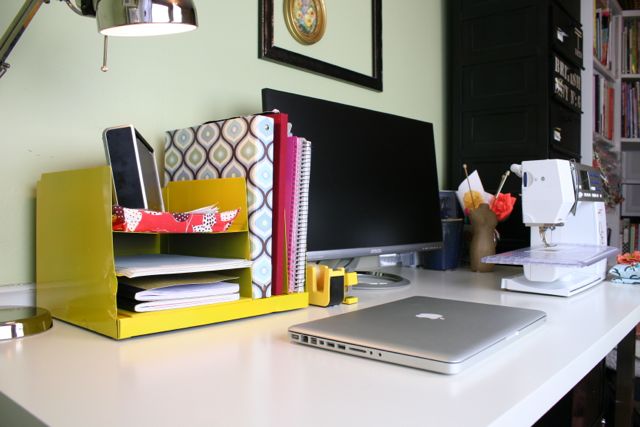 And here it is!  Now, the irony of this entire post is that since I shot these photos–and as a direct result of how much I love having my desk organizer neatening up my work space–I have changed my whole set-up, added a work table, increased my storage space, and organized all my fabrics using folding boards.  Boo-yah!  And it all started here, with this little eBay purchase.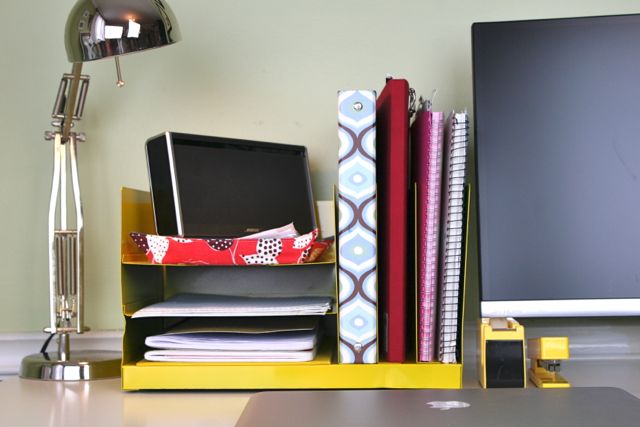 The top shelf still holds, even in my new set-up, my Denyse Schmidt/Melody Miller fabric tray for holding recycled paper (every sheet of paper that comes through this house printed only on one side gets ripped in half and used for lists and random notes–you wouldn't believe how much paper comes home from school with the children!!), which is also where I perch my Bose Bluetooth speaker (which helps keep the papers from blowing away).  Below that I keep my graph and printer paper, and on the bottom shelf, two composition notebooks where I organize notes for future projects.  In the vertical sections, I have a binder for on-going projects (like Sewing Buddies or individual online classes), a legal pad in a red cloth binder where I do my long-range planning, my paper calendar (I get a new color very year–this year, it's pink!), and a spiral notebook where I keep notes for current projects with up-coming deadlines.  Everything fits perfectly in this metal desk organizer–it's just dreamy, and nothing gets lost or misplaced or falls over and ends up on the floor!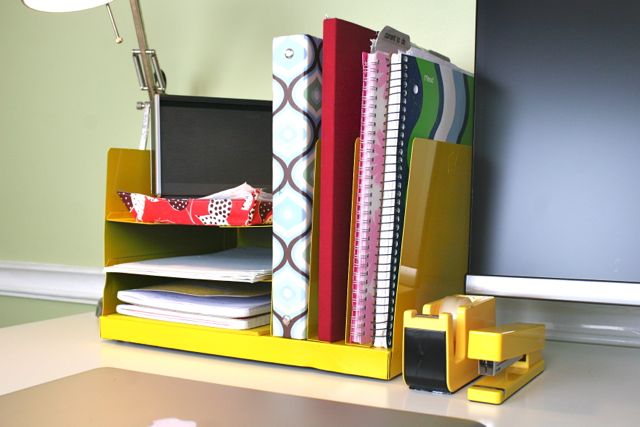 I love how glossy the paint is, and what a good finish I got from using spray paint rather than a brush.  And I love how perfectly it matches my tape dispenser and my stapler!  I can't wait to share with you the other changes I've made in this space–maybe a tour of the studio is in order, huh?
Hope your space is making you happy today!